You have /5 articles left.
Sign up for a free account or log in.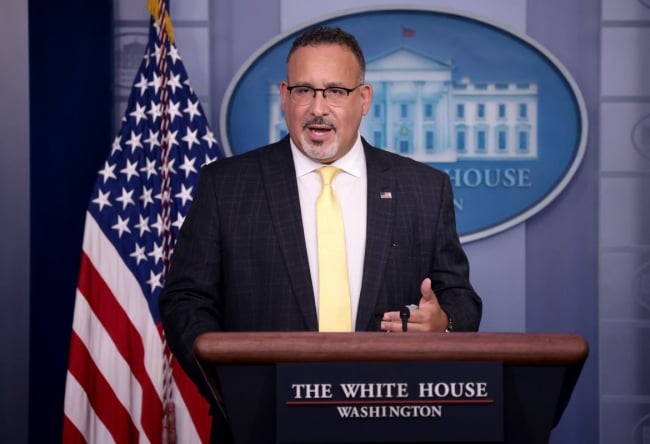 Win McNamee/Getty Images
More than 804,000 borrowers will have their student loans forgiven in the next month following moves by the Biden administration to count more payments toward forgiveness.
The administration said in April 2022 that it would adjust accounts to give borrowers credit for payments and time spent in repayment. The adjustment is part of an effort to address failures in administering the income-driven repayment system "in which qualifying payments made under IDR plans that should have moved borrowers closer to forgiveness were not accounted for," the department said in a news release.
This first group of borrowers who will see relief hold $39 billion in student loans and include those who have made enough payments over 20 to 25 years to see the rest of their balances wiped out. The department will continue to track borrowers who reach the forgiveness thresholds every two months until next year.
At that point, "all borrowers who are not yet eligible for forgiveness will have their payment counts updated," the department said. The Biden administration is working on future fixes to the income-driven repayment program that will offer more generous terms for borrowers and more pathways to forgiveness. The first of those fixes will take effect at the end of the month.
"For far too long, borrowers fell through the cracks of a broken system that failed to keep accurate track of their progress towards forgiveness," Education Secretary Miguel Cardona said in a statement. "By fixing past administrative failures, we are ensuring everyone gets the forgiveness they deserve, just as we have done for public servants, students who were cheated by their colleges, and borrowers with permanent disabilities, including veterans."
Under the account adjustment, the department gives borrowers credit for:
Any month in which a borrower was in a repayment status, regardless of whether payments were partial or late, the type of loan, or the repayment plan.
Any period in which a borrower spent 12 or more consecutive months in forbearance.
Any month in forbearance for borrowers who spent 36 or more cumulative months in forbearance.
Any month spent in deferment (except for in-college deferment) prior to 2013.
Any month spent in economic hardship or military deferments on or after Jan. 1, 2013.
The account adjustment is similar to what the department did for those who were eligible for relief through the Public Service Loan Forgiveness but didn't receive it due to administrative errors. The department has so far forgiven $45 billion in student loans for 653,800 public servants partly because of those changes. Over all, the Biden administration has discharged more than $72 billion in student loans through several different relief programs.
As expected, congressional Republicans decried the administration's announcement about the discharged loans while debt relief advocates applauded it.
North Carolina representative Virginia Foxx, the Republican who chairs the House education committee, said in a statement that the account adjustment was illegal and an attempt to circumvent last month's ruling from the Supreme Court striking down President Biden's broader student loan forgiveness plan.
"Biden's student loan scam is far from over," Foxx said. "From day one, this administration has encouraged borrowers not to repay their loans and has expected taxpayers to foot the bill. Today's celebration of counting no payments as payments is just the latest example of the ongoing delusion at the White House."
The department began contacting eligible borrowers Friday. Borrowers won't have to do anything more to receive loan forgiveness, which begins 30 days after notification, according to the release. Borrowers can opt out if they want.
Persis Yu, deputy executive director and managing counsel at the Student Borrower Protection Center, said in a statement that Friday's announcement was a "huge victory" for borrowers following years of campaigning and advocacy.
"But make no mistake—over 804,000 people are receiving relief with this action because of 804,000 failures—and this is only the tip of the iceberg," Yu said. "Working people with student loan debt have been made collateral damage by a dysfunctional student loan system. Just like we saw with Public Service Loan Forgiveness, our student loan system is riddled with structural incompetence, and vulnerable, low-income, and Black and brown borrowers face the harshest effects. Now, our leaders need to finish the job."
The Student Borrower Protection Center and the National Consumer Law Center found in a March 2021 report that only 32 borrowers had had their balances canceled through income-driven repayment since the program began.
"At the start of this administration, millions of borrowers had earned loan forgiveness but never received it. That's unacceptable," Under Secretary James Kvaal said in a statement. "Today we are holding up the bargain we offered borrowers who have completed decades of repayment."