You have /5 articles left.
Sign up for a free account or log in.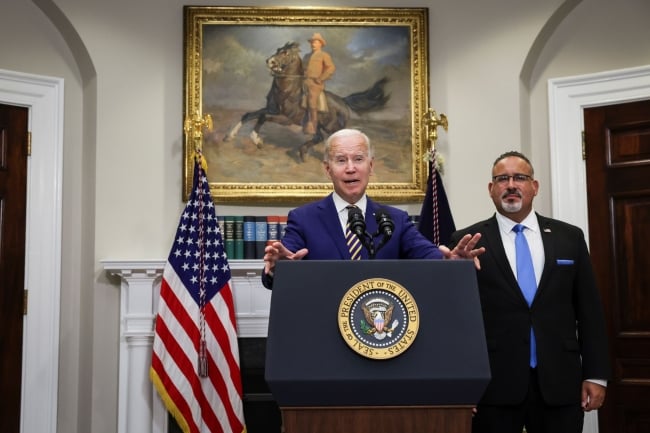 Alex Wong/Staff/Getty Images News/Getty Images
(Note: This article has been updated to clarify which regulations the department used to provide the debt relief.)
Thousands of students who attended a now-defunct for-profit college in Colorado will see their federal student loan balances zeroed out after the U.S. Education Department found their college misled them about the salaries they could earn and their job prospects.
Department officials said Tuesday that they will discharge $130 million in student loans for 7,400 borrowers who were enrolled at the Colorado campuses of CollegeAmerica between Jan. 1, 2006, and July 1, 2020. The decision comes after years of investigations by the Colorado attorney general and legal battles over whether the college made widespread misrepresentations to students.
The loan discharges are also among the first borrower defense to repayment claims to be approved since new rules took effect earlier this month that made it easier for borrowers who were defrauded or misled by a college to seek relief. The department didn't use those new rules to provide the relief for CollegeAmerica students, though, relying on the previous set of regulations.
"CollegeAmerica's parent company, the Center for Excellence in Higher Education (CEHE), made widespread misrepresentations about the salaries and employment rates of its graduates, the programs it offered, and the terms of a private loan product it offered," the department said in a news release.
The Center for Excellence in Higher Education, a nonprofit, operated several for-profit colleges before it closed in August 2021. CollegeAmerica stopped enrolling new students in 2019 and closed in September 2020, according to a department news release.
"This announcement means a clean slate for thousands of students hurt by CollegeAmerica's widespread misconduct," said Richard Cordray, chief operating officer of the Office of Federal Student Aid, in a statement.
CollegeAmerica and CEHE previously denied the allegations. The company is currently suing the department over its treatment of for-profit colleges, including those that the company operated.
"The department's proffered justification for this forgiveness is a lie," CEHE CEO Eric Juhlin wrote in an email to Inside Higher Ed. "The verdict in the Colorado case was reversed upon appeal in August 2021."
The Colorado Supreme Court has directed the state court of appeals to take another look at the case before ordering a new trial.
Misrepresentations
Students who graduated from CollegeAmerica's Colorado campuses earned on average $25,000 five years after completing the program, according to the release. CEHE said in advertisements from 2006 to 2020 that its graduates would earn high salaries. CollegeAmerica also touted a job placement rate of 70 percent when the company's internal figure showed a rate of 40 percent, per the release.
"This included counting a business administration graduate working as a produce clerk and a medical specialties graduate working as a waiter as successful placements," the department said in the release.
Additionally, for six years, CEHE told students they could become certified as an X-ray technician through a medical specialties program.
"The school did not even own any X-ray machines," the department said in the release.
President Biden praised the department's decision in a statement.
"These borrowers were lied to, ripped off, and saddled with mountains of debt," Biden said. "While my predecessor looked the other way when colleges defrauded students and borrowers—I promised to take this on directly, and provide borrowers with the relief they need and deserve."
The Colorado attorney general has investigated CollegeAmerica and its parent company for a decade, eventually suing the institution in 2014. The state accused CollegeAmerica and CEHE of making deceptive statements to recruit students. A 2017 trial found that the college did violate state consumer protection laws.
"Nothing can replace the time the students spent, the years that have passed and their trust that was broken," Cordray said during a media briefing. "But what we can do we will do to try to make things right."
The department also will be refunding any payments that the affected students made, though it was unclear Tuesday how much money would be sent back to borrowers. Those refunds were not included in the $130 million total of discharged loans.
Affected borrowers will be notified in August.
In response to a question about the department's efforts to crack down on predatory institutions and if more borrowers should expect relief, senior department officials said they couldn't comment on pending borrower-defense investigations.
"There will be more, and you should stay tuned," a senior department official said.
As of Tuesday, it was unclear if the department planned to recoup the money to repay the discharged student loans. Senior department officials said it had $20.8 million in escrow from CEHE.
One senior department official said the agency hasn't always secured sufficient protection against malfeasance or failures by an institution that could leave taxpayers on the hook, but it is trying to change that moving forward.
"It's very hard to make up sometimes lost ground from six, seven years ago," the official said. "But what we can do going forward is be mindful of this and try to put better protections in place in the future."
The department has suspended Juhlin, the CEHE CEO, from participating in federal procurement and nonprocurement transactions, which includes the federal financial aid program. Other CEHE or CollegeAmerica executives don't own any institutions participating in the federal student aid program, a senior department official said.
'Untold Harm'
The new borrower defense to repayment regulations allowed states to submit applications on behalf of an entire group, among other changes. That means borrowers will see their balances wiped out even if they didn't submit an individual application.
Under the regulations, the department can grant relief based on one of five circumstances: substantial misrepresentation, substantial omission of fact, breach of contract, aggressive and deceptive recruitment, or judgments or final secretarial actions.
Colorado attorney general Phil Weiser submitted the group application, seeking relief for more than 10,000 students who attended CollegeAmerica in Colorado or were enrolled online through Independence University, another CEHE institution.
Weiser said the department's decision will change people's lives.
"It's an action that warrants an explanation because College America took advantage of people and preyed on vulnerable individuals," he said. "They had tens of thousands of TV commercials, radio commercials, mailers—all of which promoted starting salaries or median starting salaries that they claimed their degrees would give people access to. That was fundamentally untrue."
One CollegeAmerica campaign told students, "You could earn a million dollars more over your lifetime if you hold the right degree," according to the state's initial lawsuit.
Weiser said CollegeAmerica's actions caused "untold harm" and put students into a "cycle of indebtedness."
"All the while, CollegeAmerica was cashing checks and profiting off of thousands of Coloradans who took on this life-altering debt," he said.
Weiser said the department's decision was a "critical action" and that his office will keep fighting to protect student borrowers.
"The announcement today gets to the heart of what these student borrowers suffered, which was a whole bunch of loans that they were not able to pay," Weiser said.