You have /5 articles left.
Sign up for a free account or log in.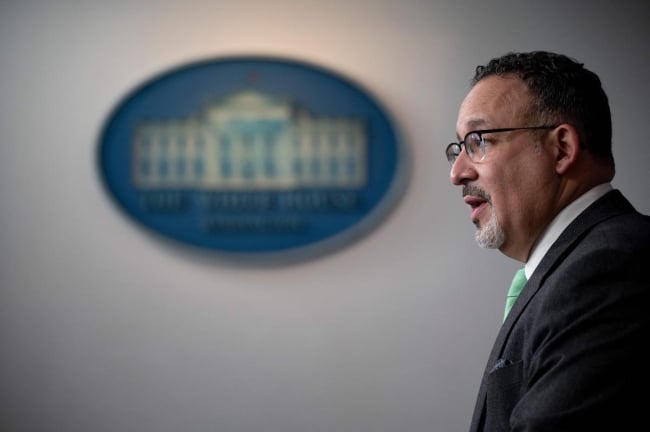 Starting in 2026, students who enroll in an academic program that leaves graduates with debt they can't afford will have to sign a disclosure notice, under a new federal rule aimed at providing families with more information about the costs and risks associated with programs.
The disclosure requirement is part of the U.S. Education Department's new financial value transparency and gainful-employment rule, which was finalized Wednesday and defines what it means to prepare graduates for gainful employment. As part of the rule, programs at for-profit institutions as well as nondegree programs in any sector would have to show that graduates can afford their yearly debt payments and that they are making more than an adult in their state who didn't go to college. Failing either of those tests in two consecutive years could lead to a program losing access to federal financial aid.
The financial value transparency measures will apply to all programs in any sector but don't affect financial aid eligibility. The department estimates about 400 graduate programs that enroll roughly 120,000 students would be subject to the new disclosure requirement.
"Our goal is to empower students and families with more data than ever before about the true cost of college," Education Secretary Miguel Cardona said during a call with reporters Wednesday evening. "This rule would make sure students know if they're about to take out loans for programs known to leave graduates with unaffordable debt and poor career prospects."
Several higher education groups opposed the new disclosure and reporting requirements, while consumer protection advocates backed the changes. The higher education associations said the focus on economic outcomes for students fails to accurately measure the value of college programs. Department officials said in a fact sheet that they aren't dismissing the "the myriad non-financial benefits generated by a postsecondary education."
"For many students, financial considerations would, appropriately, be just one of many factors used in deciding whether and where to enroll," the fact sheet states. "However, with college tuition at historically high levels and the growing need for student loans to finance these costs, it is critical for students, families and taxpayers alike to have accurate and transparent information about the possible financial consequences of their postsecondary program options when choosing where to enroll."
The new reporting requirements will take effect next July along with the overall gainful-employment rule.
The Education Department has been working for nearly two years to update and release a new gainful-employment rule—building on an Obama-era effort that was scrapped during the Trump administration. Experts and advocates say this gainful rule is tougher than previous iterations and would provide critical guardrails to protect students.
"These accountability regulations, which set the strongest standard for student outcomes of any rule to date, will provide students and borrowers with critical protections and ensure taxpayer dollars aren't wasted on educational programs that don't produce real value," said Kelly McManus, vice president of higher education at Arnold Ventures, a philanthropy.
The final rule, which is 775 pages long, is largely unchanged from the initial proposal. The department estimates that about 1,700 programs serving nearly 700,000 students would fail the debt-to-earnings ratio test or not pass the earnings threshold, which is based on how much adults who didn't go to college earn. More programs are expected to fail the earnings threshold. Critics of the measure say it's unfair, but the department has said it's a "modest expectation."
"We can't keep throwing taxpayer-funded financial aid dollars at colleges that cost students an arm and a leg and then leave them in a ditch, unable to climb the economic ladder," Cardona said. "Higher education is supposed to be a valuable investment in your future. There's nothing valuable about being ripped off or sold on a worthless degree."
The first gainful-employment metrics will be published in early 2025, according to the fact sheet. Programs could become ineligible for financial aid in 2026.
The release of the final rule comes a few days before the government could shut down and pause rule making. Other sections of the broader regulatory package released in May with the gainful-employment rule are still in the works and could be delayed because of a shutdown.
Those proposed rules would require institutions to meet new conditions to gain access to federal financial aid and make it easier for the agency to take action against institutions, among other changes.
Like previous gainful-employment rules, this iteration could be subject to legal challenges. The American Association of Cosmetology Schools, which sued to block a previous gainful-employment rule, has called this proposal illegal.
U.S. representative Virginia Foxx of North Carolina, who chairs the House Education and Workforce Committee, blasted the rule in a statement.
"For an agency that purports to serve the needs of veterans, minorities and other disadvantaged students, the department's announcement today is steeped in hypocrisy," she said. "It has proven time and again that it would rather march to the beat of its own bureaucratic drum than work to foster both accountability and transparency in postsecondary education."
Career Education Colleges and Universities, which represents the for-profit higher education sector, said in a statement Wednesday that the department overlooked critical issues to "hastily implement and weaponize a final gainful employment rule against for-profit institutions."
"The department continues to put its thumb on the scale to circumvent established procedures and advance a partisan rule that fails to protect the vast majority of students," CECU president and CEO Jason Altmire said in the statement released before the department's announcement. "CECU has continually advocated for a rule that ensures the protection of all students and maintains equal accountability for public, private nonprofit, and for-profit institutions—an objective this rule does not achieve."
Alison Griffin, senior vice president at Whiteboard Advisors and former policy adviser to the House education committee, said there should be parity in terms of the requirements for all programs, regardless of sector, which this rule fails to achieve.
"Nothing in this is new," she said of the final rule. "But I do think the public is now desirous of more information about both the cost and value side of higher education. It's not just about the degree or the name on the sweatshirt anymore. It's actually about the impact that that credential will have for the learner in the marketplace."