You have /5 articles left.
Sign up for a free account or log in.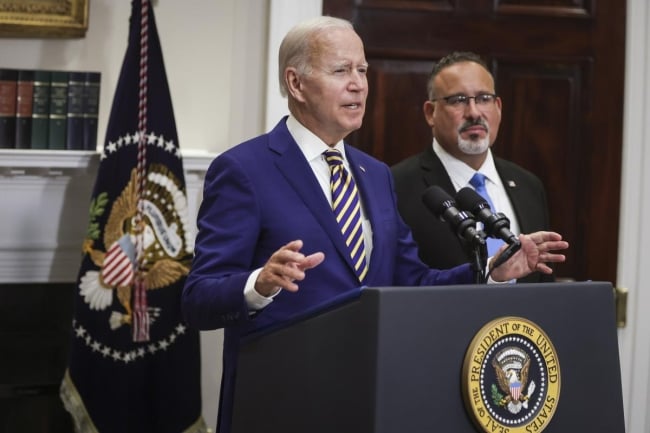 Alex Wong/Staff/Getty Images
The U.S. Education Department is gearing up to hold meetings in two weeks on how to provide debt relief to federal student loan borrowers, especially now that a potential government shutdown has been at least temporarily averted.
The Biden administration announced Friday who will serve on the advisory negotiated rule-making committee that will discuss how to change federal regulations to offer debt relief and offered a glimpse at what those discussions might look like. The announcement came a day before the potential shutdown, which Congress averted with a last-minute measure to keep the government open for 45 days. Student loan payments also resumed Sunday.
Zayn Siddique, deputy assistant to the president and deputy director of the White House Domestic Policy Council, on a call with reporters Friday morning, said the administration is committed to moving forward as fast as possible.
Friday's announcement marks the next step in a lengthy and complicated process that the Education Department has to go through to issue new rules or regulations. After the Supreme Court struck down President Biden's plan to forgive up to $20,000 in federal student loans for eligible Americans, the administration moved forward on an alternative plan to provide relief.
The nine-step rule-making process began in earnest in July with a public comment period that included a four-hour public hearing. The department also received tens of thousands of written comments. After the hearing, the department solicited nominators for individuals to serve on the advisory committee and received about 200 nominations, officials said Friday. The department is still looking for alternate negotiators to represent two stakeholder groups: state officials and historically Black colleges and universities and other minority-serving institutions.
"Now, we are diligently moving through the regulatory process to advance debt relief for even more borrowers," Education Secretary Miguel Cardona said in a news release. "Today, after considering more than 26,000 public comments on how to tailor this relief, we are releasing this additional information about this effort. We're committed to standing up for borrowers and making sure that student debt does not stop anyone from climbing the economic ladder and pursuing the American dream."
A committee of 14 people representing student loan borrowers, higher education institutions and other stakeholder groups is scheduled to meet Oct. 10 and 11—the first of three two-day virtual sessions scheduled over the next three months. The specific parameters of what kind of debt relief the Biden administration will pursue or what plan will even emerge from the negotiations is unclear at this point, though an issue paper released Friday offers some clues.
The department wants the committee to give feedback on several questions including how to assist borrowers who would be eligible for forgiveness under a repayment plan but didn't apply for those programs, or those who attended programs that didn't provide a financial value sufficient to repay their loans, according to the issue paper, which officials said was intended to the guide the discussion at the first meeting.
"We want to explore what potential types of hardship borrowers face and how the department might deliver relief to those borrowers under the Higher Education Act," Under Secretary James Kvaal said on the call with reporters.
The department also wants the committee to consider how to help borrowers who have balances higher than what they originally borrowed because of unpaid interest that accrued or who aren't eligible for repayment benefits that were created after they took out the loans. Negotiators on the committee and members of the public also can suggest different categories to explore, Kvaal said.
The Higher Education Act of 1965 allows the department to "compromise, waive or release" its claims against borrowers. The department is considering revisions to those regulations as well as adding rules regarding the circumstances under which the department could waive all or part of federal student loan debts.
Siddique said the issue paper does not suggest any intent by the administration to narrow eligibility for loan relief. More than 40 million people would've seen relief under the administration's first plan.
"I think that the goal of these papers is to essentially take into account what the contours of the Higher Education Act are [and] articulate a set of challenges that different borrowers face based on what the department is looking at," Siddique said.