You have /5 articles left.
Sign up for a free account or log in.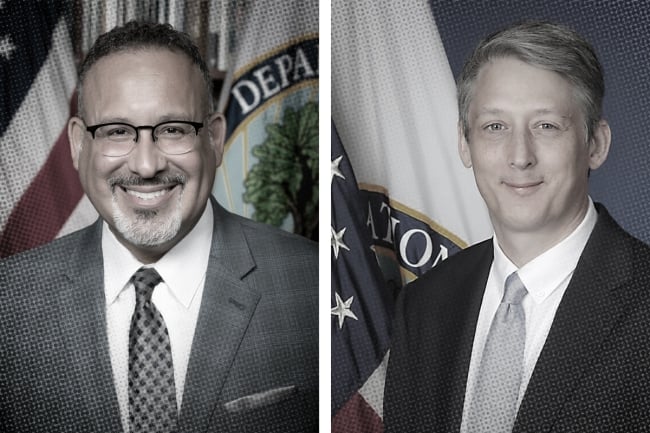 Photo illustration by Justin Morrison/Inside Higher Ed | U.S. Department of Education
The U.S. Department of Education this week released new data highlighting the community colleges and universities that best serve transfer students and the most successful transfer partnerships between two-year and four-year institutions across the country.
Department officials announced the new data Thursday at a summit on improving transfer policy at Northern Virginia Community College. About 200 higher ed leaders and government officials from 11 states were in attendance, according to a press release from the department.
Miguel Cardona, U.S. secretary of education, said in a video message to the group that problems plaguing the transfer process, such as institutions not accepting each other's credits and students having to retake courses as a result, disproportionately affect students of color, who attend community colleges in large numbers. He noted that such cumbersome processes cause too many students to give up on their studies.
He added that the U.S. Supreme Court ruling this summer that banned using race as a factor in admissions gives new "urgency" to streamlining the transfer process to ensure universities continue to serve diverse student bodies.
"No one will solve this challenge in isolation. We need leaders across higher education to collaborate intentionally," Cardona said. "Today I'm excited to announce that the department is releasing data on transfer student outcomes across institutions for the very first time. You won't find this data anywhere else. We need to hold ourselves accountable."
The department drew on data from the National Student Loan Data System to track, over the course of eight years, approximately 620,000 students nationwide who received federal financial aid and enrolled in a community college in 2014. The data analysis assesses the performance of community colleges and universities in each state based on transfer rates and bachelor's degree completion rates over that period. For example, Irvine Valley College was found to have the highest transfer rate among two-year institutions in California (56 percent), while California Polytechnic State University, San Luis Obispo, graduated the highest share of transfer students (89 percent).
James Kvaal, U.S. under secretary of education, said in an interview that comprehensive institution-level transfer data have been missing in efforts to improve the transfer process.
"If you take out student aid, we know where you enroll, we know if you graduate, so we were able to take a look at which community colleges are the best at sending students on to four-year universities and which four-year institutions were the best at helping them graduate," he said. "And that's something we haven't known … We've never been able to take a national look at which colleges and universities are solving the transfer problem."
"I think that's a really important piece of information," he added. "People need to know what good looks like and who they can learn from."
An analysis of the data found significant variation in transfer and bachelor's degree completion rates even among the top-performing institutions in each state. Transfer rates ranged from 19 percent to 71 percent among the community colleges with the highest transfer rates in their states, and completion rates for transfer students were 66 percent on average, ranging from 30 percent to 89 percent at universities with the top bachelor's degree completion rates for transfer students in their states.
The new data also focused on dyads, or pairs of community colleges and universities that have the potential to have large numbers of students transferring between them. The analysis judged those pairs' performance based on the share of students who started at a community college and eventually graduated from its partnering university, a metric dubbed the "dyad bachelor's completion rate." However, the analysis found that even among the top dyads in each state, bachelor's degree completion rates were only 8 percent on average and ranged widely, from 1 percent to 20 percent.
Kvaal noted that some of the partnerships that proved successful weren't surprising, such as Northern Virginia Community College and George Mason University, often touted as a model by higher ed leaders. The two institutions have a partnership called ADVANCE in which all credits transfer, students can take advantage of facilities and attend events on both campuses, and students can start taking George Mason classes while still attending the community college. But there were also "some colleges that get less attention," highlighted by the data, that can now serve as exemplars, Kvaal said.
Mamie Voight, president and CEO of the Institute for Higher Education Policy, said in an email that the new data "elevate bright spots among both sending and receiving institutions, and offer practical insights about policies that can pave clear transfer pathways for students."
"By showcasing and celebrating strong partnerships between community colleges and four-year institutions nationwide, these data will spark deeper, more meaningful policy conversations in states and communities committed to providing supports that foster success and completion among students who transfer," she said.
John Fink, senior research associate and program lead at the Community College Research Center at Columbia University's Teachers College, said the data have limits, given that the sample of students only includes federal financial aid recipients and the data aren't disaggregated by race. But nonetheless, the data are a "huge step forward."
"I've been studying transfer and working with transfer students for more than 10 years, and it's not every day that the Department of Ed just releases new metrics with institution-level data and partnership-level data on transfer outcomes," he said. He noted that the National Student Clearinghouse Research Center has robust and regularly reported transfer data—disaggregated by types of institutions, student demographics and other categories —but the federal government is uniquely positioned to provide detailed institution-level data.
Fink believes both the department summit on transfer and the new data signal "a lot of momentum in the field" and awareness by the Biden administration that "transfer is so essential for higher education and expanding opportunity and meeting workforce needs, increasing equity in higher education" and that fixing it requires a "collective effort."
He suspects the affirmative action ruling, which came up repeatedly in department officials' remarks at the summit, is a "big motivator."
Kvaal said he hopes the data are useful to students choosing where to go to community colleges and bachelor's colleges and university leaders who want to assess how well they're serving transfer students compared to other institutions and improve their transfer processes.
"Sometimes you hear in higher ed that we can't raise our sights because we do about as well as everybody else does," he said. "Now we have some hard numbers to show it is possible to help transfer students earn bachelor's degrees at much higher rates, and that takes some of the excuses away. And there are going to be different things that work in different places, but I hope this data will encourage higher education leaders to have higher expectations for students and take responsibility for helping students succeed."