You have /5 articles left.
Sign up for a free account or log in.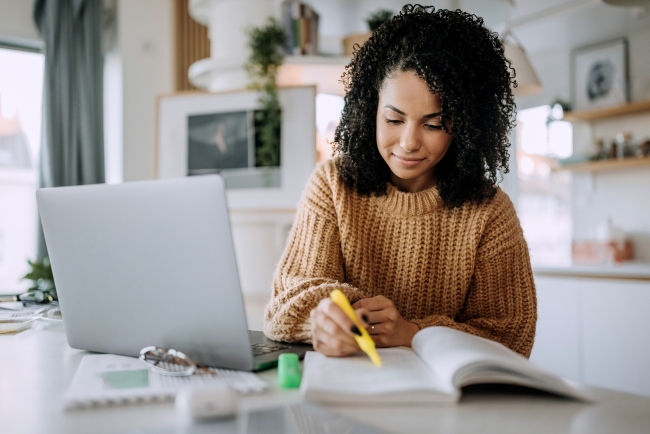 Pekic/iStock/Getty Images Plus
Lone Star College, a community college with eight campuses in Texas, has one "campus" that's different than the others—it's all online. The student government is made up of remote students, faculty members transferred from other campuses to focus on teaching online courses and college officials are working on helping students start e-clubs, including a possible crocheting group.
Lone Star College-Online was launched in fall 2022 to serve the growing percentage of students who wanted to pursue degrees fully online in the aftermath of the COVID-19 pandemic. Pre-pandemic, in fall 2019, 57 percent of students in the system took at least one online class and 18 percent were registered fully online.
This fall, 72 percent took online courses and 37 percent enrolled fully online. Enrollment at the LSC-Online grew almost 30 percent within its first year, from 3,643 students to 4,708 students from fall 2022 to fall 2023. Faculty members were quick to migrate too, with about 100 Lone Star professors applying for the 40 positions at the online campus.
The college isn't an outlier. Community colleges are increasingly finding that online enrollments make up a sizable chunk of their student bodies.
Seelpa Keshvala, executive vice chancellor and chief executive officer at LSC-Online, said a couple years post-pandemic, the trend shows no signs of slowing down.
Robust online education now "needs to be part of the repertoire of every comprehensive community college, because that's where the demand is," Keshvala said. "Students have decided to do things differently than pre-pandemic once they were forced to be in an online environment."
A data analysis by Phil Hill & Associates, a market analysis and consulting firm focused on education technology, found that almost 40 percent of students at public two-year universities were enrolled entirely online and an additional 30 percent were taking some online courses, according to Integrated Postsecondary Education Data System (IPEDS) from the 2021-22 academic year. Another recent analysis of the IPEDS data by the firm identified 38 community colleges where at least 10,000 students enrolled entirely online, including Lone Star, multiple campuses in the California Community College system and Ivy Tech Community College in Indiana and Tarrant County College in Texas. Another five institutions were on the cusp.
Glenda Morgan, a market analyst at Phil Hill & Associates, said many of the institutions on the list had pre-existing infrastructure for online education, such as Northern Virginia Community College. But online numbers swelled during the pandemic as more students came to appreciate the flexibility and convenience of online courses, especially community college students who are disproportionately older adult and low-income students with other responsibilities including jobs and childcare.
The pandemic "really opened people's eyes to the possibilities," she said.
Some community college officials find online education has also allowed them to tap into new demographics of students. For example, LSC-Online has attracted students from outside the community college's district and even outside the state.
Carlos Morales, president of TCC Connect Campus, Tarrant County College's online campus, said virtual offerings have drawn rural students in Texas who don't want a long commute to an in-person campus.
Tarrant County College has had its distance education campus since 2014, and it has grown steadily since its founding, Morales said. TCC Online had about 22,000 students learning at least partly online in 2020; the number grew to almost 30,000 this fall. The fully online student population increased from about 4,000 pre-pandemic to roughly 6,000, with a spike of around 8,000 students at the height of the public health crisis.
Prior to the pandemic, "there was a segment of the student population that couldn't come to us because of transportation, because of schedules, because of a life commitments …" he said. "The intention was through distance education, online education, we can reach the underserved segments of the population by bringing the institution closer to them, and at the same time, facilitate completion."
He believes the online student population is only going to grow larger at community colleges as high school students who got used to the modality during the pandemic reach traditional college age. He added that employers who offer tuition reimbursement opportunities to employees also favor online programs because they're more conducive to work schedules.
"The growth is here to stay," Morales said.
'Big Implications'
But a shift to serving thousands of students online also has "big implications" for institutions; they now need robust online support services to keep up, Morgan stressed.
She said online learners are shoring up enrollments after staggering declines at community colleges during the pandemic and bringing in tuition revenue, but "doing online well is really expensive," contrary to popular belief that online education saves costs.
Community colleges are often "horribly underfunded," she added. "They need to now offer different kinds of services and more services, and so it puts some additional stress on those budgets."
Morgan noted that retaining online students requires a slew of additional student supports, including online mental health services and tutoring and advisers who have the bandwidth to take a "much more outreach-based approach" contacting students at any sign they might stop out. These students are "on their own" in a different way than their on-campus peers. (She said she herself has embarked on many Massive Open Online Courses and has yet to finish one.)
Keshvala said ensuring students are succeeding academically and retained at rates on par with their in-person peers is a "pain point" for online programs. For that reason, college leaders have tried to ensure LSC-Online offers similar elements as an in-person campus would, including a librarian, tutoring and advising, and a student government.
"Creating connection and community in an e-environment is something that lots of schools are going to have to figure out what that looks like. Because connection and community are important, no matter the modality," she said.
Morales said TCC Online has taken numerous steps to make sure online offerings are of a high quality and that students complete their programs, including providing faculty e-coaching, services that offer guidance from online education experts, online academic advising and courses with a variety of term lengths, ranging from 16 weeks to five weeks. The college's retention rate for a traditional-length semester, 16 weeks, was almost 90 percent in fall 2022.
Long Beach City College requires remote students to take an online success module to teach them time management skills and how to access technical support and other resources so they're more likely to thrive in an online environment.
O. Lee Douglas, vice president of academic affairs at the college, said only 6 percent of the student body, and 1 percent of full-time students, were enrolled fully online in fall 2019. This fall, 28 percent of students, and 16 percent of full-time students enrolled fully online.
Douglas said meeting that demand was initially a "heavy lift" as the college worked to expand its IT infrastructure. It also had to grow its virtual student supports such as online tutoring, though the California Community College system's chancellor's office helped with the costs at the height of the pandemic.
"As a community college, it's imperative that we shift to meet the needs of our students, because the students are really speaking to us through their registration and in which sections they're enrolling," he said. "… The second part of that is making sure that we have the appropriate supports in place … Online classes can be challenging, though on the surface they look as though I just sit in front of a computer and I'm set, but we really have to be proactive in supporting our students to help them succeed in online environment."
Morgan, the market analyst, believes the growth in online education at community colleges is a "positive" development for students who stand to benefit from remote options while juggling other time commitments.
"One of the wonderful things about American higher education is that there are so many different options," and through community colleges, "the doors are open," she said. Online education "creates even more options and provides even more access … We just need to put pressure and help folks do it better because it means more people can likely go to college."