You have /5 articles left.
Sign up for a free account or log in.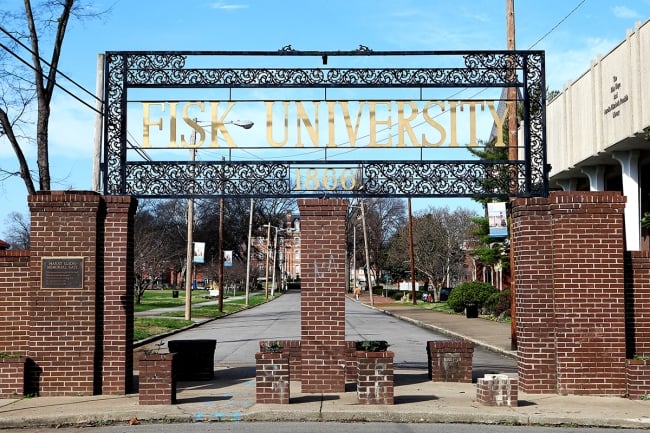 Raymond Boyd/Getty Images
Fisk University in Nashville, Tenn., is scheduled to drop students from classes today if they owe the university more than $1,500 and have failed to set up a payment plan. Those who don't meet the deadline will be required to move out of campus housing by Sunday, university officials told students in an email yesterday.
Fisk leaders say they've given students leeway with their debts over the last few years, thanks in large part to federal COVID-19 relief funds, but the historically Black university can't afford to do it anymore. They first warned students about the new payment policy in a December email. Some students argue the policy was poorly communicated and left them scrambling to come up with money they don't have. They've called on campus leaders to push back the deadline until November.
Frank L. Sims, acting president of the university, wrote in an email to the student body last December that students with balances over $1,500 wouldn't be able to register for classes or receive a dorm room assignment starting this fall.
"Over the past several years we have provided flexibility with our payment policy to accommodate the needs of our students," Sims wrote. "In doing so, students' balances have unfortunately continued to increase, presenting significant challenges for the University to provide the basic services you require and deserve as students."
Some students say they've received reminders about the new policy since last spring, while others say they first learned of it when they arrived on campus in August.
Several days after classes started on Aug. 17, campus officials sent an email announcing there would be an enrollment purge in late August. A later email said it would be broken into two separate rounds: one for students who owed money for prior semesters and another for those with outstanding balances for the current term. The university followed through on the threat, and some students found their class information abruptly wiped from the student portal. But after a two-hour emergency town hall meeting on Aug. 28, university leaders relented and moved the final deadline back to Sept. 8, allowing students previously booted from their courses back into class.
The email from campus officials on Thursday reminded students that those who don't pay or get on a payment plan by the new deadline will be disenrolled and must move out of the dorms by Sept. 10. It also said that the first payment for students on the plan would be postponed until October. Students are required to pay a $60 setup fee when they first sign up for the plan and a 15 percent down payment by the deadline, followed by subsequent payments on Nov. 1 and Dec. 1, when the balance must be cleared, according to the Aug. 17 email from university officials.
Tamaya Kimble, a junior at Fisk, said the postponement for disenrolled students to move out isn't long enough. She was among a group of about 30 students who protested the policy on campus last week. The group also circulated a petition calling for an extension to Nov. 1 that garnered almost 400 signatures.
Kimble said she wasn't aware of the policy announcement last winter—she doesn't recall getting the December email or any reminders—and only found out she could be disenrolled after she arrived on campus for the fall semester. She was attending class and working on assignments as usual, she said, but on Aug. 24 she noticed that none of her current classes were visible on her student portal anymore. She and the other disenrolled students were instructed not to attend class.
"It is egregious to have all of these people, these students, move in, get groceries, decorate their rooms and all these things … just to say, 'Oh, well, you need to pay this money, these thousands of dollars, in about a week,'" she said.
Kimble scrambled to secure a loan to cover her debt to the university, but she worries not all of her classmates will be as lucky, she said.
She also noted that she's from Illinois and many other students are from out of state or other countries, so if they're kicked out of the dorms, moving back home with their families is an expensive ordeal.
AJ Macon, a sophomore and one of the protest organizers, said many students reported not receiving reminder emails. Macon was also included in the August purge—despite being on a payment plan. It took them repeated calls and emails to administrators to get the problem sorted out and remain in class.
University leaders "understand the fact that a number of these students are international students coming hours from home, they're first-generation college students who have parents who have not done this before or they are low-income students who don't have brightest financial backgrounds," Macon said. "So, the administration can't act surprised when students can't come up with thousands upon thousands of dollars immediately," or even get on a payment plan with a $60 setup fee and a down payment.
The administration is "just disorganized, and we the students have to face punishment or backlash because of it, which is unfair, because all we're trying to do is attend and get a degree and make connections and all that," Macon added.
Michael Henderson, a senior at Fisk, said an academic adviser reminded him of the policy last spring, though it was clear at the town hall that some of his peers hadn't learned of the policy until this fall. He believes administrators have been "gracious" and "flexible" by extending the deadline to September. He said he's been encouraging friends and classmates at risk of being booted to sign up for the payment plans. While he sympathizes with them, he understands that Fisk is a "small business" that needs tuition dollars to run.
"There's, I think, truth on both sides," he said. "For the students, there's the economic position that a lot of people are in, where it may not be super simple to just quickly drop X amount of money to cover their balances … And then it's also true on Fisk's side that they did sufficiently give enough warning or notification that this policy would be in effect."
Sims said in a statement last Friday that administrators were "doing everything in their power" to help students meet requirements by the new deadline, adding that "every office from financial aid to student accounts is available to meet with students individually."
He also noted that federal COVID-19 relief funding allowed the university to eliminate outstanding balances until January 2023 but pointed out the "one-time nature" of the support.
"Allowing students to defer their financial obligations not only undermines the University's ability to meet its fiscal responsibilities but also the student's ability to successfully matriculate from the University," he wrote. "The University leadership is deeply dedicated to investing in students, but also depends on students to invest in their education."
During the pandemic, a flurry of institutions, particularly HBCUs, used federal COVID-19 relief funding to clear students' or graduates' outstanding balances owed to their colleges and universities to lighten their debt loads in an economically challenging time. For example, in 2021 Delaware State University and Shaw University in North Carolina canceled students' institutional debts, amounting to hundreds of thousands of dollars. Other institutions that disproportionately serve minority and low-income students did the same; Trinity Washington University, a predominantly Black and Hispanic-serving institution in Washington, D.C., cleared $2.3 million in unpaid balances, and the City University of New York system announced plans to wipe $125 million owed to the system that summer.
Dominique Baker, associate professor of education policy at Southern Methodist University, said she suspects Fisk's situation is an example of what's to come for other higher ed institutions as their federal COVID-19 relief funds dry up.
College and university leaders were eager to cover students' institutional debts, a "common" barrier to enrollment and graduation, she said, and to offer other kinds of supports. But "anything that was covered by pandemic assistance is not sustainable," she said.
She believes the recent controversy at Fisk reflects larger national issues beyond students' and the university's control.
The campuses that generally struggle with large amounts of unpaid debt tend to be "systematically underfunded, and they frequently are educating students whose families don't have a ton of wealth," she said. "I don't want to downplay how tough that is."
It's easy to blame students for failing to pay or criticize campus officials for demanding those payments, she said, but the real solution lies with policy makers.
"What state and federal policy makers need to be thinking about is how to adequately fund our systems of higher education," she said. "Everything else is like a Band-Aid on the actual problem."
Macon said students are waiting to see what happens on Sept. 10, when disenrolled students are supposed to move out.
But they assume it'll be "like a wound opening up again, and this chaos will probably restart once more," they said. "I think, personally, I'm fine, but I know some students will not be and some students cannot be … We don't know what's going to happen until it gets there."