You have /5 articles left.
Sign up for a free account or log in.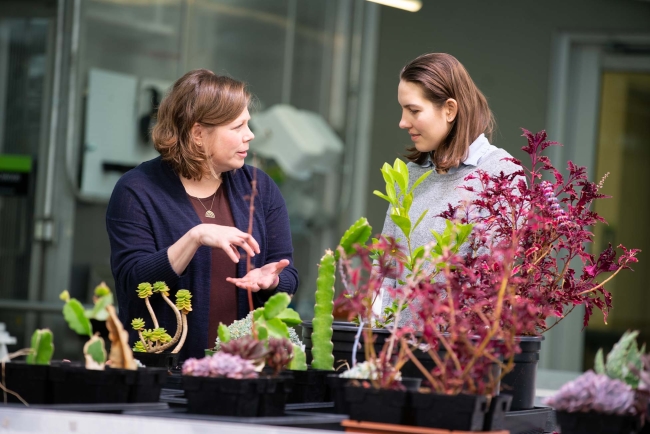 Regional public colleges and universities are increasingly partnering with local industry and community leaders to support economic and social growth, according to a new report from the American Association of State Colleges and Universities.
Two decades ago, AASCU issued its first report on "stewardship of place," a turn of phrase coined by its members to help regional comprehensive universities (RCUs) define an important part of their distinct institutional mission: to support members of their local communities and help drive regional economic development.
"[RCUs] would often say, 'We're not the community college, we're not the flagship; we're something in the middle,'" said Cecilia Orphan, a co-author of the new report and director of partnerships at the Alliance for Research on Regional Colleges. "This language helped give them a positive way to define themselves to those on the outside," such as prospective students and state lawmakers.
AASCU's new report, aptly titled "A Call to Action: Translating the Spirit of Stewardship of Place Into Practice," revisits that concept and reflects on how institutions have acted on it—through expanded program offerings, workforce development partnerships, community engagement initiatives and student accessibility measures, to name just a few.
Harvey Kesselman, president of Stockton University in New Jersey, said he's seen firsthand the benefits of leaning into the stewardship-of-place mission. Stockton has campuses in Galloway and Atlantic City, and Kesselman said the university has focused much of its growth in Atlantic City on community needs since opening its campus there in 2018. (This paragraph has been updated to correct Stockton's opening in Atlantic City.)
Both the university and the city benefit from the arrangement. Among other things, Stockton has forged business partnerships with the city's famed hospitality industry that produce summer internships for students, and a thriving marine biology program uses the city's unique geography—located between Great Bay and the Atlantic Ocean—to help combat the corrosive effects of climate change on its fishing and beach tourism industries.
"All institutions should be involved in this kind of work to some degree," he said. "But for regional publics, it should really be our raison d'être."
Orphan said that by highlighting in the report campuses that have mobilized around stewardship of place, AASCU aims to inspire more to do the same.
"We hope it's aspirational as well as accurate, to call these institutions stewards of place," she said. "We want to push AASCU institutions to not just use the rhetoric and the language, but to continually be evolving and embodying this mission."
'Let Knowledge Serve the City'—or Suburb, or Countryside …
The motto of Portland State University in Oregon—"Let Knowledge Serve the City"—also reflects how it has embodied stewardship of place over the years.
"Universities are a source of fresh ideas, knowledge and resources for improving the world," said Angela Jackson, PSU's director of industry and entrepreneurial engagement. "That can start with the city, and we've been very involved in that way in Portland."
"The biggest issue in expanding these kinds of programs, and there's no surprise here, is funding," Orphan said. "This is very resource-intensive work. For a lot of institutions, it is really difficult to maintain this mission when their funding is constantly being cut by the state. They kind of go into survival mode and just try to keep the lights on and the doors open."
The motto became even more relevant during the pandemic, Jackson said, when PSU put its knowledge and resources into helping revitalize the city's hard-hit downtown. The university provided workforce development initiatives including expanding credentials for adult learners looking to change careers or replace lost jobs; PSU faculty and students also conducted research to help formulate policy on issues like homelessness and unemployment.
The deep connections between RCUs and host communities can lead to mutually helpful knowledge-sharing arrangements, Orphan said.
"University leaders who really embody this stewardship mission know that expertise doesn't solely live on campus," Orphan said. "Institutions looking to expand their programs or attract more students or faculty have a lot to learn from community partners."
It's not only urban RCUs that can make a difference through community investment. Rural institutions, including the University of Western Alabama in Livingston, have partnered with broadband providers to improve internet access for their communities, as well as with burgeoning local industries—such as renewable energy—to bolster relevant workforce development.
Nestled between the foothills of the Appalachian Mountains and farmland tended by migrant workers, Western Carolina University—which is also situated at the edge of historic Eastern Cherokee Native American tribal territory—serves a niche population of students who live and work in a unique geographic and economic environment.
WCU chancellor Kelli Brown said the university's synergistic relationship with the community has resulted in teacher preparation programs that train a significant portion of the region's K-12 educators. Its nursing and health-care programs likewise staff the sparse array of area hospitals and clinics. Students can give back and gain experience by volunteering for the university's pro bono health services clinic, providing physical therapy services to migrant farm workers who lack health care.
WCU was even the reason many of the area's residents received COVID-19 vaccines early, Brown said. Its health sciences building was the only place in all of western North Carolina with a freezer system cold enough to store the vials, and thus became the region's sole vaccine clinic for the first half of 2021, distributing over 17,000 vaccines.
"That's a great example of an RCU directly serving its community," Brown said. "We were the only place that could do that."
Equitable Stewardship
In recent years there's been a surge in RCUs' interest in equity and accessibility work, Orphan said, especially as demographic shifts make underserved and nontraditional student groups more of a focus for institutions.
"The question of equity was actually pretty absent from the original thinking and reports around stewardship of place," she said. "But it's so important to this question of stewardship to be deeply familiar with who is making up the community you're looking to serve."
Wright State University in Ohio, for instance, is located near a number of military bases and found itself serving large numbers of veterans and disabled students. That led Wright State to become an early adopter of retrofitting campuses for maximum accessibility.
Similarly, the growing nonwhite population of Portland—historically a predominantly white city—has changed the priorities for PSU's community engagement initiatives, Jackson said. PSU's student body reflects this shift; it is currently 40 percent BIPOC and 18 percent Latino, according to university data.
"We'll soon be opening a STEM center that's also a career center, with wraparound services aimed specifically at the underserved, nonwhite students that are increasingly making up our population," she said. "As our core population changes, it's important we do too."
A Burden and a Blessing
Despite its many benefits, community stewardship can be taxing, Orphan said, especially for institutions that are already struggling with enrollment and state disinvestment.
That's worrying, Orphan said, because more so than Ivy League universities, elite private colleges and even some large public flagships, RCUs are "indispensable" to their communities.
"If Harvard disappeared tomorrow, Boston would basically be the same," she said. "If [the University of Massachusetts] Boston, which is the only public university in the city, went away, it'd be catastrophic for the city."
Brown, the WCU chancellor, said that while her institution is certainly less well resourced than the state's R-1 universities like UNC Chapel Hill, community engagement is such an integral part of its identity that it has been more of a boon than a struggle.
"It's part of our DNA. It brings in faculty who want to do this work and helps our students be better employees and community members," she said. "I see it not as a strain but as a blessing."
Kesselman said that while times have gotten tougher for smaller institutions, he's confident that Stockton, and other RCUs like it, will anchor their communities for years to come.
"In 200, 300, 400 years, I'm certain at least two things will remain in Atlantic City: the ocean, and Stockton," he said.