You have /5 articles left.
Sign up for a free account or log in.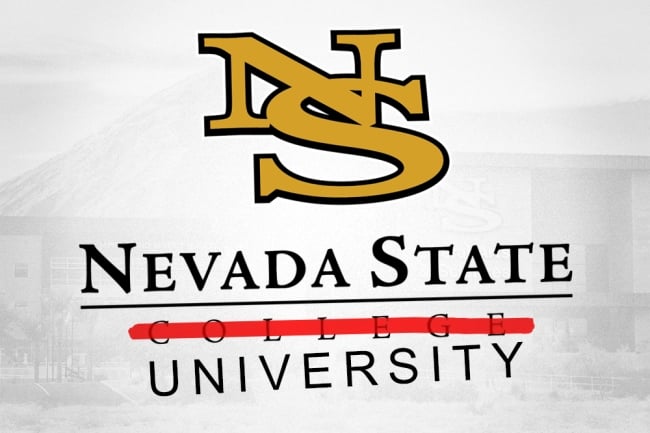 Photo illustration by Justin Morrison/Inside Higher Ed | Nevada State University
What's in a name? Apparently a lot for some higher ed institutions.
"Names matter because they are a reflection of identity," said DeRionne P. Pollard, president of Nevada State University, a regional public four-year institution that was called Nevada State College until last month. Students and alumni had been pushing for a name change for years before Pollard took the helm in 2022. She was open to the idea, but it was a call from a student in Nevada State's nursing program that convinced her the change was necessary.
"She'd been interviewing for a nursing position at a hospital in an adjacent state," Pollard recalled of the student, who was in her last year of the nursing program. "She spent the first 15 to 25 minutes of the interview validating that she was indeed a soon-to-be graduate of a bachelor's program in nursing and that Nevada State College was indeed a four-year institution."
Pollard said the word "college" is often associated with two-year institutions in the region where the Nevada State is located, just outside Las Vegas, and alumni have told her this can negatively influence public perceptions of the value of its degrees.
"That is why we persevered through this," she said.
Nevada State had been exploring the name change since 2019, under the leadership of Pollard's predecessor, Bart Patterson. Campus surveys found broad support for the idea. Pollard carried those efforts forward, and after the name change got the approval of the Board of Regents, the Nevada Legislature passed it this year and Governor Joe Lombardo signed it into law two months ago.
Pollard said she had to take a position on the name change even before she got the job as president because she was asked about it repeatedly during the interview process.
"At least four people asked me about my position on the renaming," she said. "If it indicated a change in mission, I was not interested. If it were helping us to differentiate ourselves in the marketplace and it were a marketing or branding issue, I had some affinity to explore that. And that's exactly what it was."
Name Changes: A Trend?
Four-year institutions aren't the only ones in the name-change game. In recent years, some image-conscious community colleges have moved to eliminate the word "community" from their names in an effort to distance themselves from the stigma that community colleges are academically inferior.
Negative perceptions of academic offerings also prompted multiple colleges in New York to start calling themselves universities last year. The colleges were only able to do so after the state's Board of Regents agreed to eliminate the requirement that an institution have a certain number of doctoral and professional programs in order to call itself a university.
While Nevada State's public status required it to get legislative approval to change its name to "university," many states don't require such approval, especially for small, private institutions that are most at risk of closures and enrollment declines and are more likely to change their names.
Olivet College in Michigan announced its name change to University of Olivet in May. A few days later, Nazareth College in New York became Nazareth University. And as of last week, Philander Smith College in Arkansas is now Philander Smith University.
Roughly five to 15 colleges change their names to "university" each year, according to Riley Acton, an economics professor at the Miami University of Ohio who studied this trend in a 2022 paper published in the Economics of Education Review.
"Colleges are trying to make themselves attractive to prospective students," said Acton, whose research focused on how this trend has played out in the 21st century. "They do this in different ways, with regard to what programs they offer, how they market themselves and what sorts of investments they make in their campuses. But, increasingly, it seems like one of the ways they do this is changing their names from colleges to universities."
Those strategies for enrolling more students are happening against a backdrop of college closures, a shrinking population of high school graduates and enrollment declines that started during the Great Recession and intensified during the pandemic. From 2010, when college enrollment was at its peak, to 2021, the number of students attending a postsecondary institution dropped from 18.3 million to 16 million, according to the National Center for Education Statistics.
"Colleges are very much concerned with 'Are we going to get enough students to come to their campus?' and 'if we have the same pool to draw from that we used to,'" Acton said. The steady news of name changes "points to a larger trend of higher education in the U.S. functioning like a market where students or families are consumers and they're seeking out different institutions, and increasingly they have a lot of information about these institutions and colleges are trying to market themselves to these prospective consumers."
And although there are no strict rules on what constitutes a college versus a university in the U.S., public perception of the term "university" typically indicates an institution that offers graduate and professional programs and produces scholarly research. There are exceptions, of course, such as Boston College and Dartmouth College—selective institutions with prestigious graduate programs—but over all, "colleges are likely to be smaller," Acton said.
Advantages, Potential Drawbacks
A name change has shown to result in an uptick in enrollment at some institutions. According to Acton's research, the 122 colleges she surveyed that changed their names between 2001 and 2016 showed an average 5.2 percent increase of first-year students in the first five years following a conversion; after six or more years, that average climbed to 7.2 percent.
With more students often comes more revenue. But unintended consequences can also come with enrollment increases, including a drop in per-student spending, which Acton said can be an important driver of student success.
"Enrollment goes up more than expenditures go up," Acton said. "I also see that some of these institutions hire more staff with the enrollment increase," instead of hiring more faculty, "so it could be the case that they have larger class sizes."
Alex Eble, an assistant professor of economics and education at Teachers College of Columbia University, studied this same trend in China, which does require the government to approve a name change. Location aside, Eble said it holds true in both countries that "people with the least information about the college are most likely to go" to those colleges. However, if an institution calls itself a university, it's more likely to attract students with higher GPAs and test scores. "So even though the college itself may stay the same," aside from changing its name, "four years later we found it's bringing in better students."
'A Bit of a Death Rattle'
Ozan Jaquette, an associate professor of higher education at the University of California, Los Angeles, said these name changes have a long history that inform the current shifts in the higher education landscape.
He researched the historical motivations of private colleges that have changed their names, dating back to the 1970s. That decade was marked by economic downturn, high unemployment and, like in 2023, skepticism of the value of a college degree.
In the '70s and '80s, public hostility to bachelor's degrees from liberal arts colleges pushed many to offer programs such as business and nursing in an attempt to diversify their student populations and potential revenue streams.
"The death rates were certainly lower for colleges that changed their names to 'university,'" Jaquette said. "We see echoes of this now."
But he cautioned that a name change may only go so far for some of the nation's small, financially strapped private colleges.
"It strikes me as a bit of a death rattle," Jaquette said. "If a private college is changing its name now, these are colleges that aren't going to be here in 10 years one way or another."