You have /5 articles left.
Sign up for a free account or log in.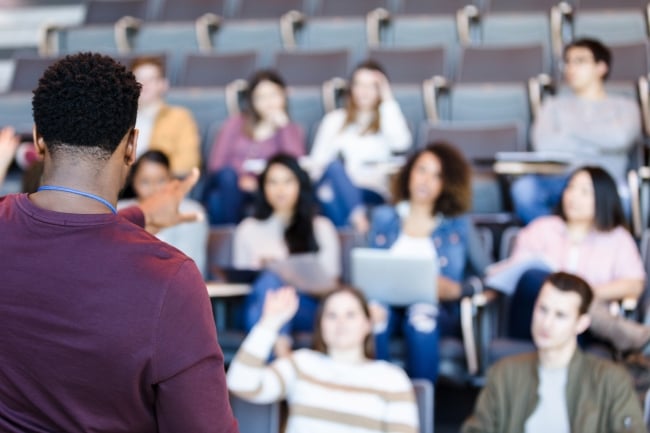 SDI Productions/E+/Getty Images
At the University of Minnesota at Morris, faculty members who need to miss a class session are asked to not cancel class but to allow staff members to present workshops to students instead.
The Don't Cancel That Class Initiative offers workshops around holistic student success to the campus community, with guidance on learning strategies, health and well-being, and financial wellness, among other topics.
The initiative serves not only as a learning experience for students, whether that's in the classroom or at an extracurricular group or activity, but also as a way for student success practitioners to understand students' needs and provide faculty members with tools to have similar conversations with students.
What it is: The Don't Cancel that Class Initiative began in fall 2018 as a way to unify workshop offerings across the institution. Prior, faculty members would reach out to individual offices with specific workshop requests for their courses, which could be clunky or more time-consuming.
Staff from the library, career services, McNair Scholars, one-stop center, counseling and wellness, the student success division, and the equity, diversity and intercultural programs lead the various workshops.
Academic assistance coordinator Keni Zenner and first-year experience coordinator Emily Johnson first compiled the workshops and descriptions and shared the list with faculty members before the start of the initial semester.
"They could put them in their course syllabi, if they knew they were going to be away for a conference," Zenner shares. "Or, honestly, if they just wanted to have us talk about these academic strategies, we have the workshops already put together so we didn't have to do that after a request came through."
Current workshop offerings are identified on one website, which makes outreach easier and increases visibility of all service offerings across campus. Workshop topics include library research, identifying values, developing résumés, LGBTQ+ issues, international education, graduate school preparation, financial wellness, mindfulness, stress management, exam preparation and note taking, among others.
Sometimes faculty members schedule one-off workshops to cover an absence for personal or professional reasons, like attending a conference, but some professors incorporate workshops into their syllabi every term.
One example is UMM's organic chemistry course, a 200-level offering for biology students, which receives a time management workshop every term from a student success staff member.
How it works: To book a workshop, the directing student, faculty or staff members will fill out an online form from the appropriate office that leads the desired session.
While each office has its own workshop Google form, the questions and information required are the same, including contact information, desired workshop length, attendee information, location and three options for date and time.
Upon receiving the form, a staff member will coordinate scheduling the workshop with the requesting professor and their colleagues.
Most workshops are offered during traditional working hours, between 8 a.m. and 4:30 p.m., but staff can accommodate after-hours requests by teaching workshop materials to another community member in lieu of presenting it themselves.
The workshop lasts for around 50 minutes and most class periods run 65 minutes, leaving time for reflection or class announcements, as needed.
"We find that depth is important with a lot of these topics," Zenner says. "Just presenting information and kind of talking at students is not particularly helpful … All of the workshops have some sort of collaborative learning component."
A way Zenner has made her workshops collaborative is by inviting a teaching assistant or an older student to talk to a class about their experiences to make the discussion more relatable.
Following the workshop, students may complete an assessment like answering a brief response question on a note card or taking a survey.
The impact: Workshop leaders saw "really tremendous response from that very first semester," Zenner says. "We have a little over 1,000 students, and we got 584 student contact hours in the first semester we tried this."
Most sessions led by the student success division took place in first-year, introductory courses, but also some third- and fourth-year courses like senior seminars to talk about reflection strategies or time management during busy semesters.
Since fall 2018, workshop requests have stayed steady, but a little lower over all, which Zenner attributes to faculty gleaning ideas from past workshops and hosting their own discussions, rather than inviting an outside speaker to facilitate. UMM also launched a first-year experience course in recent years, which diminished the need for some of the student success-focused workshops.
For the staff, having a streamlined workshop request flow has saved time and energy in workshop design, scheduling and data tracking.
Looking ahead, Zenner is hoping to revise some of the programming to better address the present student needs in a post-pandemic academic setting. Rather than focusing on pure skill building, she's hoping to empower students to identify where they are college-ready and build from previous habits.
Get more content like this directly to your inbox every morning. Subscribe here.