You have /5 articles left.
Sign up for a free account or log in.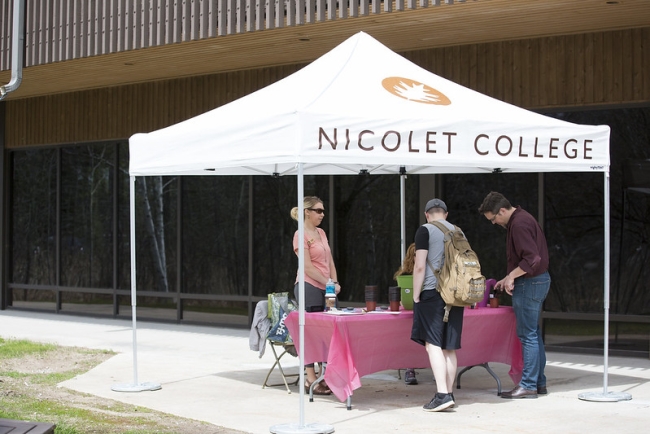 In Wisconsin, the postsecondary credential completion rate for American Indians in 2019 was 26 percent, well below the state average of 55 percent, according to data from A Stronger Nation and the Lumina Foundation. One of the primary barriers in Indigenous students' success is a lack of cultural relevance in postsecondary curriculum, as students do not see themselves reflected in the institution or its programs, according to the report.
Nicolet College in northern Wisconsin launched a Native American Tribal Management program in 2002 to provide pathways for Indigenous learners to participate in higher education. In 2018, the college received grant funding from the Lumina Foundation's All Learning Counts Initiative, designed to recognize learning from outside colleges and create pathways for learning credentials.
An April report highlights the work of the project and the enhanced curriculum at Nicolet as staff partnered with local Native American leaders to understand the cultures, history, languages and governance of surrounding tribes.
While the program concluded in 2021, a new 13-credit technical certificate, Indigenous Ways of Knowing, for learners and a professional development certificate for its staff are being launched, with a focus on Indigenous ways of knowing.
What's the need: Prior to the development of the Native American Tribal Management program, there were no courses for Indigenous studies in the Wisconsin Technical College System (WTCS). In the University of Wisconsin system, UW Madison offers an American Indian Studies bachelor's degree, and UW Green Bay has a First Nations doctoral degree.
The state has 11 federally recognized American Indian nations and one state-recognized nation. Of institutions in the WTCS, Nicolet College's district has the highest population of American Indians (16 percent) primarily consisting of three tribes, Lac du Flambeau Band of Lake Superior Chippewa Indians, Mole Lake (Sokaogon) Band of Lake Superior Chippewa and Forest County Potawatomi.
Native American students make up around 4 percent of Nicolet College's student population, the largest single community of color at the college.
The original program: Nicolet College launched a 10-credit Native American Tribal Management program in 2002. The 10-credit program was a technical certificate with two three-credit courses focused on the fundamentals of tribal management and tribal supervisory management. Students earn the final four credits by completing a business programs orientation and an elective course.
After completing the certificate, students can work toward an associate degree in business management at Nicolet and transfer to a bachelor's degree in the UW system, if they choose.
Dianne Lazear, chair of the board for Nicolet College, developed the curriculum working with academic experts and resources from graduate programs at other institutions. Lazear previously worked in the college's (now-closed) Native American Center office and served as an instructor in the business management program.
The curriculum did not include partnership with local tribes, but it had strong support from the Lac du Flambeau and Mole Lake tribes, according to the report.
New growth: In 2019, Nicolet College signed a memorandum of understanding with the Wisconsin Indian Education Association (WIEA) to partner on the Indigenous Ways of Knowing project.
In the project, Nicolet and WIEA sought to achieve three goals:
Develop a model and curriculum for mapping competencies and knowledge from Native communities to technical certificate and degree pathways.
Develop and test policies and practices to award credit for prior learning and experience in Native communities.
Establish a methodology for engaging Native American educators in teaching at the community and technical college level.
Project participants, both Native tribe members and Nicolet staff and faculty members, were organized into four groups: culture clan, governance clan, history clan and language clan. Each clan had three objectives: identify topics in their subject area that could be included in course materials or curriculum, determine how to assess lived experiences of Indigenous learners to grant them degree credit, and develop a rubric for this assessment.
The groups were Native-led, with faculty members working to support the conversation as it translated into academia. Staff and faculty members working on the project also participated in training sessions to teach them cultural standards when interacting with Indigenous leaders like elders.
The outcomes: The program concluded in 2021. Each of the four clans developed a three- or four-credit course, which will be compiled into a new 13-credit Indigenous Way of Knowing certificate, to count toward an associate of arts or associate of science degree.
Nicolet College hired a Native American professor to serve as a full-time Indigenous studies and tribal business management instructor and plans to add Native adjuncts, as well.
The professional development courses also extended beyond project participants, now offered as a self-directed course using recorded training sessions, which is open to all employees at Nicolet College. The college plans to offer a certificate for faculty, staff and administrators who complete the series.
Uncle Ernie St. Germaine, a tribe member of the Lac du Flambeau and retired faculty member, also partnered with a Nicolet art instructor to redesign the Native American art course, adapt it for online and highlight Native knowledge and culture in the curriculum.
Next steps: The program has yet to launch, with an initial timeline of spring 2023 pushed back due to the COVID-19 pandemic. The implementation process includes six steps: testing assessments, developing a guide for assessment, recruiting learners, providing advising and supports for students, launching the program, and adapting as needed.
"In the meantime, the college has experienced an enrollment increase in its Tribal Management program due to awareness generated through the IWOK project," according to the report. "More than 20 new students enrolled, with courses running in two tribal communities."
Nicolet College plans to continue partnering with tribal leaders and maintain Native representation inside and outside the classroom as instructors, advisers and coordinators.
"Now that the college is aware of the expertise that exists," the report states, "it is incumbent on them to find ways to engage Native partners, even if it requires forging new paths or exploring nontraditional means to achieve it."
Additional funding is required as the college develops and implements the program.