You have /5 articles left.
Sign up for a free account or log in.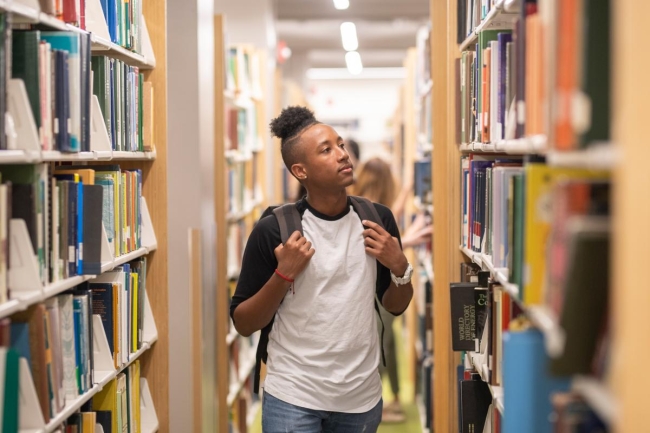 Fat Camera/E+/Getty Images
Across higher education, Black and Latino men are underrepresented in the classroom and less likely than their peers to complete a degree. In response, campus leaders are promoting stronger pipelines from high school to college graduation to support men through their degree progression.
A new partnership between College for Every Student (CFES) Brilliant Pathways and the University of Vermont will prepare students for the workforce as they work toward a college degree. Young Men of Talent will launch in fall 2023, aiding 100 college Black and Latino men in the first seven years.
"YMT centers on the fundamental challenge that Black and Latino males are falling further and further behind their peers in terms of education and opportunity," says Jon Reidel, director of communications for CFES Brilliant Pathways. "We need to help others understand the magnitude of this crisis and the need to deploy resources and develop strategies to level the playing field."
The program's primary goal is to ensure every student graduates and launches into a career in their desired field.
What's the need: In January, CFES chief executive Rick Dalton took a sabbatical to investigate gender imbalance at the University of Vermont, where the student population is 33 percent male, seven percentage points lower than the national average.
After interviewing 120 faculty members, staffers, students and local campus community and business leaders, Dalton established YMT to address gender inequality with a non-cost-exorbitant or complex solution.
CFES established a task force made up of business, government and academic officials to guide program development and secure funds. UVM leaders, including President Suresh Garimella, Provost Patricia Prelock and Vice Provost of Enrollment Management Jay Jacobs, also supported program development.
How it works: CFES will partner with high schools to run programming around college and career preparation. From this group, UVM and CFES leaders will identify program participants, drawing on feedback from leaders at the high schools and the YMT task force, Reidel says.
During the pilot, YMT will support 100 students at UVM: 20 in fall 2023, 40 in fall 2024 and 40 in fall 2025. The pilot will run for seven years, assisting participants through graduation.
Each student will join a career development cluster based on industry aspirations, such as health care, teaching, technology or entrepreneurship. An industry professional will lead the cluster, serve as a mentor to participants and facilitate regular in-person and virtual meetings with cohort members.
"There will be five to six career clusters to start based on workforce needs, emerging careers and interests of students," Reidel says. "There will be four students per cluster in year one, with an expansion to roughly 12 clusters as the program expands."
YMT participants will also complete training modules by CFES to support their success at UVM and prepare them for the workforce, as well as fulfill a paid internship, assisted by their cluster leader.
Black and Latino male students who are currently enrolled undergo training at UVM and work with faculty to serve as peer mentors to program participants. Professors will also provide academic support, counseling and other services to YMT participants.
The university president and provost will also hold regular meals with YMT students throughout the year.
Next steps: Beyond graduation and career placement, UVM's research office is developing program performance indicators around happiness as well as involvement in the university and community.
"The YMT program will partner with UVM's Office of Research, which will collect and organize data on the program that we will use to guide the program's evolution as we adapt and expand upon the strategies identified as most effective," Reidel says.
Over the next five years, CFES hopes to launch another 10 YMT programs at colleges across the U.S.
"We have a lot of college partnerships across the Northeast, and beyond that we will continue to consult with throughout the first year," Reidel says. "We want to base it heavily on need and fit."
Get more content like this directly to your inbox every morning. Subscribe here.