You have /5 articles left.
Sign up for a free account or log in.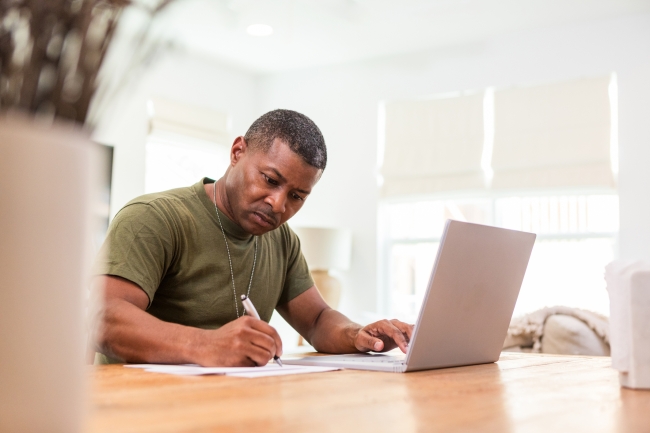 SDI Productions/E+/Getty Images
In May, Emory University in Georgia will welcome its first cohort of graduate students earning a master in business for veterans (M.B.V.), the second such degree program in the country.
An M.B.V. degree, similar to a master in business administration, equips learners with business tools needed for a leadership level role. But the M.B.V. pulls from the lived experiences of active-duty service members and veterans, using their leadership qualifications from their time in the military.
Emory hopes to welcome around 35 veterans in spring 2024 for its first M.B.V. class, says Ken Keen, retired U.S. Army lieutenant general and associate dean for leadership at the Goizueta Business School.
"It really fits well with the values of the university, the school, providing a program like this for an underserved, underrepresented population in our society, in business as well as obviously in academia, so we're very excited," Keen says.
What's the need: The only other M.B.V. program in the U.S. launched in 2012 at the University of Southern California's Marshall School of Business. Goizueta dean Gareth James previously worked at Marshall, which inspired him to model the program at Emory.
In 2022, 18.4 million people were veterans, around 7 percent of the U.S. adult population, according to the Bureau of Labor Statistics. Georgia has one of the largest military populations in the country, as well, with 13 military bases, 700,000 former service members and 101,000 military retirees as of 2022, according to the state.
The most common degree field for veterans using the Post-9/11 GI Bill is business (27 percent), according to data from Student Veterans of America. In 2021, 14.3 percent of all student veterans were graduate students.
The M.B.V. program will highlight a graduate's strengths honed by the military—including dedication, commitment, hard work and team focus—with a deeper level of business management, fulfilling workforce needs, Keen says.
The ideal applicant for the program will have an undergraduate degree and have served at least three years as a uniformed servicemember in active duty, National Guard or reserves, Keen says. "We want them to come with a good, solid foundation of work experience."
How it works: The program, like an M.B.A., has 24 core credits focused on business, but unlike an M.B.A., an M.B.V. has 31 total credit hours instead of 55 to 60, Keen says. Emory's M.B.V. courses are offered on Friday and Saturday every other week for 11 months, with students completing the same business courses, led by the same faculty, that their M.B.A. peers do.
"They're going to come out of this with that business acumen, skills and knowledge that you get in a top 20 [school's] core business courses," Keen says.
As a culmination of their work, student veterans will complete a Goizueta IMPACT for veterans project: a case-study small group project that asks veterans to apply their learning to a real-life problem for an outside partner. Goizueta leaders are considering finding veteran-related problems for the project.
What's different: Special to the M.B.V. degree is transition and career development programming designed to support student veterans as they transition into business settings after their time in the service. While all students will come with military leadership experiences, the M.B.V. program will help translate those skills for a corporate setting.
The program will also provide networking experiences between veteran peers and veterans who have successfully made the transition into the business world, Keen says, with every student in the program offered a mentor. In addition, Keen will lead "academic boot camp" for incoming students, a three-day orientation and prep course to ensure students are prepared for the year.
Student veterans can use GI benefits, yellow ribbon VA matching and the Goizueta yellow ribbon scholarship to cover the entirety of their tuition costs, as well. "Even veterans who don't have full GI Bill benefits, we want to work with them to find scholarship money so they aren't paying out of pocket," Keen says.
The next steps: In preparation for the first cohort, Goizueta leaders have identified course sequence and the teaching faculty; the next phase is establishing a schedule for offered courses.
Most of the program development at present is focused on marketing to potential applicants. Applications opened Aug. 1, and the school has received over 15 submissions. Fort Moore, outside Augusta, Ga., is home to the Army's Ranger school, which is one group Emory will target in its M.B.V. recruitment, says Keen, a member of the U.S. Army Ranger Hall of Fame himself.
Get more content like this directly to your inbox every weekday morning. Subscribe here.