You have /5 articles left.
Sign up for a free account or log in.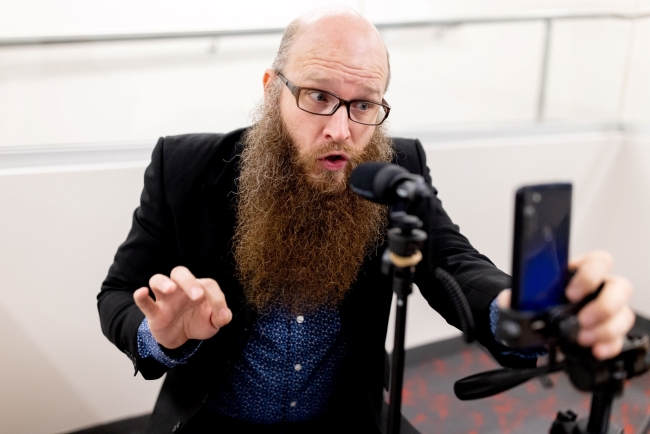 Washington State University
Economics professor Chris Clarke first downloaded TikTok in November 2020 and hated it—at least for the first week. "By the end of the week, the algorithm figured out what I liked and fed me content I liked, and I loved it," he says.
A Washington State University faculty member, Clarke is one of many academics creating content on the video platform and part of a network of #ProfessorsofTikTok. These educators teach to the public, often disproving or affirming internet trends.
For example, Clarke started making public-facing TikToks in January 2021 after the subreddit WallStreetBets started to gain attention for shorting the stock market. Now, Clarke has 44,000 followers, 1.1 million likes and a plethora of short videos on economics to entertain students and the general public alike.
"I love the authenticity of it. I love the wide diversity of viewpoints that you can get on there, and there was a need," Clarke says. "There's still today—that was spring 2021 when I started; here we are two and a half years later—there's not a lot of economic content on the app."
Being a video content creator has benefited Clarke's teaching and how he interacts with students as well as connected him to like-minded academics.
Improved teaching: Clarke strives to be a pioneer in the economics world of TikTok in providing regular, quality educational content. "I wanted to be on the forefront of pedagogy," Clarke says.
Creating TikTok videos on current issues has also challenged Clarke's scholarship. As an economist, Clarke cites peer-reviewed articles, offers nuanced perspectives on issues and tries to focus on policies rather than politicians to maintain credibility and an objective perspective.
"What I love about TikTok is, no matter what you do, you will have detractors in the comment section, people disagreeing with you," Clarke says. The pushback Clarke gets from viewers has helped him refine his communication, "and undoubtedly I conduct classroom discussions over controversial issues far better now than I used to."
A majority of faculty (56 percent) feel a need to produce creative course content, lectures and topics to engage students, according to a recent Cengage survey. More than four in 10 faculty were creating video content in 2022, but fewer (16 percent) are doing so this year.
Clarke also has built relationships with fellow professors on TikTok specializing in history, sociology, chemistry and international relations to discuss pedagogy and teaching techniques. While the number of economists on the app is limited, Clarke knows a few and "it's nice to have a little community," he says.
On screen: A primary reason why Clarke is on TikTok is to connect with his students and see what's trending.
"Culture is being created on TikTok; more young people are on TikTok than on any other platforms," Clarke says. "So you want to be on the forefront of thought, the forefront of creativity, creative discussions and the issues they care about."
Filming TikToks has also gained Clarke some notoriety at Wazzu, with students stopping him as he walks on campus because they recognized him from TikTok or media coverage.
"It's just so cool to connect and to talk about econ on the sidewalk with strangers," Clarke says. "It's super awesome."
DIY: For faculty members considering starting a presence on TikTok, Clarke's advice is "do it," he says. "What you're saying matters; what we do in high ed matters and the general public wants to know."
Some practical tips:
Keep it short. Teaching in person allows a professor to be repetitive and a little slower, but that doesn't translate to a video lecture. Professors should condense content to keep viewers' attention.
Go with what you know. The biggest trick for academics is to take a lecture and condense it, Clarke explains. "We're not writing brand-new material from scratch or we're taking new events we're following anyways."
Experiment with video. "Recorded video content is useful in all forms, not just the public-facing stuff," Clarke says. Clarke records some of his lectures and shares them as YouTube clips, which he's done since 2019.
Deliver content over multiple platforms. Not every student can be on TikTok, either due to state legislation, federal policies or personal preferences, so Clarke doesn't require students to watch TikTok content. But he will share his videos elsewhere if he wants students to engage for a classroom assignment.
Avoid the popularity contest. "In some ways, it feels like some of the bad stuff from junior year of high school," Clarke says. Take view counts with a grain of salt and put it in context of a normal life. If a video gets 300 views, that's three times greater than a 100-student lecture hall.
Seeking stories from campus leaders, faculty members and staff for our Student Success focus. Share here.