You have /5 articles left.
Sign up for a free account or log in.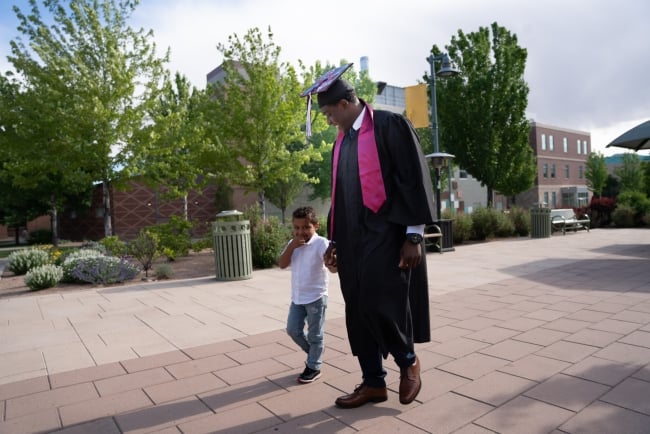 grandriver/E+/Getty Images
Trellis Strategies, a new professional service arm of Trellis Research focused on the modern learner, recently released a report on financial wellness among student parents and their unique needs.
Student parents make up around 22 percent of all learners in higher education, and a majority of them are single parents. Among surveyed students, researchers found a need for additional financial support related to tuition, basic needs and childcare to promote academic success.
Student parent demographics: Over 57,900 students from 104 two- and four-year colleges and universities participated in Trellis's survey during the fall 2021 semester, 13,494 of whom were parenting students. A September analysis, published in the report "Navigating College and Parenthood," identified several characteristics to consider when supporting students who have children.
Student parents are diverse. Approximately 19 percent of parenting students were Black and 30 percent were Hispanic.
More women are student parents. Surveyed student parents were more likely to be female (75 percent). Of the total survey population, 56 percent were female, on par with national trends in higher education.
Student parents are employed at higher rates. Of surveyed students, 67 percent were employed, but that jumped to 71 percent among student parents. Student parents were more likely to be enrolled part-time, as well (73 percent).
Parenting is a full-time job. Approximately 28 percent of surveyed parents spent more than 40 hours per week care giving. Around 83 percent of student parents indicated it was important for them to support their family financially while enrolled, and 37 percent financially supported their spouses, as well.
Financial support varies. Parenting students more often rely on their employment, grant funding, student loans and credit to pay for college. Nonparenting students are less likely to use a credit card and more likely to pay for college with savings, family support and scholarships.
Student parents often have difficulty meeting basic needs. Compared to their nonparenting peers, parenting students were at a higher risk of basic needs insecurity. Three in five student parents have been housing insecure, compared to four in 10 of their peers. Approximately 44 percent of student parents have had low or very low food security, versus 42 percent of nonparent students.
Recommendations: To better support student parents, researchers suggested four actions for higher education leaders to take.
Increase access to affordable childcare. Research shows students who use on-campus childcare centers are more likely to persist, graduate sooner and perform better in their academics. However, many institutions lack childcare facilities on campus.
Strengthen financial aid programs. Because student parents use different means to pay for their education and have other costs associated with attending higher education, financial aid programs should be tailored for their unique needs. This could mean increasing need-based grants, scholarships and low-interest loan availability or simplifying application processes for financial aid.  
Improve support for basic needs and mental health. Despite student parents having a greater need for food support, they are less likely than their nonparenting peers to utilize institutional resources. Instead, those with children use off-campus, community-based food pantries or food banks. Researchers theorize this could reflect prior research that student parents feel more disconnected from campus. Student parents surveyed by Trellis were less likely than their peers to experience depression or anxiety but still had significant rates of both mental health concerns. Just over 30 percent of student parents indicated they likely were experiencing depression, and 37 percent reported generalized anxiety disorder.  
Assign parent liaisons. A designated staff member could aid institutions in facilitating programs and initiatives geared toward student parents, as well as advocate and support students with care-giving responsibilities. As the liaison, a staff would be a single point of contact to share guidance, resources and other assistance. 
Get more content like this directly to your inbox every weekday morning. Subscribe here.