You have /5 articles left.
Sign up for a free account or log in.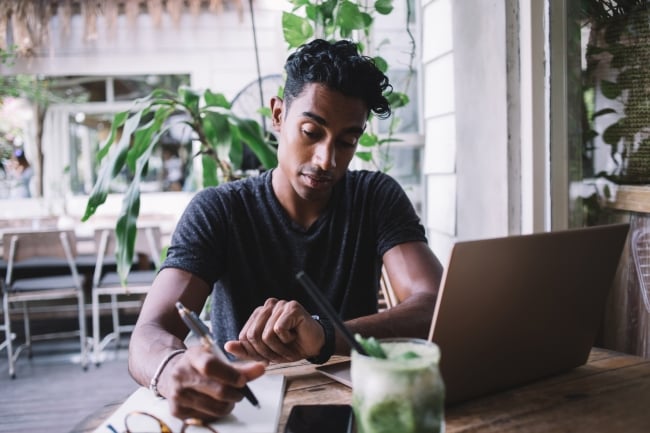 GaudiLab/iStock/Getty Images Plus 
Karen Afre, director of the Academic Skills Center at Dartmouth College, and her colleagues like to tell first-year students that they're taking an extra, unofficial course called "learning how to be a college student." The class's rough syllabus includes exploring campus resources and supports and getting accustomed to the academic and social environment.
Time management is another topic.
"For many of our students, this is the first time they are away from home, are responsible for themselves and are truly independent," Afre says of the particular challenges college students face managing their schedules. "They no longer have a set schedule of morning and afternoon classes, activities right after classes, and the accountability of making it home at a certain time, eating and going to bed."
College classes are different from high school classes and students must adjust their learning accordingly, Afre continues. On top of this, many pandemic-affected students still share feelings of "being overwhelmed or overstimulated by the social expectations of college."
Since it's not just first-year students who find time management challenging, Dartmouth has opened up to all students a regular program on process-based skills like time management and organization, Afre adds. And of course even nontraditional college students may have trouble balancing coursework and other aspects of college life with their outside obligations.
So how exactly can institutions help all students with time management, which is just one aspect of the hidden curriculum Afre describes? The most recent Student Voice survey of 3,000 two- and four-year college students on the college experience offers some insight.
The top resource students say would improve their time management is the ability to combine different syllabi to organize deadlines, with more than two in five students choosing this from a list of eight options, according to the summer survey from Inside Higher Ed and College Pulse. (Respondents could choose multiple options.) That's relatively consistent across institution types and student groups, but this resource is more popular among students who work full-time (n=671), with 47 percent of them saying it would help, than among students who don't work at all (n=878), with 38 percent saying it would help. Students who work part-time fall somewhere in between.
What's so helpful about the comprehensive syllabus? Jacqueline Friedman, senior associate director for clinical services at Wake Forest University's Center for Learning, Access and Student Success—where academic success coaches help students organize their various syllabi into a single, editable electronic document linked to their Google Drives—says it's a "really good task-organization document and helps students go into depth in each of their class syllabi."
Students are increasingly familiar with this kind of document, she adds, since many high schools now encourage students to use them.
About a third of Student Voice respondents each say they'd benefit from the following other resources:
Help planning my individual schedule
Social support or social structures, such as study groups or quiet hours in residence halls
Time-management tips and workshops
Just about one in five students says nudges via text or email from faculty or staff would help. One in 10 says none of these options would help.
How Time Management Affects Involvement
Resources other than the comprehensive syllabus were more popular among four-year college students (n=2,400) than community college students (n=600). For example, more than a third of four-year students say they'd benefit from help planning their individual schedules, compared to a quarter of two-year college students. Social support options may also be especially helpful to students with financial aid compared than those without, with relatively more students on financial aid selecting this option (34 percent versus 26 percent, respectively).
Some 13 percent of Student Voice respondents also say that institutional help with time management would increase their participation in campus groups, clubs and activities. In other words, helping students with time management isn't necessarily a linchpin to involvement in extracurriculars.
Many students may also see time management as more linked to their academic thriving, which was not the focus of this particular survey. Indeed, in another 2023 Student Voice survey, on academic life, nearly half of students cite balancing schoolwork and obligations as a top barrier to academic success.
In any case, for those 392 respondents who see time management as a barrier to extracurricular involvement, 54 percent say the resource that would help with time management is social support or structures, making it the top choice.
Students don't apparently see time management as any more linked to their attendance at campus events, such as guest speakers, sports events and workshops, with just 17 percent saying support would help boost their attendance here.
Some 38 percent of students do say they'd like to have a personal schedule-management function in any campus app, making it the third-most-desirable function, behind a campus events calendar and notifications and reminders about campus events.
Structuring One's Time
Friedman, at Wake Forest, says that under the "big umbrella" of time management and getting a sense of "structure over one's time" are two other popular tools, which can all be used as a complement to the comprehensive syllabus. One is a version of the "168 plan," named for and organized by the number of hours in a week: schedule studying, activities and even rest into certain blocks of time and find "hidden time," such as 30 minutes between nearby classes for staying put and revising one's notes.
"You have students coming into college and grad students coming out of undergrad, and there's a lot less structure to each phase of your education," Friedman says. "So this is about thinking through how to implement structure and how to build that structure visually into your calendar." Wake Forest uses Google Calendar for this particular tool, but Friedman says any digital calendar could work. American University, for example, uses a semester-at-a-glance calendar.
The second common tool Friedman and colleagues use beyond the comprehensive syllabus is a version of the Eisenhower grid, or an "urgent/important grid," in which students organize their tasks into four categories: urgent and important, important but not urgent, urgent but not important, and not urgent or important. Based on how students sort their tasks and activities, some can be eliminated, some can be delegated, some can be planned and others can be prioritized or accomplished right away.
"It's a really versatile tool that I've found gets at the heart of time-management difficulties," Friedman says of this matrix. "Whether you are in your first year, whether you are in your senior year, whether you are in graduate school, there are going to be more things to do than you have time for. So how do you plan to use your time and make mindful choices so you're not feeling as overwhelmed as when the time sort of gets away from you?"
Time management is a core executive functioning skill, and brain development around executive function can continue well into one's 20s, Friedman notes. So having "support and help around time management in these different areas" benefits all students, including and perhaps especially neurodivergent students. Friedman's center offers students one-on-one appointments for this kind of help, with standard appointments lasting 45 minutes.
"My big thing that I tell students is it's OK to ask for help," she says. "And this is a lifelong skill that everyone is balancing to one degree or another."
Afre, at Dartmouth, agrees and says peers can help students absorb this message. "As much as we can, we try to normalize that we are all works in progress. We include peer facilitators in our programs who share from a student perspective how they approach their academics and what has or hasn't worked for them. Students can learn about time management from the professional staff, but it is significantly more impactful learning from a peer."
Does your institution or school approach time-management lessons for students in an innovative way? Tell us about it.