You have /5 articles left.
Sign up for a free account or log in.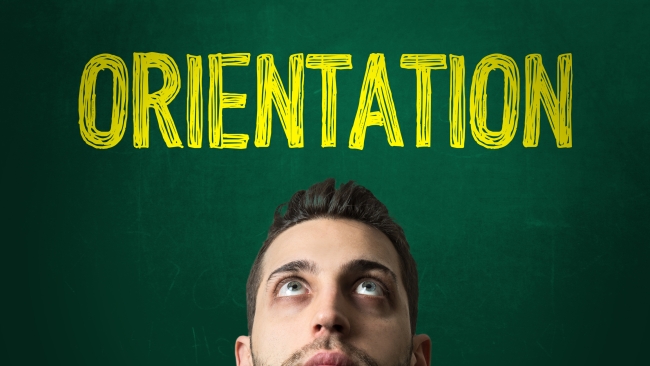 Ildo Frazao/iStock/Getty Images Plus 
Different students have different needs and expectations for their official welcome to campus. Pandemic-impacted students may want a "back-to-basics" orientation approach. Specialized experiences like summer bridge programs offer real benefits. All these are insights on new-student orientation gleaned from the summer Student Voice survey on the college experience.
Now a new follow-up survey from Inside Higher Ed and College Pulse offers additional insight into students' views on orientation. The survey, circulated earlier this month, got responses from 1,250 two- and four-year college students at 49 institutions about the importance of choice in orientation sessions and topics of interest, as well as ideal orientation format and length. Here's what the survey found.
Students want choice.
Asked how important it is to have a choice of elective orientation sessions to attend, nearly six in 10 students say it's very important and nearly four in 10 more say it's somewhat important. Very few students say this kind of choice is not too, or not at all, important.
By major racial group, Black students in the survey (n=141) value choice most, with 66 percent saying it's very important. That's compared to 61 percent of Latino students (n=175), 57 percent of white students (n=524) and 49 percent of Asian students (n=254).
Major appears to make a difference here, as well, with 67 percent of students studying the humanities (n=235) saying choice is very important, compared to 54 percent of both natural (n=578) and social sciences (n=456) students.
Students receiving financial aid (n=976) are also more likely than students who are not receiving financial aid (n=247) to say that choice is very important, at 59 percent versus 50 percent, respectively.
Topics of interest vary.
As for what elective orientation sessions students are interested in attending, respondents with financial aid are more likely than those without to be interested in mental health, time management, physical health and wellness, and diversity, equity and inclusion. More than five in 10 students with financial aid are interested in elective time-management sessions, compared to just over four in 10 students with no financial aid.
By race, half of Black students (51 percent) are interested in elective DEI sessions during orientation, compared to about a third of Asian, white and Hispanic students. A third (66 percent) of Hispanic students are interested elective sessions on internships and career planning, compared to 58 percent of Asian students, 54 percent of Black students and 51 percent of white students.
By gender, 64 percent of women, 44 percent of men and 51 percent of nonbinary students are interested in elective mental health sessions. Relatively more women than men also say they're interested in elective study skills and physical health and wellness sessions.
Shorter is (mostly) better.
Over all, about three in 10 students each say that the ideal length for new-student orientation is a half day, a full day and two to three days. Very few students say it should be longer. Two-year students are likelier than four-year students to say that orientation should he a half day, however, at about four in 10 versus not quite three in 10, respectively.
Students at private institutions, meanwhile, are likelier than their public institutions peers to pick two to three days, with nearly four in 10 citing this, compared to just a quarter of public institution peers.
In-person is the preferred format.
Nearly six in 10 students in the sample say the ideal orientation format is in person, not virtual or hybrid. Among students who attended in-person orientations themselves (n=723), this jumps to nearly eight in 10 (77 percent), suggesting satisfaction with this format.
Fewer than two in 10 students over all say a virtual orientation is ideal. Among students who attended a virtual orientation (n=393), more than half of these students (55 percent) say in-person is ideal and about a quarter (23 percent) say hybrid is ideal.
Some two in 10 students say a hybrid format, in which a student may complete online models prior to an in-person event, is ideal. Just about three in 10 students (n=242) who experienced this say it's ideal, while more than half (53 percent) say in-person is ideal.
Nearly seven in 10 four-year students prefer an in-person orientation. Just over one in 10 four-year students prefers a virtual orientation, and two in 10 prefer a hybrid dynamic.
Two-year students as a whole are relatively more open to virtual orientations, with about three in 10 saying this format is ideal. Still, slightly more than half of community college students prefer in-person orientations. About two in 10 prefer a hybrid approach.
Students at private nonprofit institutions are also likelier than their peers at public institutions to prefer in-person orientations, at about eight in 10 versus about six in 10, respectively. Nearly two in 10 public institution students are open to virtual orientations, compared to fewer than one in 10 of their private nonprofit peers.
Gina King, director of undergraduate admissions and orientation at the University of Maryland Baltimore County, says that students are expressing interest in elective orientation sessions on her own campus. As a result, the university is shifting programming for next summer to include more choice.
However, King says, "We will need to balance student preference with institutional values." That is, as an institution committed to inclusion, "we want to make sure everyone understands the basic value of community and how to live together with individuals who hold different values and perspectives in the world." Yet, she adds, "we don't need our commuter students sitting in a session about residential life amenities."
As for the new survey's other findings, King has found that today's students do prefer in-person programming—just less of it. It's therefore important to "think about the orientation long game" or a "six-month plan that doesn't dump everything on them at once." King advocates a "time-release approach, where we expose them to the most important topics they need at that time, reiterating some in other spaces in other modalities, to make sure students are onboarded in a holistic way."
Orientation is just "one experience of a student's onboarding journey," King adds. "There is so much to know about the systems and policies in higher ed, and we can't assume everyone comes to us with prior knowledge of these things. It is our responsibility to help all of them learn, remind them along the way and confirm they know how to navigate the most pressing challenges that will come up in their first year."
This can't be done in half, full or multiday programming, but rather over time. Moreover, she says, "it must be collaborative and across college departments to be truly effective. No easy feat."
Share the most innovative feature or content of your fall 2023 orientation.