You have /5 articles left.
Sign up for a free account or log in.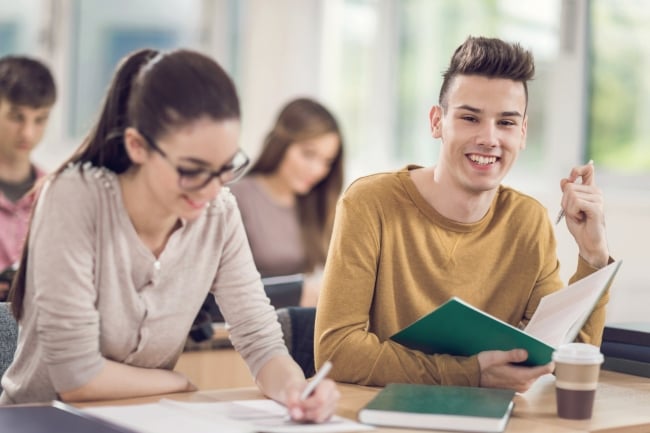 skynesher/E+/Getty Images
Just about any student—and professor or administrator—could probably benefit from regular technology breaks. Students not seeking an extreme tech detox at an institution that bans phones, or in a course that requires vowing to live without "worldly things" for a month, may still appreciate a little encouragement to disconnect in class and elsewhere on campus.
What's the need: Over half (53 percent) of 1,250 college students, aged 18 to 25, reported in a recent survey that they're considering taking a break from technology. And the vast majority would like to see involvement from higher ed institutions on that front. More than eight in 10 believe colleges and universities should do more to support such breaks, found the survey, commissioned by Rocketbook and conducted by Pollfish.
During class time, taking notes via laptop or other device may feel natural, but devices often serve as too much of a distraction. Kelly Dillon, an associate professor of communication and digital media at Wittenberg University in Ohio, has found that to be the case, comparing that electronic device's presence to a dessert. "If you leave the cake out, somebody's going to eat it," says Dillon, who uses a flipped classroom model in all her classes. The action- and discussion-based class time makes note-taking unnecessary anyway.
In case anyone is skeptical about the need to not let tech be a distraction, Dillon will help them do some tuition math. "I let students know that on average each class you miss out on costs $600. What could you do with $600? Sometimes the motivation is guilt" when it comes to tech breaks.
Help make the break: One early discussion topic in Dillon's courses covers device relationships.
That means "recognizing you may not have the healthiest relationship and when that relationship is problematic," she says, adding that professors (herself included) and other professionals can be just as device-dependent. Many people stay organized by setting up device alerts, for example. "If the lady in the box doesn't remind me, sometimes it doesn't happen," she quips.
As a professor and proponent of tech breaks, Dillon will:
Tell students that their relationships with technology are just as important to wellness as the sleep, exercise and nutrition they get.
Assign an activity for which students track their total media use over 24 hours, and then respond. Is it more or less than they thought? Dillon has found students are really hard on themselves. Maybe they're only on devices two or three hours a day and they recognize when it distracts them, such as random scrolling late at night. "We think we're good at multitasking, but we're not," she says.
Set expectations for phone-free class sessions. "I'll tell them I'm putting my phone on do not disturb and would like them to do the same," Dillon explains. Students who just can't help themselves and break the rules, distracting themselves and/or others, may get an email reminder after class, as she doesn't like to call out people publicly.
Build in class time for mindful activities. On Mindfulness Mondays, Dillon will have her students color, zentangle or handle Play-Doh during discussions. "It gives them a break from the world burning," she says. Such activities, she has found, help interrupt when one might otherwise zone out.
Encourage the use of settings and apps to help in staying off the phone. Changing display settings to just black, white and gray, for example, will make the screen less desirable to look at. Or the phone can be set up to caution when a two-hour usage window closes. The app Forest is another option. "You plant a tree, and that tree will grow in 25 minutes," Dillon says. "If you use your phone, you kill the tree."
Suggest asking peers for help with accountability. A study buddy could agree to a device-free session, or when sitting around a table, one might ask friends to let them know if they pick up their device because they're trying not to.
Dillon finds herself encouraging colleagues to take similar steps, to help both their students and themselves be more present—in the classroom and across campus. In the Rocketbook study, half of students say technology is contributing to feelings of isolation, and nearly half believe that reducing their tech usage might decrease such feelings.
As for actions administrators can take, Dillon suggests that provosts or others looking to help students gain better control over their tech use might offer ideas about messaging to include in syllabi about understanding how they use tech as individuals and what kinds of boundaries might be set.
Students' take: Students' reactions to practicing tech limits have been positive, Dillon says. "They all appreciate any time we can see them as people and help them to be their best self."
Contribute a student wellness tip for possible inclusion in a future article.