You have /5 articles left.
Sign up for a free account or log in.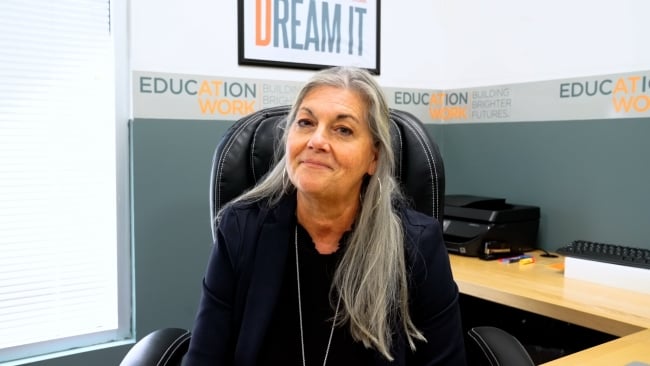 Jane Swift—whose résumé includes leading public, private and not-for-profit institutions; advising entrepreneurial education companies; partnering in a venture capital fund; turning her family's farm into an education and rescue center; and even serving (as part of her 15 years in state government) as governor of Massachusetts—initially paid her way through college thanks to Pell Grants and work-study.
As of Oct. 30, Swift is now president of Education at Work, which partners with corporations and colleges to enable students to gain valuable, real-world experience while earning significant hourly wages and up to $5,250 in annual tuition assistance. The nonprofit, whose corporate parent is the Strada Collaborative, has awarded more than $100 million in combined wages and tuition assistance to nearly 8,100 students nationwide since its inception in 2012. Participating students are 25 percent more likely to graduate from their college and to do so with 40 percent less student debt in comparison to their institutional peers.
Swift spoke with Inside Higher Ed about why she joined the organization, approaches to work-based learning and how career centers, educators and others at colleges and universities can support students in attaining—and maximizing learning from—work experiences.
Q: What drew you to this role leading Education at Work?
A: I am a product of financial aid, Pell Grants and working a lot of jobs, one of four children. I understand the phenomenal value of work and education, when paired effectively, though internships and learning a lot of durable skills. That's a modern word that allowed me to find my passion and pursue a career that was both financially transformative for my family and my children, but also gives me tremendous rewards in terms of being fulfilling.
Education has changed dramatically, and the world of work has changed dramatically—but there is still an opportunity through innovative models to effectively combine work and higher education to produce the same outcomes for students who are like me, for whom commitment to studying in college and working were their reality. Finding financial success and a career is the goal; it's something I've always been passionate about.
Two years ago, my husband died, and at that point I stepped back from full-time leadership. For the first time in my life, frankly, I was in a position where, without a full-time, stay-at-home spouse, even as my girls got older—we live on a small farm—I really needed to find a way to balance my personal commitments and also the type of meaningful but also demanding work that I've always done.
Fortunately, because of the education I've received and the professional opportunities I have been given throughout my life, I was able to piece together a number of consulting and advisory roles that allowed me to continue to meet all my obligations while also focusing on my own recovery from grief and my daughters, who were finishing their own education. It was also another reminder of how many hurdles students face as they go through this process of growing up and finding their path forward. The twins graduated this spring, and after about 18 months I felt like I was in a place [where] logistically and from a mental health standpoint it was possible for me to return to what I love, which is full-time leadership of mission-driven organizations.
As I began to slowly look for an organization where I could apply the skills that I have as well as my passion for education excellence and equity, the organization found me. Work-based learning and excellence at the college level is an emerging trend. I think Education at Work has been an underutilized resource in that trend but, as part of the Strada Collaborative, an organization that has tremendous assets. I was super excited to be tapped on the shoulder to consider this opportunity. This speaks so deeply to the opportunities I've been given in my life and that are available to others if we can marry both scale and growth at the same time that excellence and impact continue to be at the center of our work.
Q: How does Education at Work approach work-based learning?
A: We're doing partnerships at scale. I don't mean to be too flip, but if you think about internship programs [through colleges], most of the time they're onesies and twosies with a handful of students. We are doing hundreds of kids, fulfilling real workforce needs as we are teaching them skills. The type of partnerships we're looking for are where corporations are filling real needs [and] looking for jobs to be done where students with emerging college-level skills can fill that workforce need. We provide the flexibility of scheduling, so we can make sure [corporations] have enough skilled labor on any given day to meet the gaps in their workforce.
The types of [higher ed] institutions we are working with are larger institutions with significant numbers of Pell Grant students—so Arizona State U, the University of Texas at El Paso, the University of Utah. We are about to announce a grant where we are able to do more hybrid work so we can reach more students in rural areas. We're looking to expand the number of college partnerships [and] the types of work experiences that we provide.
We're looking to build, really, three different types of partnerships. One is certainly with colleges who have large numbers of Pell Grant students and traditionally underserved students, for whom work-based learning is attractive. We're looking for industries and employers with significant workforce shortages who are interested in accessing this dynamic labor pool, who can fill a need now and who can also grow to be the workforce of the future. And we're looking for training and philanthropic partners who want to help us deliver new skills. The more skills our students achieve, the more employable they are, the more employers will want to work with us to fill workforce gaps.
Work that's rewarding should be the goal of attending college. For students for whom work is necessary, work-based learning has to be done well, and it has to be done better. When I was a Pell Grant student in the '80s, I could survive working 12 hours a week. [Now, when college tuition can cost] $20,000 to $80,000, work-study programs still limit you to 15 hours of work. That's not viable for many students.
Q: What should colleges and universities be doing, or doing more of, or doing better to increase more meaningful work opportunities?
A: There's a lot of concern about AI. One thing we can offer in work-based learning is perhaps some more interesting assessment opportunities. Perhaps a midterm should be getting a Google Certificate in a particular competency. We would love to integrate what's happening in the classroom. I met with a bunch of our graduates who are now employees who talked about what they learned in their computer science class [that] they absolutely are using in their work today. Also some of our students are learning communication skills [on the job and] they are bringing [that] back to the classroom. I think some of our professors will be surprised to learn that rather than this being another thing they have to do, work-based learning can be really complementary [to academic learning] and solve some of the problems as the world of work and the world of technology changes for all of us.
Q: What do you want to see career services offices doing better in terms of helping students gain and learn from work experiences?
A: I think that what career services needs to understand is that many students need a more modern understanding of which skills they have attained in their work opportunities. We would love to link more robustly with career services and have them be a partner with us around recording and sharing out the types of skills employers are telling us students need to have.
One of the things on the to do-list is how do you define, measure and articulate the types of durable, soft skills students are learning at work. That could be a great role for an innovative career services department.
Great internships are often either lightly paid, not located somewhere they live or, as my daughter saw, are unpaid or stipend paid. We need to figure out a new model where every student has access to the work opportunities, paid, to build skills that allow them to get a good first job and to finance their education—so that the economics of higher ed make sense.
Paid internships are great, and I am a huge supporter that internships should be paid, but that is generally a summer event. Many students have to work more hours than paid internships allowed. As a mother of three daughters who just came through college, all too often even paid internships are too much about who you know. Some of the best internships repeat the same problems that elite college admissions do.
Q: I've seen a lot of push to make jobs across campus from different departments be more meaningful. How can these efforts be strengthened?
A: I would love to see if they have best practices on how they're defining the skills students are attaining in those jobs. How are they defining the communication skills and the presentation skills and the technical skills? Are they getting their students certifications? What are we teaching students about cybersecurity? How are they utilizing AI and what can we learn from them? That's [where] we want to push ourselves in terms of excellence.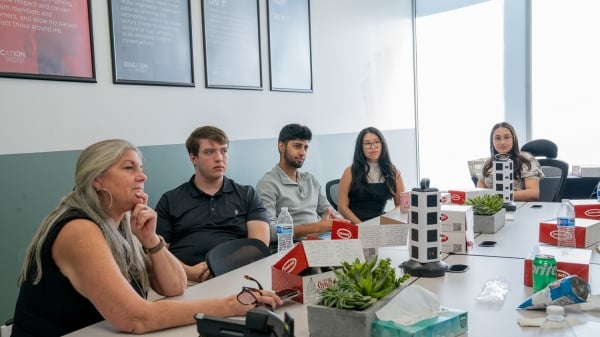 Q: What should campus career services offices be doing to stay relevant?
A: In my experience, with my three children and at five institutions, whether it's career services or any other service on campus, students are pretty savvy, and if they don't see relevance and outcomes and they aren't engaged, then they pretty quickly will move on to something else. Career services needs to realize that Google and AI exist, so, for example, teaching students today how to write a cover letter, when ChatGPT is good at doing that, is probably not the best use of time. There is absolutely a role for guidance—at least telling students maybe they should move the paragraphs [of a generative AI–based cover letter] around.
Teaching students how to network and how to look someone in the eye and say hello and shake their hand, what's appropriate follow-up—that's something ChatGPT can't do. Yet.
Q: What are your initial priorities in your new role?
A: I'm in Arizona meeting members on our team and meeting with people who expressed excitement around the announcement and are already wanting to expand existing partnerships or establish new partnerships. Many policy leaders, innovative educators and industry leaders recognize there is a pressing need to meet workforce needs in our country. And there is an underutilized and undertapped level of talent among our student population, and we haven't figured out a good formula to access [that] at scale. Education at Work represents a head start because we are a pretty significant but not huge organization, with all the components that will allow us to crack that code and be that model.
[We will expand to] more geographies, more industry verticals and more students: there is an endless amount of need both in the workforce and for students. There is a continued need for excellence and making sure that the access to our programs continues to be equitable.
Share an effort at your institution to help students earn and identify skills in their work experiences on or off campus.