You have /5 articles left.
Sign up for a free account or log in.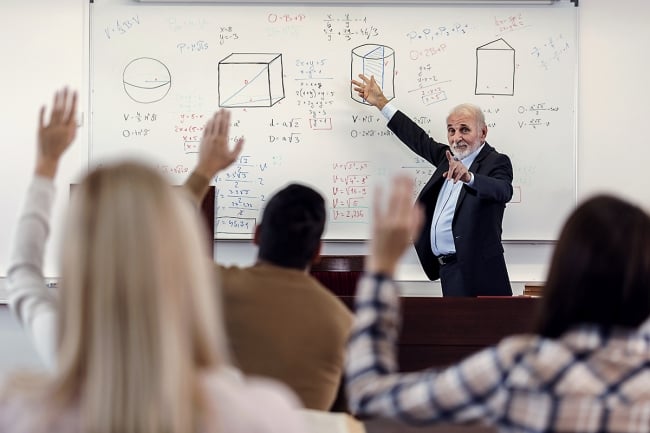 A recent study has found that instructors and the teaching practices they use—or don't—are more than twice as influential in predicting learning outcomes than students' prior academic performance.
The study was conducted by Education Equity Solutions, a research organization that promotes equity-centered higher ed policy. The findings add to the limited existing research on the impact instructors and pedagogical styles have on student outcomes in introductory college math, a course that research shows has long been a hurdle to community college students staying in college and earning degrees.
"Teachers are generally overlooked when trying to understand factors contributing to college completion," a press release about the report says. "But this study finds they are more important than high school GPA and student demographics when it comes to passing the pivotal 'gateway math' class that famously is a barrier to college persistence."
Past research on postsecondary success "has overwhelmingly focused on students' academic preparation and on structural factors, such as the number of remedial courses students are required to take," the press release states. "With degree completion rates hovering at only 43% nationally, identifying intervention strategies to improve college persistence is an urgent priority."
The study analyzed academic performance and background data from 22,827 students in 704 gateway math classes at four California community colleges, as well as a faculty survey and course syllabi, all of which were used to examine the relationship between instructional practices and student success. The courses were taught by 159 different math faculty members between winter 2020 and spring 2022. The colleges' enrollment ranged from 4,000 to 36,000 students representing a racially and geographically diverse group.
Researchers analyzed the data, controlling for variables such as students' race, socioeconomic status and the high school they attended, in order to determine how instructional practices influenced pass rates. They found that instructors were by far the greatest predictor of whether students passed the course.
"We had a hunch that instructor effects were really large and that faculty really made a difference," said Mina Dadgar, a lead author on the report and founder of Education Equity Solutions. "But these effects are larger than we expected."
Fostering Belonging
Specific pedagogical practices that correlated with higher pass rates included: clear explanations of the grading process, precise guidelines on the accommodations made for late work, explicit encouragement for students to seek help and guidance on where to find support, and fostering student belonging through collaboration with peers and demonstrated support and reassurance by faculty members.
The findings also showed that these practices were most beneficial for Black and Hispanic students, who tend to have the lowest pass rates. For example, only 44 and 48 percent of Black and Latino students, respectively, passed their introductory math class, compared to 67 and 71 percent of white and Asian students.
"A lot of students, especially students of color, show up in math classes wondering whether they belong, whether they're good at math, whether they can succeed," Dadgar said. "The practices that we find are really helpful for Black and Latino students, specifically, are practices that get at students' sense of belonging … and affirming to them that if they get support from instructors, they can in fact succeed."
The second most influential factor was prior academic preparation, or high school GPA, a topic that has been explored more extensively in earlier research. But while that research shows GPA can be beneficial in identifying students needing the most support, it doesn't provide insight on how to improve their outcomes, Dadgar's report notes.
"There's a narrative that researchers also have believed that in higher education, it is what students bring in with themselves that really matters," she added. "We're finding that if students show up in the classroom and they're already feeling like they aren't math people, they're feeling stigmatized, [but] there are still things that instructors can do to reverse that."
Tammi Marshall, interim dean of math, science and engineering at Cuyamaca College in San Diego, one of the colleges included in the study, said she was "not surprised" by the findings and that she sees the report's conclusions as a good starting point for future research and professional development.
"My hope from the study is that faculty will start to ask more questions, that faculty will start to wonder what they're doing and what they can do to make a difference in their classrooms," said Marshall, who was a faculty member for 26 years. "I want this study to help faculty have more conversations amongst themselves … We can learn from each other about the things that we're doing to help our students succeed, especially our students who have been historically marginalized."
Investment in Faculty
While similar studies have been conducted elsewhere, Education Equity Solutions' study represents one the largest samples to date and brings renewed attention to the influence faculty members have on student outcomes.
Elisha Smith Arrillaga, former director of the Charles A. Dana Center at the University of Texas at Austin, a STEM equity group, noted that experts in the field have long hypothesized that there is a strong link between who is teaching math and student success in college.
"The strong empirical evidence this research provides allows us to move past that question and move towards solutions," she said.
Amy Getz, a member of the math team at WestEd, an education consulting group, said the study's results send a "clear message" that efforts to increase equity in entry-level college math require "investment in faculty."
"Faculty with math degrees do not automatically know how to implement the types of instructional practices that this study finds to positively impact students of color," Getz said. "We should support faculty to build those skills."
Community college math has undergone a significant amount of reform over the last few decades, such as remedial courses being replaced with corequisite courses and colleges offering math courses that are relevant to students' majors. While those measures have helped, racial disparities in course success rates remain.
"This research and other research that is beginning to emerge actually looks at the impact of classroom practices and begins to show that we can put our attention and resources into faculty development," Dadgar said. "Equity champions have been sharing that message for a while, and now we have research evidence to back that up."