You have /5 articles left.
Sign up for a free account or log in.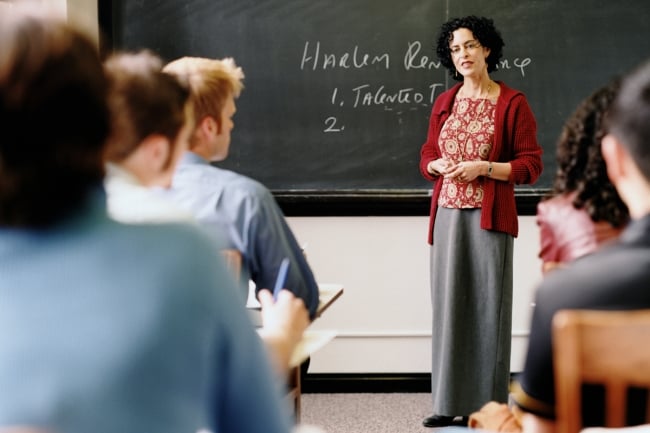 Chad Baker/Jason Reed/Ryan McVay/Getty Images
Despite growing skepticism about the value of humanities degrees, college graduates who majored in a humanities field outearn people with no degree in every state, a new report has found.
The American Academy of Arts and Sciences drew on five years of data, from 2017 to 2021, from the U.S. Census Bureau's American Community Survey to compile data for all 50 states and the District of Columbia. The organization has previously published reports that examine the intersection of the humanities and the workforce on a national scale, which show lower unemployment rates for graduates with a bachelor's degrees in humanities compared to people who completed high school but didn't attend college.
"I had a bunch of faculty members and administrators say they needed to talk to their legislatures and explain that their humanities majors were doing as well as the national data suggests," said Robert Townsend, the academy's director of humanities, arts and culture programs. "Their specific experiences don't seem to be that different from state to state, but it's clearly useful for them in thinking about their own local needs."
The number of humanities degrees conferred dropped by about 14 percent between 2012 and 2018, according to data from the AAA&S. And as those enrollment numbers have declined, some colleges have cut funding for their humanities departments. In one of the most recent and high-profile examples, West Virginia University cut all its foreign language degree programs—among several other program reductions—earlier this fall.
But according to the state-level data in the AAA&S report, humanities majors in West Virginia have a median income that is 44 percent higher ($56,841 per year) than those with just a high school degree ($39,351). And while humanities majors' earnings in the state fall below the average earnings for workers with degrees in the natural sciences, engineering and business, one in four earns an annual salary of $84,454 or more.
That metric reflects the employment picture for humanities graduates across the nation.
With the exception of four states (North and South Dakota, Montana, and Wyoming), the humanities majors had median incomes 40 percent higher than workers with only a high school degree.
In each state, humanities majors had salaries similar to or higher than college graduates in behavioral and social sciences, the arts, and education. In most states, humanities degree holders' median earnings were between 10 and 25 percent lower than the median earnings of graduates from the natural sciences and business—and substantially less than engineering majors.
"Too often the humanities majors and the engineers are juxtaposed and the return-on-investment conversation is treated as if getting a humanities degree is the same as not getting any degree at all," Townsend said. "Trying to situate that story a little bit better is a big part of what we were after here."
Degree-Career Disconnect
Some of that disconnect is the result of students not having a clear idea of the career paths a degree in a humanities field, such as history, literature or anthropology, can lead to.
Humanities majors in 31 states were most likely to have a job in education, according to the report. In 14 states, humanities majors were most commonly employed in service and sales. And in the remaining five states and the District of Columbia, humanities graduates were most likely to hold management jobs. Washington, D.C., where government, law and nonprofit jobs abound, had an especially high rate of humanities degree holders (17 percent). Those workers had relatively high median earnings ($105,313), and 22 percent of them held management positions.
Across all states, 28 percent of college graduates employed in the legal profession majored in the humanities; 35 percent of college-educated people working in museums and libraries across the nation also held humanities degrees.
"Only about a third of our majors see a close relationship between their job and their degree," said Townsend, who noted that humanities degrees help students develop strong research, writing and critical thinking skills. "We could do a much better job in terms of articulating both the skills students are getting that are incredibly valuable and transferable, but also in encouraging students to start thinking about what they'd really like to do."
Amy Rylander, director of the Career Center at Baylor University in Texas, said she never discourages students from majoring in humanities and instead encourages them to emphasize the skills they've learned to potential employers. She's seen humanities majors go on to work in numerous different sectors, including marketing and business.
"It's not a linear path for the humanities. Companies want people who are relationship builders, who can take complicated ideas and make them uncomplicated and who have entrepreneurial spirit. That is how humanities majors can break into the business world and earn great salaries," Rylander said. "What students need to be doing is thinking of jobs they may be interested in and being able to fill in the blanks for the employer."
The unemployment rate for humanities majors in Texas (3 percent) is similar to that for other college graduates in the state and much lower than for workers without a college degree (6 percent), according to the report. Salaries also improve the longer humanities majors are in the Texas workforce. Full-time workers between age 22 and 26 have median earnings of $42,820, but for people between the ages of 30 and 59, median earnings are $69,583.
Having an advanced degree on top of a humanities bachelor's degree also gave Texas graduates a 22 percent boost in median earnings—from $61,470 to $74,936. Nationally, 42 percent of humanities majors do go on to earn an advanced degree, which boosts median earnings by 36 percent, according to previously reported data from the AAA&S.
"Humanities degree holders go on and get qualifications as they move along because they know how to learn," said Paula Krebs, executive director of the Modern Language Association. "They're not there to get a credential as an undergraduate—they're there to learn how to learn," although many humanities majors do seek out specialized credentials in particular job skills after getting a bachelor's degree.
"It's really useful for the state to be able to say, 'Wait a second, Governor X, before you start saying all of our students need to be welders, take a look at this data from our state,'" Krebs said. "People are getting jobs. To say that everyone needs to be a computer science major is just wrong."
While colleges are increasingly emphasizing STEM degrees, "not all students are suited for or interested in those majors," Shawn VanDerziel, president and CEO of the National Association of Colleges and Employers, said in an email. "Balancing student interest, industry needs and student outcomes is always a formula colleges need to consider when evaluating their programs."
That's where the data in AAA&S's new report will come in, said Ann Ardis, dean of the College of Humanities and Social Sciences at George Mason University in Virginia.
"What's striking state to state is what stays the same," said Ardis, who said the report's primary finding—that college degree holders earn more nationally than people without degrees—is often lost in conversations about the value of a humanities degree. "This is so much about practical value, versatility and the way the training opens a bunch of different doors to work opportunities. What drives people isn't always how much they're going to make."