You have /5 articles left.
Sign up for a free account or log in.
Oregon State and Washington State Universities, the only two members of the Pacific-12 Conference that haven't forsaken the league, on Friday asked a state court in Washington to stop league officials from making any decisions over its future.
Oregon State and Washington State asked for a temporary restraining order to block the league's commissioner and board from taking any steps that might preclude Oregon State and Washington State from sustaining the Pac-12 in some form. The two land-grant universities are weighing their athletics futures in the wake of a set of defections by the league's 10 other members to the Big Ten, Big 12 and Atlantic Coast Conferences in the last year. A hearing has been set for this morning.
"We owe it to our student-athletes, coaches, and fans to do everything in our power to protect the Pac-12 Conference and explore all future options," Kirk Schulz, president of Washington State and chair of the Pac-12's Board of Directors, said in a news release. "WSU and OSU are working in lockstep to identify the best path forward. The future of the Pac-12 must be determined by the remaining members, not by those who are leaving."
The Pac-12's commissioner, George Kliavkoff, had scheduled a Sept. 13 meeting of the league's board to discuss a "go-forward governance approach." Among the actions the board could consider would be to dissolve the conference and divide up its assets.
The legal brief filed by the two universities declares that Washington State and Oregon State are the "only remaining members with a legitimate interest in the survival and success" of the Pac-12, and that the 10 league members who have opted to depart forfeited their rights to any say over its future.
In an interview Saturday, Jayathi Murthy, Oregon State's president, asserted that her institution and Washington State should have the "sole right to make any decisions about the governance and assets of conference," given that "the other 10 have elected to leave."
She noted that when previous members announced their plans to leave—including the University of California, Los Angeles, and the University of Southern California last year and the University of Colorado at Boulder in July—the remaining members blocked those institutions from all conference votes. The same thing should happen now, Murthy said: "Just because the 10 schools now find themselves on the other side shouldn't change their view."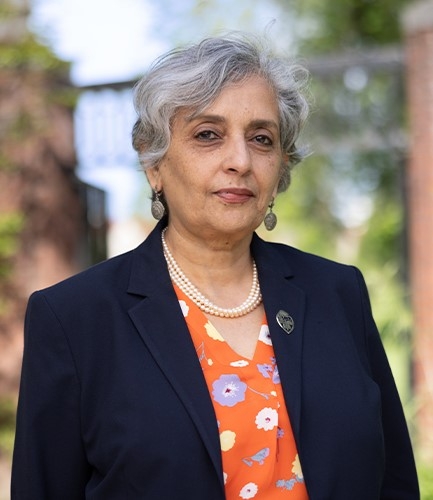 In the interview, Murthy could not hide her disappointment at the decisions by most of her longtime Pac-12 peers to abandon the league. "Of course we have to look out for our own institutions, but I don't buy this idea that we have only one loyalty and one responsibility," she said. "All universities, and public universities specifically, have a broader charter. We're not companies, profit-making entities. Universities as nonprofits are not supposed to act in that way."
She was particularly critical of her institution's in-state rival. "The University of Oregon and Oregon State University are both taxpayer-supported institutions in the state of Oregon. If the University of Oregon makes a decision that inflicts huge financial damages on OSU, that affects the taxpayers who fund both institutions."
Asked if she perceived the recent round of conference reshuffling was driving toward a world in which an ever-smaller number of football powerhouses in major television markets control college sports, Murthy said, "The field is narrowing, and it is the big football powers that will prevail."
"Think about what that means," she said. "You have land-grant institutions that were deliberately set up in small towns when the federal government made an amazing investment 150 years ago. They don't bring a lot of media dollars. Are we really saying that the rural constituents we serve aren't deserving of the experiences that high-level athletics brings students?"
She wondered about the National Collegiate Athletic Association's role in all this. While the national governing body may not have control over how big-time college football is structured, it has a legitimate role in protecting the welfare of athletes who will be "put on all kinds of crazy travel schedules" in leagues that crisscross the country.
And to her peer presidents who've explained their decisions to walk away from long-standing relationships as necessary for the good of their institutions, Murthy said, "These are choices we make. We are not zombies; this should not be a free-market free-for-all. It's up to the adults in the room to take care of the young people they have taken responsibility for."