You have /5 articles left.
Sign up for a free account or log in.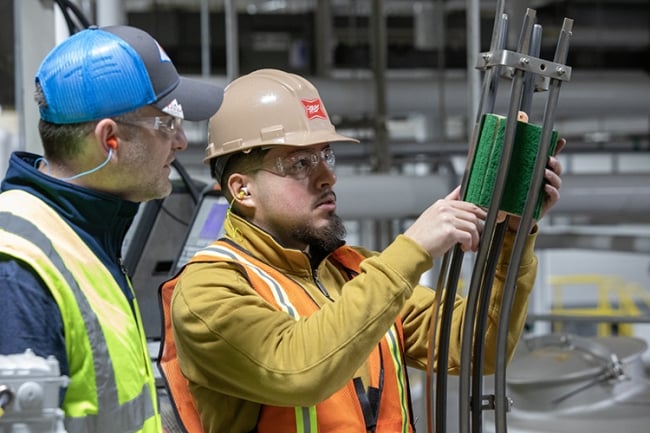 At Binghamton University, the Summer Scholars and Artists program has long allowed a small group of students to spend their summers on campus working under the instruction of a faculty mentor—composing operas, say, or studying local fauna—for a stipend.
But thanks to a new pilot program focused on providing paid internships to more low-income, first-generation and minority students, the opportunities have expanded this summer. Binghamton has added eight new positions for Summer Scholars and Artists, offering internships to a total of 20 students. Each receives $3,500 for the eight-week program, while their mentors receive $1,000 apiece. The pilot is also creating additional paid internships in three summer research programs.
Binghamton, part of the State University of New York, is one of five universities in the system that received money this year through the Chancellor's Summer Research Excellence Fund, which is designed to support a total of 150 summer interns. System leaders hope to grow the program going forward.
Unpaid internships—which often give undergraduates valuable experience in the workplace, sometimes in exchange for course credit—have faced criticism from both students and experts in recent years for discriminating against those who need to earn income over the summer. The SUNY pilot aims to make unique experiential learning programs more accessible to students who can't afford to work for free during school breaks—while also paying mandatory tuition and housing costs.
"Every student should have the opportunity to participate in an internship or other experiential learning on their path to a college degree, and through this internship program students will be offered a robust experience right from their home campus and at no additional cost," SUNY chancellor John King said in a statement about the fund. "Expanding paid summer research internships is a concrete, powerful way to expand economic opportunity and increase social mobility especially for so many college students whose economic or familial circumstances might have barred them in the past."
The Power of Paid Internships
SUNY isn't the only university system pouring resources into helping students access paid internships; studies have consistently shown that paid internships benefit graduates entering the workforce. That has motivated colleges to seek out innovative ways to connect their students with such opportunities.
Internships not only give students skills, experience and connections; they also provide a leg up during the hiring process. According to a 2022 student survey by the National Association of Colleges and Employers, graduates who participated in paid internships during college received an average of 1.6 job offers, while unpaid interns received 0.95 offers and those who had never had an internship received 0.77. The organization also reported that employers are increasingly using industry experience as a key metric for evaluating job candidates—even more so than some traditional academic metrics, such as GPA.
"Industry experience is important in terms of filtering out candidates," said Mary Gatta, NACE's director of research and public policy. "We asked employers if they used GPA as a filter for job candidates, and that number has fallen to 37 percent. Instead, [they use] academic major, industry experience through internships and also demonstrated skills."
To connect more students with paid internships, colleges have taken steps ranging from offering more on-campus internship opportunities, as Binghamton is doing, to providing funding to local businesses so they can convert unpaid internships into paid ones.
That's what the University of Wisconsin at Milwaukee is seeking to do this year. Laurie Marks, executive director of the UW Milwaukee Center for Student Experience and Talent, learned from talking with faculty that students in the arts, humanities and social sciences often struggle to find paid internships in their fields. To ameliorate this problem, she secured a grant of over $200,000 to help pay students for positions in the Milwaukee area that have historically been unpaid.
So far, 35 companies have applied for the program, which is slated to start in the fall. They include libraries, elder-care facilities and bike-share companies, which are looking for interns in social media management, human resources, social services and more.
Marks sees the program as a win-win; it provides internships to students who might not have accepted them if they were unpaid, and it supplies businesses with highly capable student workers.
"Employers are really looking for students with strong soft skills for many positions," Marks said in an email to Inside Higher Ed. "They are seeking good writers, problem solvers, students with an inclusive mindset and multicultural competencies, students who are tech savvy, for example. Students in the humanities, arts, and social sciences develop these skills, and then they are enhanced even further by the applied experience an internship provides. It's critical for these students to be able to access meaningful internships for the purpose of professional networking, as well as further technical and soft skill training."
As at SUNY, the funding for the UW Milwaukee program came from a $1.1 million systemwide effort to increase the number of paid internships available to students. Other programs across the University of Wisconsin system focus on placing students in internships within the cybersecurity, agriculture and sustainability industries.
"Knowing that engagement in these high-impact practices means increased graduation rates and better career outcomes—it's critical that all students have access to them," Marks said.