You have /5 articles left.
Sign up for a free account or log in.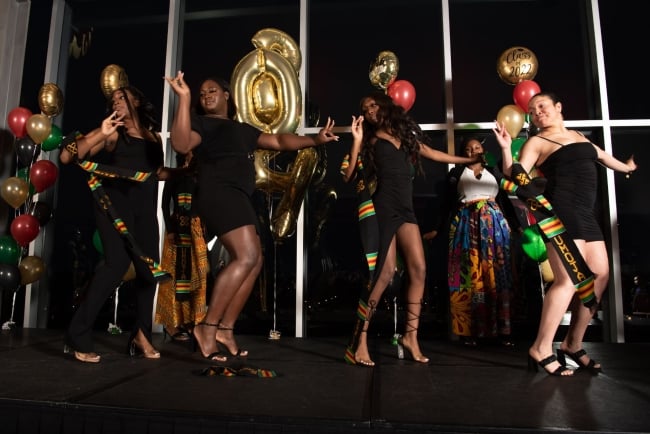 Illinois State University
As graduation season rolls around, conservatives are taking aim at an annual tradition that aims to celebrate the accomplishments of minority students.
Affinity graduation celebrations, a long-standing tradition at many institutions, have become the latest target in the conservative attack on diversity, equity and inclusion initiatives at U.S. universities. The events, which are optional and typically supplement an institution's larger commencement ceremony, honor the achievements of students of various identities—racial, ethnic, cultural, sexual and others—who may receive stoles or cords representing their identity that they can wear at graduation, or a certificate to hang beside their diploma.
But conservative news outlets have taken aim at the celebrations in recent weeks, in much the same way they have targeted identity-based housing in recent years. Campus Reform, a right-wing online publication that purports to "[expose] liberal bias and abuse on the nation's college campuses," has published at least seven articles about affinity graduations in the past two weeks, referring to the events as "segregated graduations." Other outlets, including Fox News and The Daily Mail, have also criticized such celebrations.
"Segregated graduation ceremonies exemplify how leftist ideas such as Critical Race Theory or Queer Theory construct artificial binaries to divide students into 'us' and 'them,'" Campus Reform editor in chief Zachary Marschall told Inside Higher Ed in an emailed response to a list of questions. "These radical principles flourish on campuses and their divisive tenets encourage students to separate themselves according to their identities, rather than unite these students in a shared accomplishment like completing a degree. Separating students based on identities contradicts the values higher education upholds in our pluralistic society … Segregated graduations send a message to students that they have no need to venture beyond the familiar."
At some universities, the legacy of affinity graduation celebrations dates back decades; California State University, Northridge, hosted its first Black graduation celebration in 1972. Universities continue to add such celebrations to their end-of-year festivities, with Harvard making a particular splash when it introduced a Black graduation celebration in 2017.
Some institutions have also increased the number of affinity graduations they offer, in many cases adding special ceremonies for LGBTQ+ students (often referred to as a lavender graduation), Latino students, Asian students, Middle Eastern students, undocumented students, first-generation students and other populations.
'It Feels Like a Hug'
Scholars of minority student experiences argue that creating spaces for such celebrations do not separate those students from their peers but rather give them an additional opportunity to share achievements with their affinity groups.
"Whenever we think about graduating classes in the hundreds or thousands, you're really one in a sea of students. And sometimes, for students, it's hard to see themselves reflected in that sea," said Crystal Garcia, an assistant professor of educational administration at the University of Nebraska at Lincoln who studies affinity groups in higher education. "This is an opportunity for students … to see many reflections of themselves."
Antar Tichavakunda, author of Black Campus Life: The Worlds Black Students Make at a Historically White Institution (SUNY Press, 2021), also noted that such celebrations allow students to enjoy a graduation that features elements of their specific cultures—including music, entertainment and refreshments—that are often painstakingly curated by faculty, staff or student groups. Tichavakunda said he has attended Black graduation ceremonies where students march out to West African drumming rather than the English composer Edward Elgar's "Pomp and Circumstance."
"It's a beautiful, culturally specific celebration," he said. "For me, when I go to a Black [graduation], it feels like a hug. It feels like, 'Welcome home.'"
Illinois State University is one of the universities that Campus Reform recently singled out for its affinity graduations, which are planned and executed by the institution's Multicultural Center. The university hosts an event for Black graduates called Umoja, a lavender graduation for LGBTQ+ students, a celebration for Latino graduates called Nuestros Logros, and a joint event for Middle Eastern, Asian, Pacific Islander and Southeast Asian graduates.
Rachel Hatch, a spokesperson for the university, said in an email to Inside Higher Ed that each event is different, but they often feature speakers, poets, musicians and other performers representing the affinity group. Family, friends, mentors and even alumni come to the ceremonies, which, she noted, have historically been well attended.
"When we ask students what they are looking for in a university, we often hear—along with a great education—that they are seeking a sense of belonging and community," she said. "Seeing themselves, their cultures, and their identities reflected in campus life is important to students, particularly those from underrepresented communities."
The negative press, she said, hasn't dampened excitement for the events on campus.
Tichavakunda said that he doubts the conservative backlash against these celebrations comes from a place of genuine worry about inclusivity.
"I think it's always helpful to identify that these conservative attacks are from a place of bad faith, to stir stuff up, to come up with these talking points that other people can latch on to. There isn't true concern about integration here," he said. "It's about a fear and a hatred and an antagonism around a certain group … It's one of those things where logic isn't necessary, you just have to understand it for what it is, and a lot of the times it's: you don't want to see a certain group being happy."