You have /5 articles left.
Sign up for a free account or log in.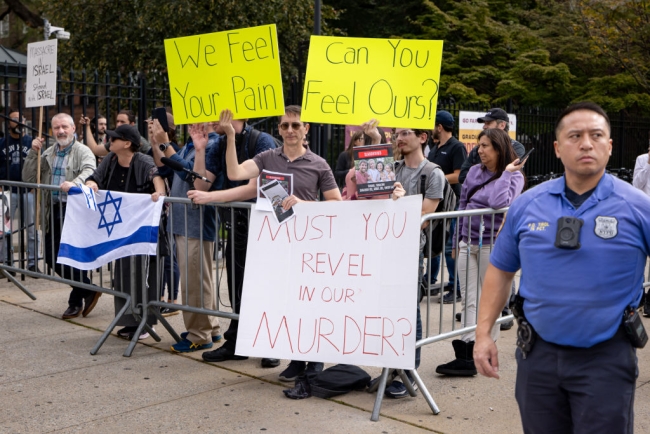 Michael Nigro/Pacific Press/LightRocket via Getty Images
College campuses in the U.S. continue to be roiled by tensions over the war between Israel and Hamas, with donors and politicians pressuring institutions to take stronger stands and reports surfacing of alleged threats against students.
Among the developments:
The Wexner Foundation, a philanthropic organization dedicated to strengthening Jewish leadership in North America, said it was "formally ending its financial and programmatic relationships" with Harvard University and its Kennedy School of Government.

Among other things, the foundation funds

a program

at the Kennedy School that educates future leaders of Israel. Wexner is the latest external group to criticize Harvard leaders for

what some viewed

as a slow and insufficient condemnation of the Hamas attacks. "We are stunned and sickened at the dismal failure of Harvard's leadership to take a clear and unequivocal stance against the barbaric murders of innocent Israeli civilians by terrorists last Saturday," the foundation said in a letter to Harvard's Board of Overseers.

The president of Drexel University, John Fry, said in a message to the campus Saturday that "someone within our community" defaced a women's restroom on the Philadelphia campus with antisemitic graffiti. The incident followed by a few days another in which the door to a Jewish student's dormitory was set on fire. Fry said police were investigating whether the fire was an act of discrimination or bias.
The president of the University of Pennsylvania, Elizabeth Magill, released a statement Sunday in the wake of intensifying criticism about the university's perceived failure to condemn antisemitic rhetoric. Some donors and alumni have called on Magill and the university's board chair to resign because they hadn't responded as forcefully as the critics wished to the attack by Hamas and to a Palestinian writers' conference on the Penn campus last month. "Many have voiced their anger and frustration about this event," Magill wrote. "I know how painful the presence of these speakers on Penn's campus was for the Jewish community … The University did not, and emphatically does not, endorse these speakers or their views. While we did communicate, we should have moved faster to share our position strongly and more broadly with the Penn community."
Tens of thousands of people have signed a petition calling on Columbia University to dismiss a professor of modern Arab politics and intellectual history whose essay this month appeared to support Hamas's attacks on Israel. Defenders of Joseph Massad say his comments should be protected by academic freedom.