You have /5 articles left.
Sign up for a free account or log in.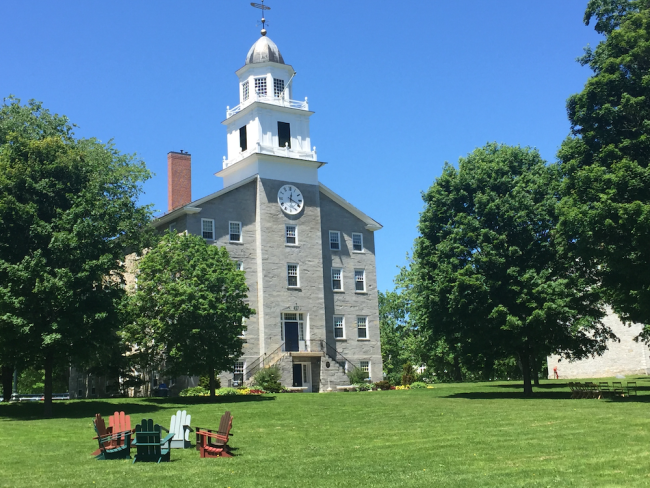 Susan H. Greenberg/Inside Higher Ed
In an effort to ease overenrollment this coming fall semester, Middlebury College in Vermont is doing something that appears to go against all conventional wisdom about how to run a college: it's paying students not to attend.
The private liberal arts college, which has been unable to find housing for all the students presently enrolled for next semester, will offer 30 juniors and seniors a stipend of $10,000 to take the semester off, according to an announcement sent to faculty and staff Monday. The $10,000 price tag was chosen because it is close to the price of a semester's room and board at Middlebury.
The institution attributes the unusually high enrollment to students who took time off during the COVID-19 pandemic now returning en masse to complete their studies. Many of those students are planning to graduate in winter 2024, the announcement said, and college officials expect enrollment to return to normal—between 2,500 and 2,600 students—next spring.
"Since the beginning of the pandemic, our policy was to offer maximum flexibility to students who felt they needed to take a leave of absence to ensure that they could complete their Middlebury education," Smita Ruzicka, vice president for student affairs, wrote in an email to Inside Higher Ed. "That flexibility resulted in larger than normal enrollment for some classes over the last two years as students who had been on leave returned. We have utilized all of our housing resources to accommodate the increased need for housing and expect to return to normal pre-pandemic enrollment size in the coming year as students who had taken a leave of absence graduate."
Students were given just four days, from July 31 to Aug. 3, to decide if they wanted to take Middlebury up on its offer. Interested eligible students—juniors and seniors who were planning to live on campus—were invited to apply through a Google form and will be accepted on a first come, first served basis.
Housing Struggles
Middlebury isn't the only college currently struggling to find housing for students. Though a number of universities struggled to maintain enrollments following the COVID-19 pandemic, others experienced enrollment booms, accompanied by increased demand for housing.
Some of those colleges have found innovative solutions, ranging from putting students up in the homes of local alumni to transforming shipping containers into dorm rooms. The University of Vermont, located roughly an hour north of Middlebury in Burlington, will lease a dorm from St. Michael's University, a nearby Roman Catholic institution that is facing enrollment declines, until at least 2025 to house as many as 47 graduate students.
But many of the solutions available to other universities wouldn't be possible for Middlebury, located in a rural town of about 9,000 people. And the region's tight housing market makes it extremely difficult to secure off-campus housing for students in town, according to Ruzicka.
In the announcement, Middlebury said it explored a range of options before deciding to offer the monetary incentives, including encouraging students to study abroad, transforming nonresidential buildings into dormitories and utilizing the Bread Loaf campus, an auxiliary campus about 10 miles away used primarily for summer teaching and writing programs.
But the nonresidential buildings could not be renovated in time to add necessary safety features, and the college decided not to house students at Bread Loaf due to the logistics of running a satellite operation, as well as negative feedback from students who had lived there earlier in the pandemic and said they'd felt isolated from the main campus.
Jason Mittell, a professor of film and media culture, believes the college did its due diligence in evaluating all the options before settling on the payment offers. But he worries about the potential long-term academic repercussions for students who make the decision to take the semester off.
"Personally, I wish there had been more or some consultation with faculty about the process," he said. "At this point, we don't know how it will impact their academic progress. If students are just making this decision on their own within a week … most students are not going to reach out to their academic advisers, or the advisers may not be available."
Students might not realize that taking a semester off could cause them to graduate later than they had planned—if, for instance, their major requires a course that is only offered in the fall. Mittell said he hopes the college will take steps to connect with the advisers and department chairs of the selected students so that they can offer support when the students return in the spring.
Other faculty and staff were troubled by the lack of communication about solutions for the overenrollment problem, said Laurie Essig, a sociology professor and president of the college's American Association of University Professors chapter. Essig runs the AAUP Listserv, which saw ample discussion of Monday's announcement; faculty and staff complained they were not consulted about the decision to incentivize students to take a semester off and only found out about it after the fact.
Essig also expressed worry that vulnerable students—those who are lower income, for instance, or who face mental health struggles—are more likely to take advantage of the opportunity. And it's unclear how taking a leave might impact those students; while some might benefit from a paid vacation of sorts, she said, others—particularly students who are struggling academically—could end up dropping out after their time off.
The stipend is not contingent upon students returning in the spring, Stephen Diehl, a college spokesperson, said in an email.
Money Well Spent?
Some professors are also criticizing the administration for spending $300,000 to free up housing at a time when, they argue, faculty and staff lack fair compensation.
The AAUP has been pushing for higher cost-of-living increases for staff and faculty. Essig said that while Middlebury has made salaries a priority this year, administrators have not yet met the demand that raises keep up with inflation.
"Almost all of us, or many of us, could think of how, if the planning had been better, that would be $300,000 that could go to staff compensation—or anything other than this," Essig said.
The funds are coming out of Middlebury's 2024 operating budget, Ruzicka said. The institution has an endowment of nearly $1.5 billion, the 94th highest of any American college, according to National Association of College and University Business Officers data.
But critics of the plan need not worry about whether students will be interested in getting paid to suspend their studies for a semester. The response to the offer has been "strong and enthusiastic" so far, Ruzicka said. Already more than 30 students have submitted applications, which are currently being reviewed for eligibility.