You have /5 articles left.
Sign up for a free account or log in.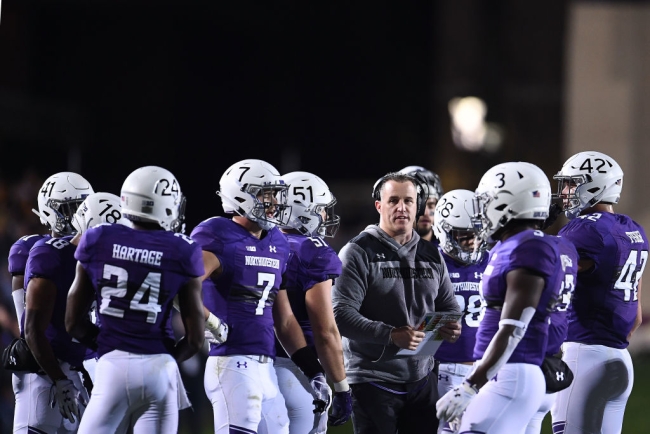 Stacy Revere/Getty Images
Northwestern University has fired two coaches and faces at least three lawsuits over allegations of hazing, bullying and harassment within the athletics department.
The hazing allegedly occurred on the elite university's football team, where upperclassmen forced younger teammates to undergo a number of sexualized and degrading rituals at the team's Wisconsin training facility as well as in the Northwestern locker room. According to a lawsuit filed by one former player, an especially common form of hazing was called "running," which involved upperclassmen donning masks, holding down a freshman player who had made an error in a game or practice, and dry humping him while the rest of the team watched.
The hazing, first uncovered by an external investigation, led to the firing of the head football coach, Pat Fitzgerald—although the investigation did not conclude he was aware of the hazing.
Now some hazing experts believe the scandal, which has been widely covered in the media and prompted backlash from fans, could lead to a major shift in how seriously the public views hazing and how colleges and universities are expected to respond to such incidents on campus.
"I would say we are closer to a tipping point than we have ever been," said Elizabeth Allan, a professor at the University of Maine and the leader of StopHazing, a research and prevention organization. "I think certainly having the visibility of these cases is a huge factor in public awareness of the problem and getting the attention of very busy administrators and legislators."
Numerous college hazing incidents have garnered public attention in recent years, including the brutal 2016 assault of a student by football players at Wheaton College, located in the Chicago suburbs not far from Northwestern. Earlier this year, players on the New Mexico State University men's basketball team alleged that they were repeatedly sexually assaulted by their teammates over the course of months, which resulted in the suspension of the program and the firing of the team's coach.
But experts say the situation at Northwestern has struck a particularly sensitive nerve, due to the university's reputation for academic excellence and for having a highly principled athletics department.
"Northwestern has had a reputation of being a program that's really built on integrity, where coaches are concerned with the overall performance and behavior of their people," said Kam Buckner, an Illinois state representative and former college athlete who is sponsoring a bill intended to reduce hazing on college sports teams in the state. "They run a pretty tight ship up there, so it's pretty shocking to people who know the reputation of Northwestern."
Andrew Zimbalist, a professor of economics at Smith College and the author of Unwinding Madness: What Went Wrong With College Sports and How to Fix It (Brookings Institution Press, 2017), noted that the team in question doesn't fit the image normally associated with intense hazing.
"Historically, it's not a program that has excelled in football," he said. "They're not a football powerhouse," like a Power Five program, where people might say, "'What do you expect?'"
Barriers to Reporting
Hazing incidents involving sports teams, Greek organizations and other groups are not uncommon on some college campuses. But major barriers still exist for students to come forward when they see it happening—not least because many of them don't recognize or understand what hazing really is.
There's "a minimalization of how serious it is, of it being sort of overlooked or normalized or perceived to be an expected part of a culture," said Jessica Mertz, executive director of the Clery Center, a campus safety nonprofit. "One of the things we're always encouraging institutions to do … is to recognize that hazing happens as a spectrum. It shouldn't just be the violent or the deadly incidents you're really taking seriously."
Since the Northwestern news broke, Allan has observed a noticeable uptick in the number of institutions seeking StopHazing's help. That's significant, she said, because universities primarily tend to look for support only when they are going through a hazing crisis of their own.
Prevention advocates aren't the only ones who believe there may be a major hazing reckoning on the horizon. Lawyers working with at least 15 Northwestern athletes who say they are hazing victims plan to expand their legal action "beyond Northwestern's football program" and "expose extreme and abusive hazing in other college athletic programs as well," they said in a July 16 press release.
"Whether the coaches at Northwestern approved or participated in the harassment of these players or not, they are responsible for allowing and enabling a toxic, disgusting, and damaging culture in their programs," said Ben Crump, a well-known civil rights attorney who is working with the Chicago firm Levin & Perconti on the case, according to the press release. "Sadly, our research suggests that this kind of abuse of student athletes may be far more common on college campuses than we know, because there is tremendous pressure to keep quiet. It's time for a reckoning to protect young athletes."
Hazing Among the Wildcats
Northwestern announced on July 7 that a six-month investigation by the law firm ArentFox Schiff had uncovered a culture of hazing on the Wildcats football team, but the university failed to identify specific misconduct by an individual player or coach. Administrators outlined a list of steps the university would take to prevent future incidents—including requiring a staff member who does not report to the coaching staff to supervise the locker rooms where much of the hazing allegedly occurred—and suspended Fitzgerald without pay for two weeks.
The university's announcement included no description of what the hazing entailed, for privacy reasons. But the next day, the student newspaper, The Daily Northwestern, released a story detailing the reported incidents; it drew on interviews with two players who requested anonymity and described numerous sexual, degrading and painful hazing rituals.
One of the players also alleged that Fitzgerald appeared to have known about the hazing, at times using the same clapping signal that members of the team used to indicate a player was going to be "run," according to the article.
Based on interviews with 21 Northwestern football players and personnel, The Athletic, a sports news site owned by The New York Times, reported that the Wildcats' hazing culture dates back to at least the 1990s. Several individuals told the site that upperclassmen have been "running" younger players since at least the 2010s.
The day the student newspaper released its report, Northwestern president Michael Schill sent an email to the community saying that he "may have erred in weighing the appropriate sanction for Coach Fitzgerald."
Two days later, he announced that the university would fire Fitzgerald, who had been head coach since 2006.
"The head coach is ultimately responsible for the culture of his team. The hazing we investigated was widespread and clearly not a secret within the program, providing Coach Fitzgerald with the opportunity to learn what was happening," Schill wrote in the announcement. "Either way, the culture in Northwestern Football, while incredible in some ways, was broken in others."
Now the university is facing at least three lawsuits. The first, filed July 18 by an anonymous student who played football at Northwestern from 2018 to 2022, seeks damages from the university, its Board of Trustees, Fitzgerald, Schill, Athletic Director Derrick Gragg and the university's previous president, Morton Schapiro.
The complaint accuses the defendants of negligence and willful and wanton conduct due to their failure to take any action against the ongoing hazing or put safeguards in place to prevent it. The second and third lawsuits were filed two days later, on Thursday; those plaintiffs also remain anonymous and will be represented by the same team of lawyers, Pat Salvi II of Salvi, Schostok & Pritchard and Parker Stinar of the Stinar Law Firm.
"Our clients are coming forward with their stories now because they want to see institutional change so future generations don't have to suffer what they experienced," the attorneys said in a statement after filing the two latest lawsuits.
Meanwhile, Crump, the civil rights attorney, said in a July 19 press release that he and Levin & Perconti will represent at least 15 former Northwestern student athletes, including three who have "alleged a culture of racism within the program, with black coaches and players pressured to cut off longer hairstyles to fit the 'Wildcat Way.'"
In a July 19 statement, Dan K. Webb, an attorney with Winston & Strawn LLP who is representing Fitzgerald, said, "No arguments were made that would present any substantive, detailed, factual allegations, let alone evidence, about Coach Fitzgerald's conduct. The statements made by the lawyers and former student athletes, and those contained in the complaint filed by the one unnamed plaintiff, still fail to cite any specific facts or evidence beyond the broad-based statements published in the July 8 article."
Even as the football hazing investigation played out, another scandal rocked Northwestern's athletics department: the baseball coach was fired shortly after Fitzgerald for abusive behaviors toward staff members. Since then, baseball and softball players have also come forward with hazing allegations, Crump said at a press conference.
Cheerleaders at Northwestern have also alleged they were subjected to sexual harassment and groping at the hands of fans.
The university did not respond to Inside Higher Ed's request for comments.
Prevention Efforts
Research on how best to prevent hazing is still in its early stages, according to Allan. But renewed attention to the issue of hazing could lead to strides in research and to universities' increased knowledge of—and willingness to adopt—best practices.
Legislators are also looking for ways to address the issue. Mertz, of the Clery Center, said that transparency regarding hazing is important for the public to realize its pervasiveness, and that the center is hoping to reintroduce federal legislation to mandate that colleges report instances of hazing.
Even before the Northwestern news broke, Buckner, the state representative, was working on legislation to support student athletes' rights in Illinois. But after learning what the athletes underwent, he decided to add measures to the bill that specifically address hazing.
If the bill, which Buckner plans to introduce soon, passes, colleges with athletics programs would be required to hire an ombudsman who is unaffiliated with the athletics department to field reports of hazing. The legislation would also create a statewide governmental body designed to hold college athletics programs accountable.
Buckner, who attended college on a football scholarship, said he never saw hazing when he was a student athlete, but if he had he would have been too scared of retribution to speak up. Now he believes it's his duty help today's athletes feel comfortable reporting transgressions.
"Hopefully we can lead the nation in this conversation and people can have a blueprint, based on what we do, on how to move forward," he said.