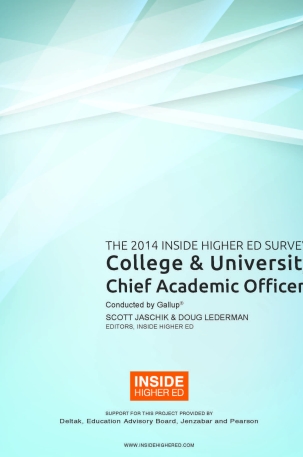 Some governors and college presidents are hailing the end of the economic downturn that started in 2008. But to provosts -- the people who lead academic operations at their institutions -- the era of cuts and tough choices does not appear over, according to this year's Inside Higher Ed Survey of College and University Chief Academic Officers.
Only 5 percent strongly agree and another 18 percent agree that the economic downturn is "effectively over" at their institutions. In contrast, 21 percent strongly disagree and another 37 percent disagree. Public institutions were likelier to see the downturn continuing while privates were more likely to see recovery, though only 26 percent of private nonprofit institutions agreed that the recession was over for their colleges and universities.
If budget pressures continue, so too do others. Provosts see continued demands on accountability and academic rigor, interest in MOOCs (of which they are skeptical) and competency-based education (about which they are more enthusiastic). They are decidedly unenthusiastic about President Obama's proposed ratings system.
About the Survey
Inside Higher Ed's 2014 Survey of College and University Chief Academic Officers was conducted in conjunction with researchers from Gallup. Inside Higher Ed regularly surveys key higher ed professionals on a range of topics.
On Feb. 5 at 2 p.m. Eastern, Inside Higher Ed Editor Scott Jaschik will share and analyze the findings and answer readers' questions in a Webinar. To register, please click here.
The Inside Higher Ed survey of provosts was made possible in part by advertising from Deltak, the Education Advisory Board, Pearson and Jenzabar.
The survey was conducted by Gallup based on questions developed by Inside Higher Ed. Responses were received by 842 provosts or chief academic officers. (Titles vary by institution, but the provost equivalent, or senior academic administrator, was surveyed, with only one respondent per institution.) The response rate allows Gallup to say with 95 percent confidence that the results are accurate within 3 percentage points. Subgroups (public and private for example) are provided only where sample sizes are large enough for results to be valid, but margins of error may be larger for those groups. All of those surveyed were assured of full confidentiality.
The poll was conducted in December, and is being released today, as many of the nation's academic affairs leaders gather in Washington for the annual meeting of the Association of American College and Universities. A booklet with complete findings may be downloaded here.
Watching the Dollars, Investing in STEM
Just this week, public colleges received good news in data showing that state support for higher education is up 5.7 percent over last year, although the study also found that 31 states are still spending less on higher education than they were when the recession started. Many small private colleges, meanwhile, have been reporting uncertainty over finances if they don't have a lock on secure enrollment.
The survey found, however, that provosts at private nonprofit colleges and universities appear to be feeling much better about institutional finances than do their counterparts at public or for-profit institutions.
While only 7 percent of public university provosts strongly agreed that their institutional finances improved in the last year, 10 percent said so at for-profit colleges, and 15 percent said so at private nonprofit institutions.
Other responses indicated that, across sectors, a healthy minority of chief academic officers anticipate more cuts in academic programs, and a majority across sectors see reallocation -- not an infusion of  new funds -- as the likely source of new spending on academics.
Budgets: Provosts Agreeing/Strongly Agreeing That:
| | | | |
| --- | --- | --- | --- |
|   | Public | Private Nonprofit | For-Profit |
| New spending on academic programs will come from reallocation, not new revenues. | 75% | 57% | 52% |
| My institution used economic downturn to make tough but necessary changes in academic programs. | 47% | 37% | 52% |
| My institution needs to reduce number of academic programs by end of 2014-15 academic year. | 25% | 27% | 34% |
And which programs are likely to receive new investment?
Those in arts and sciences -- many of whom think their departments took a disproportionate share of cuts during the economic downturn -- should not be holding their breath for new funds. The provosts were asked whether each of four categories of academic programs would likely be targets for "major allocations of funds in the next budget year." Healthy majorities -- across sectors -- plan major investments in science and technology programs, online programs and professional programs. But only a minority of provosts anticipate such investments in arts and science programs.
Budgets: Provosts Planning Major Allocations of New Funds in Next Budget Year
| | | | |
| --- | --- | --- | --- |
|   | Public | Private Nonprofit | For-Profit |
| Arts and sciences | 23% | 37% | 21% |
| Professional or pre-professional programs | 53% | 61% | 63% |
| Online programs | 52% | 53% | 74% |
| STEM fields | 66% | 54% | 52% |
Provosts were also asked if they agreed that financial concerns -- defined as revenue, market opportunities, profit, etc. -- are "prevalent in my institution's discussions about launching new programs." The question was asked in part because of the complaints of some professors who feel that academically worthy, non-lucrative ideas are set aside for ideas that are seen as likely to bring in revenue.
The answers are notable not only in the high percentage of provosts who strongly agreed, but that nonprofit provosts (public and private) were more likely than for-profit provosts to strongly agree.
Budgets: Provosts on Whether Financial Concerns Dictate New Program Decisions
| | | | |
| --- | --- | --- | --- |
|   | Public | Private Nonprofit | For-Profit |
| Strongly agree | 50% | 57% | 36% |
| Agree | 36% | 31% | 48% |
| Middle | 10% | 5% | 10% |
| Disagree | 3% | 4% | 7% |
| Strongly Disagree | 1% | 3% | 0% |
Innovation: Open to Competency, Not So Much With MOOCs
In the last two years, higher education has seen a perhaps-unprecedented hype of massive open online courses, which have been embraced by some politicians and pundits as key to providing mass higher education at a much-reduced price to students as well as taxpayers. With far less hype, competency-based education -- in which students receive credit and degrees based on demonstrating skills or knowledge, not completed classroom time -- has made major advances.
The survey found much skepticism among chief academic officers about MOOCs, but much open-mindedness about competency-based education. There was considerable sector agreement on these issues.
Only 2 percent of all provosts strongly agree that the "recent excitement over MOOCs is justified," with provosts at for-profit institutions more likely to think that (6 percent). Majorities of provosts -- across sectors -- disagree or strongly disagree with the statement.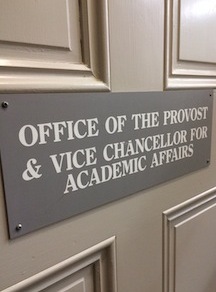 Only small shares of provosts (5 percent across nonprofit sectors and 17 percent in for-profit higher education) report that their institutions are awarding credit for MOOCs. Those figures, however, could grow, as 21 percent at public institutions, 13 percent at private nonprofit, and 20 percent at for-profit colleges say that their institutions are considering awarding credit for MOOCs.
One area on which there is strong sector disagreement is whether awarding credit is a good idea. While 63 percent of the provosts of public institutions and 69 percent of provosts of private institutions are opposed, 64 percent at for-profit institutions favor the practice.
The fact that most MOOC providers themselves are not awarding credit has allowed the institutions offering them to avoid having accreditors review the offerings -- and that's been a sore point with faculty members, as was clear in last year's Inside Higher Ed survey of professors on technology issues. Provosts appear to be with the faculty on this issue, with 82 percent agreeing that accreditors should review MOOC offerings.
Most provosts -- across sectors, but with less enthusiasm at private nonprofit institutions -- see a lot of potential to competency-based education. However, significant minorities of provosts (and half of those at private nonprofit institutions) view competency-based approaches as a threat to general education.
Competency-Based Education: Provosts Who Agree/Strongly Agree That:
| | | | |
| --- | --- | --- | --- |
|   | Public | Private Nonprofit | For-Profit |
| Competency-based education can increase the proportion of Americans with postsecondary degrees and credentials. | 55% | 38% | 64% |
| Competency-based education can save students considerable money. | 68% | 54% | 71% |
| It should be easier for students to earn credits and degrees based on competency, not seat time. | 62% | 50% | 69% |
| Competency-based education may be damaging to general education. | 39% | 50% | 37% |
Provosts Really Dislike Obama's Ratings Plan
Among the public champions of competency-based education, MOOCs, and other innovations have been President Obama and members of his administration. The president has urged educators to look for ways to educate many more people, and to do so without charging high tuition rates.
One way the president has proposed to help students make good choices about college is through a new ratings system in which colleges would be evaluated on such factors as providing access, graduation rates, job success of graduates and more. Students who attend colleges that do well -- compared to others that share their missions -- would be eligible for larger Pell Grants or better rates on student loans.
Based on the answers provided by provosts, they don't like the president's plan at all. And in this respect, they are similar to college presidents.
Asked if they believed that President Obama's plan would help prospective students and their families make meaningful comparisons between institutions (in theory a major goal of the ratings), only 1 percent of provosts strongly agreed. Not a single provost at a private nonprofit college strongly agreed. Among all provosts, 60 percent disagreed or strongly disagreed.
Further, very few CAOs expressed much confidence that the ratings system would do a good job of identifying their individual institutions' strengths or weaknesses. Only 1 percent of all provosts strongly agreed, and another 11 percent agreed that their institutions' strengths would be reflected by the ratings. Only 1 percent strongly agreed and another 8 percent agreed that their weaknesses would be reflected.
Two goals of the president's plan are to encourage colleges to do more to help students land good jobs, and to minimize student debt. The poll results suggest provosts believe their institutions are moving in the right direction on the first goal, and are already where they need to be on the second.
Asked if their institutions were paying increasing attention to the ability of their programs to help students get good jobs, the results were almost all positive. In the table that follows, community colleges are listed in addition to the general public category (of which they are a subset) because their reactions were more pronounced than public four-year institutions.
Job Preparation in Academic Programs: Provosts Who Believe Their Institutions Are Doing More
| | | | | |
| --- | --- | --- | --- | --- |
|   | Public (All) | Public (2-Year) | Private Nonprofit | For-Profit |
| Strongly agree | 33% | 44% | 37% | 54% |
| Agree | 54% | 46% | 48% | 41% |
| Middle | 9% | 8% | 10% | 5% |
| Disagree | 3% | 2% | 4% | 0% |
| Strongly Disagree | 0% | 0% | 1% | 0% |
Further, most provosts think their institutions are already doing a good job at preparing students for the world of work, with 56 percent saying that their institutions are "very effective" and 40 percent saying they are "somewhat effective."
When it comes to loans, which President Obama has said he wants to reduce, many provosts seem relatively comfortable with the status quo, in which average debt for a four-year degree is about $26,000. But comfort with this debt level was greatest among private institution provosts (for-profit and nonprofit). Public university provosts generally believe reasonable debt levels should be lower -- with community college provosts among those who see the greatest need to minimize debt.
Provosts on 'Reasonable' Debt Levels for a Four-Year Degree
| | | | | |
| --- | --- | --- | --- | --- |
|   | Public (All) | Public (2-Year) | Private Nonprofit | For-Profit |
| No debt at all | 4% | 4% | 1% | 3% |
| Under $5,000 | 5% | 8% | 1% | 3% |
| $5,000 to less than $10,000 | 18% | 23% | 9% | 3% |
| $10,000 to less than $20,000 | 33% | 34% | 25% | 27% |
| $20,000 to less than $30,000 | 27% | 18% | 40% | 32% |
| $30,000 to less than $40,000 | 8% | 9% | 15% | 14% |
| $40,000 to less than $50,000 | 3% | 5% | 7% | 8% |
| $50,000 and more | 1% | 1% | 3% | 11% |
As the data above show, private institution provosts are much more likely to accept high debt levels. While only 4 percent of public institution provosts believe debt of above $40,000 is reasonable for a four-year degree, 10 percent of private nonprofit provosts believe this, and 19 percent of provosts of for-profit colleges have this view.
Academic Health and Challenges
As in past surveys, the provosts were asked about a range of academic issues. Their answers did not differ significantly from past years, but here are some highlights:
9 in 10 provosts view the academic health of their institutions as good or excellent.
72 percent of provosts believe their institutions are "very effective" at providing an undergraduate education. (The most modest sector is for-profit higher education, where only 53 percent of provosts agree.)
Provosts give their institutions lower marks on controlling college costs, with only 29 percent saying they are very effective.
While just about all provosts report using various tools to assess student learning, only 32 percent said that their institutions are "very effective" at using data to inform decisions.
Only 10 percent of provosts believe that academic rigor has fallen at their institutions in recent years, but 38 percent believe that is the case for higher education.
Only 14 percent of provosts believes that grade inflation is a "serious problem" at their institutions, while 44 percent believe it is one for higher education generally.
Life of the Provost's Mind
At last year's meeting of the AAC&U, when provosts discussed Inside Higher Ed's 2013 survey, several asked that this year's include questions on how chief academic officers maintain a connection to the love of scholarship or teaching that first drew them to academe. This year's survey featured such questions, and the answers suggest no single path is common for provosts.
For example, asked if they "remain engaged" in their original scholarly discipline, 55 percent said yes and 45 percent no.
The survey also asked if they had taught a course or published in their disciplines in last two years and the last five years. While the survey included newly named and veteran provosts, the results suggest that most provosts haven't done those things recently, but can remember when they last did. In the last two years, only 38 percent of provosts have taught a course in their field, and 31 percent have published. The numbers rise to 62 and 37 percent, respectively, for five years out.
Provosts seem to generally accept that their jobs have evolved beyond the purely academic questions of years past and now involve finance just about all the time.
Ninety-two percent of provosts (with little variation by sector) agree that the job has "evolved beyond its traditional focus on academic affairs." But provosts were split on whether financial issues dominate, even if they are present. Asked to respond to the statement "My job is more focused on financial and management issues than on academic issues," 39 percent of provosts agreed and 33 percent disagreed.
Whatever balance they have achieved, most are happy with their choices, with 52 percent of provosts reporting that they strongly agree that they are pleased that they pursued administrative work, and 33 percent saying they agree.
But do they want to be presidents? Maybe not -- 43 percent said that they do and 43 percent said that they do not. (The responses were fairly consistent across sectors.)
While provosts may not be sure they want to become presidents, the answers to the survey suggest something of a split with respect to faculty values. While provosts see value in tenure, they predict little change in the increasing reliance of most institutions on faculty members off the tenure track. And two-thirds of provosts say that they favor a system of long-term contracts over the existing tenure system in higher education.
Provosts also answered a question on the faculty-administrator split, which they think exists. Asked whether they agreed with the statement that "there is a fundamental difference in perspective between faculty members and administrators," 67 percent agreed or strongly agreed. Only 14 percent disagreed or strongly disagreed.