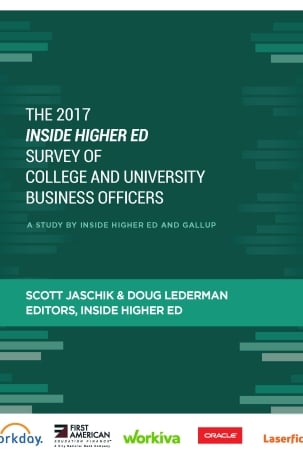 The reality of higher education's financial challenges is sinking in among college and university business officers.
Now the question is what they're doing about it -- and whether they're willing to do enough.
Chief business officers increasingly agree that higher education is in the midst of a financial crisis, according to the 2017 Inside Higher Ed Survey of College and University Business Officers. Some are also starting to lose faith in the idea that they can overcome revenue shortfalls using the often-cited strategy of increasing enrollment.
Many respondents were open or supportive of the idea of consolidating programs or academic operations with other institutions. Yet survey results reflected a greater skepticism about their likelihood of actually merging with other colleges or universities in the near future. Business officers were also generally leery of addressing their budget issues in ways that would require them to ask faculty members to change. So although business officers are increasingly recognizing the financial threats they face, experts wondered whether they are being realistic about the kind of strategies they will have to pursue to chart a course forward.
This is the seventh year Inside Higher Ed has surveyed college and university business officers. Gallup conducted the survey, receiving responses from 409 chief business officers from May 2 to June 11. Respondents included 217 business officers from public institutions, 184 from private institutions and eight from for-profit institutions. Results were statistically weighted based on public or private status, four-year or two-year degree offerings, student enrollment, and geographical region in order to produce results representative of business officers nationally.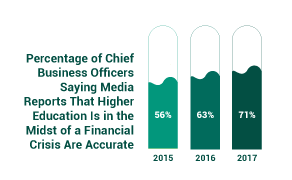 The emerging picture is decidedly less optimistic than that of previous years. This year, 71 percent of chief business officers agreed with the statement that media reports saying higher education is in the midst of a financial crisis are accurate. That is up from 63 percent in 2016 and 56 percent in 2015.
Chief business officers at public and private nonprofit institutions varied only slightly in their assessment. At public universities, 68 percent of chief business officers agreed reports of a financial crisis in higher education are accurate, compared to 74 percent of chief business officers at private nonprofit institutions.
The portion of chief business officers who believe their own institutions will be financially stable in the coming decade also dropped significantly. Just 56 percent of survey respondents agreed or strongly agreed that their institutions will be financially stable over the next five years, down from 64 percent a year ago. Less than half, 48 percent, agreed or strongly agreed their institutions will be financially stable over the next 10 years, down from 54 percent a year ago.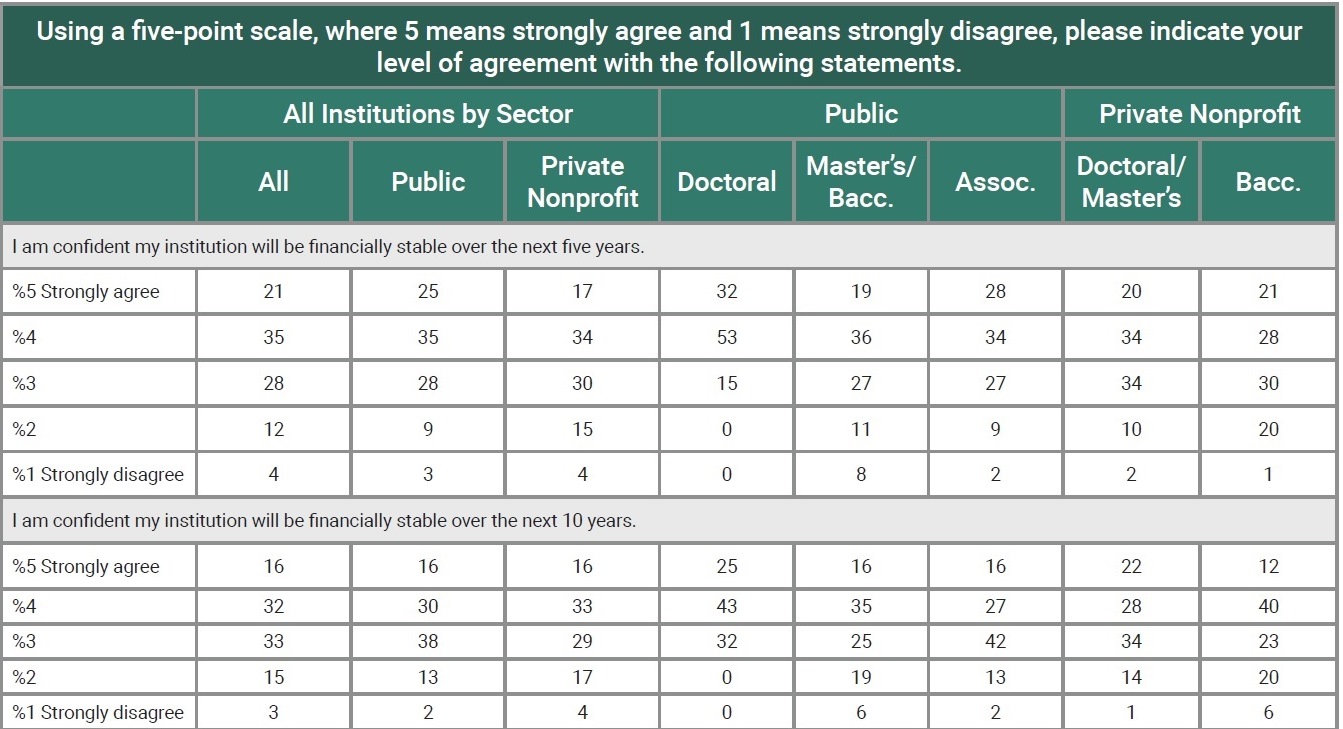 It should be noted, though, that belief in institutions' future stability has varied significantly in recent years -- the assessment this year was not as dire as it was two years ago. In 2015, only 42 percent of chief business officers said they were confident their institutions would be financially stable in the coming decade.
Chief business officers largely think new spending will have to come from reallocating money instead of increasing net revenue. Almost two-thirds of respondents, 64 percent, strongly agreed or agreed that new sources of spending in the coming year will have to come from reallocation. The result is roughly on par with results in 2016 and 2015.
Growing or Cutting Next Year?
Business officers are still interested in raising more revenue. When they were asked about strategies to compensate for insufficient revenue in the 2017-18 academic year, many chief business officers indicated they would be trying to bring in more money.
Just over seven in 10 -- 71 percent -- agreed that their institutions would seek to increase overall enrollment. Nearly a quarter, 23 percent, said they would try to lower the tuition discount rate, a move that would have the effect of increasing net tuition revenue.
Those results are most noteworthy for how much they have changed from the past. The portion of chief business officers agreeing their institutions will try to increase overall enrollment dropped by 16 percentage points from 2016. The portion saying they will try to lower the tuition discount rate fell by 13 percentage points.
More About the Survey
Inside Higher Ed's 2017 Survey of College and University Business Officers was conducted in conjunction with Gallup. A copy of the report can be downloaded here.
Inside Higher Ed regularly surveys key higher ed professionals on a range of topics.
Doug Lederman and several CBOs will be presenting the survey's results Monday at the annual meeting of the National Association of College and University Business Officers in Minneapolis.
On Tuesday, Aug. 8, at 2 p.m. Eastern, Inside Higher Ed editors Scott Jaschik and Doug Lederman will present a free webcast on the results and take your questions. Sign up here.
The Inside Higher Ed survey of presidents was made possible in part by advertising from First American Education Finance, Laserfiche, Oracle, Workday and Workiva.
"It's facing reality that the students aren't there, and they're just not getting the growth," said Lucie Lapovsky, a higher education financial and governance consultant. Colleges and universities have struggled among declines in enrollments and projections of fewer students across the country in coming years.
"Chief business officers are seeing how very difficult it is to resize the institution," Lapovsky said. "Even if they maintain enrollment, their net revenue has, if they're lucky, stayed the same. That means they need to cut back on expenses."
Survey respondents showed increasing interest in some strategies to cut spending. Half agreed their institutions would eliminate underperforming academic programs in the coming year, up seven percentage points from 2016. About a third, 31 percent, said they would be promoting early retirement for administrators and staff, up 14 percentage points from 2016. And 44 percent agreed they will be reducing administrative positions, up nine percentage points from 2016.
The finding of increased interest in cutting expenses is consistent with the experience of Andrew Laws, managing director at Huron Consulting Group. A period of "cost-reduction fatigue" set in about three to four years after cost cutting around the Great Recession, he said in an email. The fatigue appears to be ending.
"We really saw that begin to change in 2016, and we are seeing two to three times the amount of cost-reduction work this year than we have done in recent history," he said.
The percentage of respondents who agreed they would promote early retirement for faculty members jumped 11 percentage points year over year, to 38 percent. Yet when it came to other strategies for cutting from or minimizing faculty spending, business officers showed little to no new interest in comparison to the past.
About a third, 35 percent, agreed their institutions would increase teaching loads for full-time faculty members. Also, 33 percent agreed they would shift undergraduate teaching to part-time or nontenured faculty members. Only 27 percent said they would be shifting more undergraduate teaching to senior faculty members, and just 18 percent said they would be revising tenure policies. Those findings are largely unchanged from last year.
That's notable because spending on personnel represents the largest expense for colleges and universities, in most cases 75 percent or higher.
Some of the lack of interest in spending strategies related to the faculty could be because faculty spending has already been squeezed. Adjuncts have already replaced many full-time faculty positions. Institutional structures and shared governance can make it hard to change faculty teaching requirements.
Faculty members believe they are valuable for their research abilities and often negotiate to lower their teaching load, even if they are not at top-tier research institutions, Lapovsky said. That may or may not be the case, depending on the institution and situation. But in some cases, rather than being asked to change their ways, full-time faculty members are simply phased out over time.
"What I'm seeing if you look at the data are faculty positions not being refilled," Lapovsky said. "The full-time tenured and tenure-track faculty are being allowed, for the most part, to keep their relatively low teaching load. But as there's attrition, they're replaced by adjuncts."
Institutions facing financial crunches often struggle to find a workable way to address costs while trying to meet what they see as changing student demands. Mills College, a women's liberal arts college in Oakland, Calif., is in the midst of a financially motivated retooling that includes significant cost cutting. Faculty layoffs, staff layoffs and program eliminations are under way as administrators work to close an operating budget gap that was projected at about $9 million for the upcoming year.
The process has been difficult. Faculty members protested after they learned of plans to cut tenured faculty positions. Many also questioned the process involved, in which Mills declared a financial emergency rather than financial exigency, which is the more widely recognized pathway for institutions laying off tenured professors during a financial crisis. Faculty members from outside Mills have joined in the criticism, in June asking the college to abandon plans to close its philosophy department.
Mills leaders have maintained that they have little choice but to make broad changes. The country's population of rising high school students who will soon become college freshmen is not large enough for every institution to grow its enrollment of 18- to 22-year-olds, said Elizabeth Hillman, the college's president.
"The idea that everybody is going to grow out of this challenge does not ring true with what the data is telling us," she said.
"It's very hard," Hillman said. "It's painful for the faculty itself, and it's painful for the people who have learned so much from the faculty."
Asked in the survey about other strategies for handling revenue shortfalls in the coming year, 6 percent of chief business officers agreed they would outsource more academic programs. And 39 percent agreed they would shift more instruction from a classroom-based model to a web-based model. Only 20 percent said they would cut spending for intercollegiate athletic programs, although that was up from 11 percent planning to do so in last year's survey.
Meanwhile, 27 percent agreed their institutions would outsource more administrative services, 46 percent said they would explore collaboration opportunities for administrative services with other institutions and 63 percent said they would explore collaboration opportunities for academic programs with other institutions.
Many business officers still expressed plans to pursue other revenue-raising strategies. A full 68 percent said their institutions would launch new revenue-generating academic programs in the coming year, and 40 percent said they would be enrolling more full-pay students. Both of those results are largely in line with last year's survey.
Colleges and universities will always have to find a balance between cuts and investing in new programs for the future. But against the backdrop of increasing financial uncertainty, enrollment challenges and high competition between institutions, worries persist that higher ed leaders have not been thinking drastically enough.
"As enrollment's going down, we have excess space," Lapovsky said. "If we were any other industry, we would merge, go out of business, whatever. And we're not doing that."
No Merger Mania
Closures of numerous for-profit and some private nonprofit colleges, and talk of mergers in several public university systems, could create the impression that many institutions are clamoring to combine, collaborate or consolidate in the future.
The survey of chief business officers suggests that's not the case.
One in eight CBOs said that senior administrators at their institutions had "serious internal discussions in the last year" about merging with another college or university. The proportion was 15 percent for private nonprofit institutions (21 percent for private doctoral or master's universities) and 9 percent at public institutions (15 percent at public doctoral universities).
About a quarter of financial officers (24 percent) said their institutions had had serious discussions about consolidating programs or operations with another institution, including 29 percent at public master's and baccalaureate universities and community colleges.
CBOs overwhelmingly dismissed the likelihood that their college or university would merge with another in the next three years, with 89 percent of public college officers and 93 percent of private nonprofit ones saying a merger was "not likely at all" (73 and 65 percent, respectively) or "not too likely." (More business officers, about a third, said their institution was very or somewhat likely to share back-office administrative functions or combine academic programs with another institution in the next three years.)
The picture changed somewhat when CBOs were asked what their institutions should do, however. Thirteen percent of public university business leaders and 17 percent of private nonprofit ones said they believed their institution should merge with another college, and majorities (54 and 58 percent, respectively) said they should share administrative functions or combine academic programs.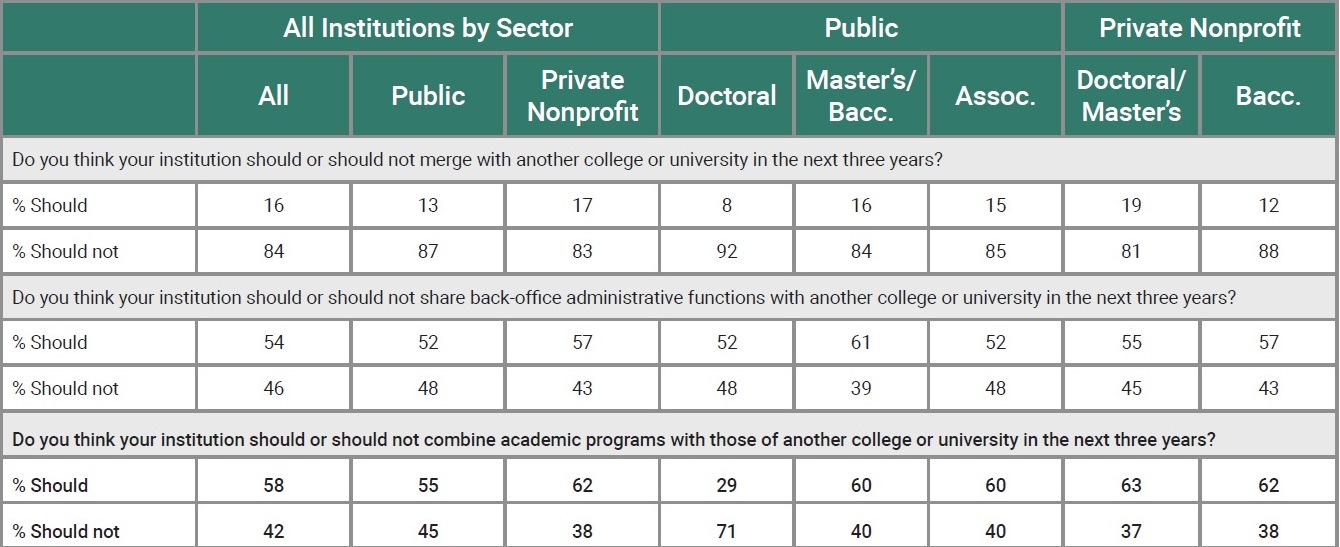 Asked which units at their institutions they thought would benefit most from merger or consolidation, more than six in 10 business officers nationally said information technology services, other back-office functions, and academic program offerings. About half said human resources.
More CBOs identified faculty opposition as a significant impediment to merger or consolidation (51 percent) than any other factor, followed by geography (46 percent) and a desire to maintain the status quo (45 percent). Only 28 percent identified lack of financial necessity as a barrier.
Several experts on the financing of higher education said they were not surprised that most CBOs were not enthused about merging.
While some mergers are actual strategic combinations of (relative) equals -- say, the recent marriages of Berklee School of Music and Boston Conservatory, and of Philadelphia and Thomas Jefferson Universities -- many are takeovers in which one institution recedes and largely disappears over time.
"I think the whole notion of merger is just so complicated to wrap their brains around," said Michael Thomas, president of the New England Board of Higher Education and author of a 2015 TIAA Institute paper about collaboration, merger and strategic alliances. "In most cases you've got to be facing somewhat desperate circumstances to pursue that with great, great vigor unless you're one of those institutions with a real vision," he said.
That public university business officers were less inclined to merge rang true with Patrick Kelly of the National Center for Higher Education Management Systems, which recently avoided suggesting a merger in its review of the Pennsylvania State System of Higher Education, where some of the 14 campuses are ailing financially amid a declining college-age population and remote geographic locations.
"We believed we should start with the governance structure, because we felt the institutions needed to be freed up to do more nimble things," Kelly said, citing the Pennsylvania system's unusually heavily unionized environment. "We acknowledged that if you don't right the ship, though, [closures] are likely to happen."
Closing public institutions is exceedingly difficult given the interests of legislators, and the fact that the institutions are often among the biggest employers and the primary postsecondary options in their regions. The University System of Georgia remains an outlier in its aggressive consolidation of institutions.
"Unless a governing board steps in, you'd have to have this kind of decision made by an administration, and they don't want to lose their jobs," Kelly said.
Given the barriers, he said, he expects more states to consider sharing services or academic programs at their regional institutions than closing the institutions outright. But to have a meaningful financial impact, even such decisions are likely to require "closing programs in which faculty are involved," and that can be extremely difficult, he said.
"It's awfully easy to open a program, and awfully hard to close one," he said.
Fred Rogers, vice president and treasurer at Minnesota's Carleton College, said that his college's experience had sown doubts about the likely financial savings to be derived from merging campus functions, let alone entire institutions.
Seeded by a major grant from the Andrew W. Mellon Foundation, Carleton and nearby St. Olaf College have spent several years exploring ways to work together toward a "more collaborative future."
The campuses have achieved a number of successes. They've developed a shared environmental health safety office that has broadened both institutions' resources in that realm beyond what they'd have been able to do individually, and a shared card catalog between their libraries. "It's cheaper to do that once rather than twice, and we save money on that," Rogers said.
But when it comes to core functions like payroll, information technology and the like, "nobody's really willing to close down a function on their campus for a shared function," and on small campuses, he said, it's rare that closing a unit here or there saves meaningful money.
"It's rare, I think, that closing something creates a better outcome," Rogers said. "Desperation may make it necessary for some people or some institutions, but short of that I'm not sure it's usually better."
Transparency in Budgeting
When money is tight, tensions over budget decisions -- and how they are made -- tend to rise. Inside Higher Ed's pages are filled with articles about disagreements (like the Mills situation described above) over institutional choices to close budget gaps, which frequently lead to questions about whether campus constituent groups have been adequately involved and consulted.
This year's survey asked an expanded set of questions about how institutions construct and approve their budgets and who is included in those discussions and decisions.
Nearly six in 10 business officers (57 percent) agreed that greater transparency in campus decision making results in better decisions (that's actually down slightly from 2016, when 62 percent said so).
Business officers overwhelmingly graded their own institutions positively on how transparent they are: 33 percent said excellent, 45 percent good. Public doctoral institutions were less likely to give themselves excellent marks (11 percent), while 9 percent of CBOs at public master's and baccalaureate institutions rated themselves poor.
Asked with which campus constituents they shared "extensive information" about the institution's financial health, almost all business officers listed the full governing board (97 percent) and faculty leaders (92 percent). Seventy percent said they shared extensive information with the entire faculty and the entire staff; the numbers were highest at community colleges and lowest at public doctoral institutions.
Far fewer said they made such materials available to the student government (48 percent), put them publicly online (45 percent) or shared with alumni (25 percent) or all students (24 percent). Private institutions, not surprisingly, were far less likely to make them public.
Providing information may be one thing, but far fewer institutions involve multiple constituencies in the budget-making process. Large majorities of CBOs said they involve faculty leaders (86 percent) and the full governing board (80 percent) in the process of developing budget proposals, but the numbers dropped off sharply after that, with just 25 percent saying they involve the full faculty (40 percent at community colleges) or the entire staff (31 percent).
Why is that? Clues can be found in the answers of CBOs to questions about the value of the faculty role. About 45 percent of business officials said faculty members play a "meaningful role" (the definition was left up to them) in institutionwide budget decisions. And 56 percent said faculty approval is required for new revenue-producing strategies such as online or certificate programs.
Just 17 percent strongly agreed that faculty members should play a meaningful role in campuswide budget decisions; 39 percent agreed and 15 percent disagreed or strongly disagreed. Only 3 percent of CBOs at public doctoral institutions strongly agreed, and 20 percent at private baccalaureate colleges. And only 15 percent strongly agreed and 27 percent agreed that faculty approval for new revenue strategies should be required.
That lack of interest in faculty involvement appears to stem from the CBOs' confidence in faculty understanding of finances. Fewer than a third of business officers (32 percent) agreed or strongly agreed that faculty members "understand the financial challenges my institution faces when they participate in collegewide budget discussions" (36 percent disagreed or strongly disagreed), and 40 percent said professors "provide valuable insights" when they participate in such discussions. Thirty-six percent agreed that faculty members have supported efforts to address campus budget problems.
Those numbers stand in stark contrast to the CBOs' views about other campus constituents. Seventy-seven percent of business officers said trustees "are aware of and understand the financial challenges confronting my institution," and 85 percent said the same about senior administrators. Two-thirds said the chief academic officer on their campus was a "productive partner" in creating a financially sustainable business model.
Ron Mahurin, vice president for strategy and planning at Stamats and a former provost at several small independent colleges, said it was understandable that many business officers felt as if faculty members were uninformed or unhelpful in budget making -- but that they may have only themselves to blame.
"At a lot of places there's a history of information either being hidden or just not being in the culture to share it, and it can take a lot of work to bring people up to speed in the translation" of budget material, Mahurin said.
"Sometimes what seems to faculty like a lack of transparency can be that the data aren't in-depth enough, but sometimes they don't have enough knowledge to interpret the data," he added. "I think a lot of places are trying to be more transparent, but there's an iterative nature process that has to go on to understand what's going to work best in a certain faculty and governance culture."
Gary Rhoades, a scholar of higher education at the University of Arizona and former president of the American Association of University Professors, said he was disappointed that barely half of business officers believe that faculty members should be involved in collegewide budgeting. "That flies in the face of what we know about effective organizations," he said.
Rhoades said he wondered how most CBOs interpreted the word "meaningful" in the phrase "meaningful involvement."
"On some campuses, it's clearly 'we'll let you know right before we do something,' or we can develop proposals together," he said. "Clearly most faculty members understand they're not going to be the final decision makers, but I don't think it's unreasonable for them to want to be part of developing proposals, not just responding to them as a fait accompli."
Robert Nelsen has remade the budgeting process since he became president of California State University at Sacramento two years ago. When he began there, he said, things were so siloed that even cabinet members didn't see the budgets of each other's departments.
Now the Faculty Senate, the University Staff Assembly and the student government are involved in budget meetings and asked to present their priorities, and the administration holds town hall meetings in the fall at which "we go through and show exactly what we've spent, what the budget is," he said.
"Aha moments" occurred when faculty members realized that well over 80 percent of the university's budget went to salaries and when duplicative efforts in multiple departments were revealed.
"I can't lead if I don't have trust. When you lay out the numbers and are transparent, you build trust," he said. "I needed that trust with faculty members. When I came to the university, we needed to improve graduation rates dramatically, and that meant doing something new. No one is going to do something new just because a new president says we need to. They'll do it because they trust you. And that has to be gained."
Everette Freeman became president of the Community College of Denver in 2013, and his institution, too, has greatly broadened the involvement of faculty members and other groups in budget and priority setting. The entire budget is made publicly available, and the institution's chief budget officer holds a series of brown-bag lunches to explain how the budget works. Faculty members have also been prominently involved in a program prioritization effort that has proposed reductions.
"It's uncomfortable to change how you do things, because adding steps of engagement or collaboration alters people's traditional roles," Freeman said. "But when recommendations come out of committees that are representative, and you've had lots of people involved, that makes our decisions far more robust and far better."
Retention for Financial Stability
Improving retention is another strategy that can be linked directly to institutional finances. Student success efforts can increase degree attainment. They can also keep a college or university's enrollment stable, which in turn anchors its financial standing.
Colleges and universities invest in a range of student retention efforts, surveyed chief business officers reported. Most popular among the initiatives were clearly designed pathways for students to follow in order to earn specific degrees. A wide majority of chief business offices, 83 percent, said their institutions invested in clearly designed pathways for degrees. The level was significantly higher among chief business officers at public institutions, 88 percent, than it was among officers at private nonprofit institutions, 78 percent.
Among other retention initiatives at institutions, academic coaching was reported by business officers at 78 percent of all institutions. Training to help faculty members become better teachers was reported by officers at 74 percent, and peer mentoring was reported by officers at 66 percent of institutions. Technology-enabled advising was reported by business officers at 58 percent of institutions.
Public institutions were more likely than private institutions to offer programs in all cases except for peer mentoring. Technology-enabled advising revealed the largest gap between public and private institutions. While 70 percent of public college business officers reported their institutions offered technology-enabled advising, only 46 percent of private nonprofit college business officers said the same.
Almost all business officers, 86 percent, said the investments their institutions made in student success had been done with the clear expectation that higher student retention and degree completion would improve financial stability. There was little split between business officers at public institutions and private nonprofit institutions responding to this question.
Slightly more than a third of chief business officers, 38 percent, said their institutions have seen a return on student success program investments. Another 12 percent said their institutions had not seen a return on such investments. That leaves a substantial 51 percent saying it is too soon to know if investments have paid off.
Breaking down the results by type of institution showed a notable outlier: 71 percent of chief business officers at public doctoral institutions said their universities have seen a return on investment in student success programs.
Federal Policy Looms Large
This year's survey of chief business officers asked about four policies that could change under President Trump as his nascent administration addresses higher education. Business officers proved to be most concerned about the idea of cuts to federal student aid funding.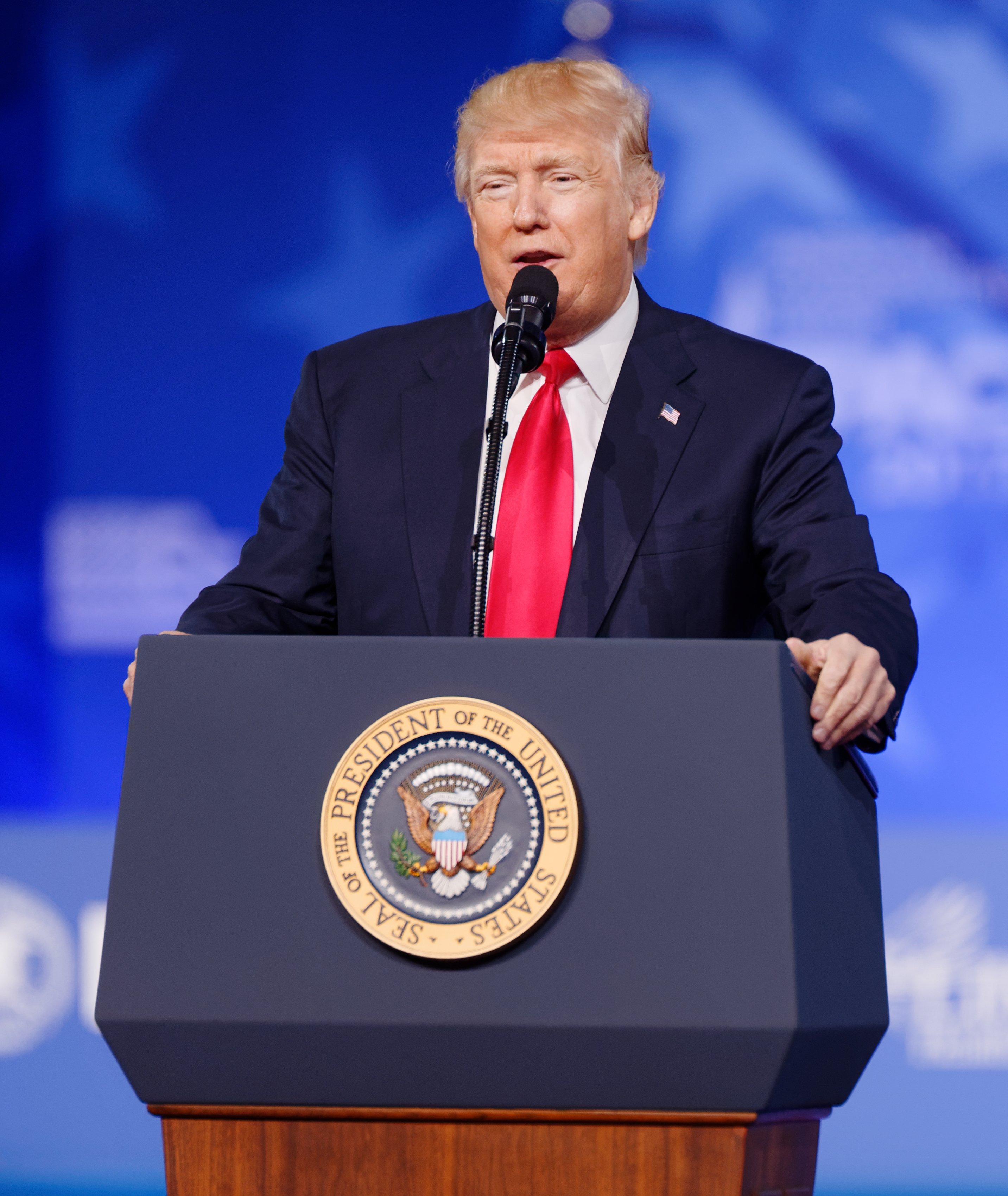 Eight in 10 chief business officers said cutbacks in federal student aid funds would affect their colleges' financial situations a great deal. Another 14 percent said such cutbacks would affect their colleges' financial situations a moderate amount. The results varied little by institution type.
About half of business officers, 54 percent, said immigration policies that could deter international students from attending U.S. colleges would affect their institutions' financial situation either greatly or moderately. Those at public doctoral universities indicated they were more exposed, however, with 92 percent saying immigration policies would affect their institutions' financial situations moderately or greatly.
Public doctoral university chief business officers were also more concerned than their peers about the possibility of cutbacks in federal research grant funding and reductions in federal research overhead rates. A full 100 percent of officers at public doctoral research universities said reductions in federal research overhead rates would affect their institutions' financial situations a great deal or a moderate amount, compared to 29 percent of business officers across all institution types. And 96 percent of public doctoral business officers said cutbacks in funds for federal research grants would affect their colleges' financial situations, compared to 31 percent of officers across all types of institution.
Debt Levels, Endowments and Other Topics
A handful of other key findings from the survey:
Seventy-three percent of chief business officers described their institutions' debt levels as appropriate, compared to 12 percent who believe they have too much debt and 15 percent who said they should add debt.
Business officers at private institutions were more likely to say their colleges carried too much debt than were those at public institutions, largely because more business officers at private doctoral or master's colleges think their institutions have too much debt. Over all, business officers at public and private colleges were still about equally likely to say their institutions' debt levels were appropriate.
More than half of chief business officers, 52 percent, strongly disagreed or disagreed with the idea that debt service has a significant impact on their institutions' tuition rates or spending levels. Only 24 percent strongly agreed or agreed.
On average, business officers said 4.3 percent of their institutions' operating budgets are dedicated to debt service. Private institutions had a higher average, 4.7 percent, than public institutions, 3.7 percent.
About a third of chief business officers reported that endowment income contributes meaningfully to their institutions' annual budget -- half of those at private nonprofit colleges and just 14 percent of those at public colleges.
Most business officers at colleges where endowment income contributes meaningfully to annual budgets expect to keep payout rates steady over the next year, 71 percent. Only 3 percent said they expected to raise payout rates, and 27 percent expected to lower them.