You have /5 articles left.
Sign up for a free account or log in.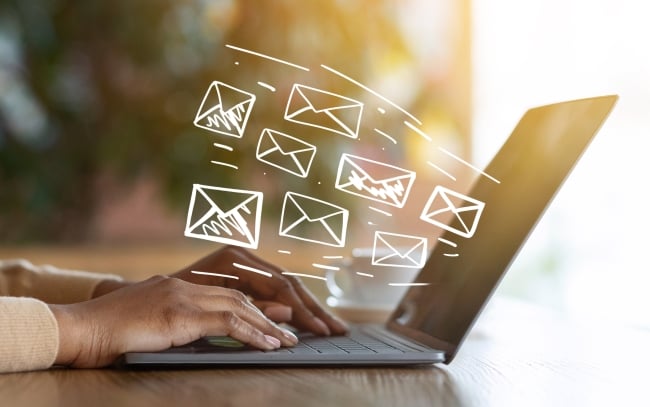 Prostock-Studio/Getty Images
For years at Colgate University in New York, students getting an email address "for life" was a given. Then, in February, an email portent arrived—by email, of course: alumni learned that their lifetime email addresses might be phased out next year.
"Even with the lead time, people were caught off guard," said Carl Klauss, the university's vice president for advancement.
Student shock turned into outrage, sparking a petition to keep the lifetime email system.
"This was very surprising news, considering that in years prior Colgate students and graduates recall being told specifically that they would be able to keep their email addresses for life," the petition said.
Many universities have offered an "email for life" option over the last decade, comforting students by providing a directory and archive of materials stored on their email over the years. But institutions are now grappling with how to keep that perk for students because of a Google change to its approach to digital storage.
Google began offering free storage to universities in the mid-2000s, through its G Suite for Education program. With that resource, institutions allowed students to keep their school email addresses postgraduation, along with storage through Google Drive.
But in 2021, Google announced it would be eliminating its free program. In 2022, it began rolling out tools to help universities address their storage issues.
Google's spokesman Peter Du said there is no hard deadline for when institutions will lose free storage access, as each university has its own contract. Many have begun a transition, he said, while others have more than a year to make a decision on their next moves.
Broadly, under the new limits, universities and colleges get pooled cloud storage of 100 terabytes, which is enough to hold about 100 million documents or 400,000 hours of video.
"As we've grown to serve more schools and universities each year, storage consumption has also rapidly accelerated," Du said via email.
He added that, in many cases, some users take up more storage than others and storage is not "being consumed equitably across—nor within—institutions." He said the new shift would allow more tools to manage this.
The limit of 100 terabytes for each university may sound like a lot of storage, but given the thousands—and for some universities, tens of thousands—of alumni with email addresses and digital files, it can be tough for an institution to keep lifetime email going.
Some institutions estimate it will cost millions of dollars to maintain these accounts, said Ryan Chreist, executive director of the University of Colorado at Boulder's alumni association. Chreist has been talking with institutions across the nation as his university weighs its own options.
"The end result is we have to decide what the structure is going to look like going forward," he said. "Because the status quo is not possible given the cost."
'It's a Very Sensitive Topic'
As the deadline looms for many institutions, officials find themselves trying to come up with solutions.
"This topic is complicated because the alumni world is complicated," Chreist said, noting that alumni vary greatly in backgrounds, socioeconomic status, career paths and geography. "Their needs are very different; it's difficult to find one solution that will satisfy all."
The University of California, Davis, will be removing its email for life offering in August, according to the university's website. Alumni will have access to their student emails for six months after graduation. They are able to receive access to alumni-centered emails—which would be an @alumni.ucdavis.edu email address—if they choose an $850 lifetime membership to UC Davis's alumni association.
The university declined requests for comment. Its website stated it made the change due to "increasing security risks and costs."
That decision isn't unusual, according to CU Boulder's Chreist.
"Almost everyone I talked to either eliminated it completely or had done a phased approach over time," he said. He said many schools have added a forwarding option, where students can receive emails from their old address but are not able to respond to them with the student address.
"It's a middle-ground solution," he said. "It's not a great one but it is middle ground."
University of Minnesota officials are also weighing options but project a discontinuation of graduates' access to email in spring 2024.
"When the university first offered email to people who departed the university, email was not widely available at no charge, information security did not present as much risk, and storage in Google Workspace was unlimited and free," the university said in a statement. "Today, we are no longer able to provide email to accounts at the same cost or risk."
After Colgate saw how passionate students were about the topic of email, the university spent the last year speaking with its alumni association, tech department and other university officials to land on the right option.
"It's a very sensitive topic," said Klauss. "All of us spend so much time connected to email accounts, so it's something we spent a lot of time discussing."
Colgate now offers an alumni email address. It's a benefit for the students, but also the university, Klauss said.
"It was hard to find recent grads (before email for life) and we want to keep track of them and have them stay engaged with the institution," he said. "We felt it was valued in both directions of keeping alumni connected."
Harvard University also reversed an earlier decision to discontinue its alumni email and forwarding service after "alumni outreach," the university said in a statement. Unlike the other universities, Harvard initially cited concerns with security as the main reason for phasing out the email-for-life service.
Its technology and alumni affairs and development teams "explored alternatives to the university's current email forwarding offering."
Harvard struck a partnership with an international email forwarding service to roll out forwarding for graduates from the last three years, opening it to all eligible alumni in 2024.
"We are confident it will add significant value to this program," the university said in a statement.
Many alumni do find value in keeping their college emails.
Tashir Hampton has been using his Rutgers University account since he graduated in 2016. He said he has access to his account through some system fluke—Rutgers does not offer email for life. But the service has been helpful beyond racking up student discounts. Hampton peruses his Rutgers Google Drive account for grad school documents, which he used to apply for his current job as an inclusion and well-being program director at a medical school.
"Even for work I'll say, 'I remember when I was in school, I made this document or programming guide; let me find that,'" Hampton said. "There are things you don't need until you need it."