You have /5 articles left.
Sign up for a free account or log in.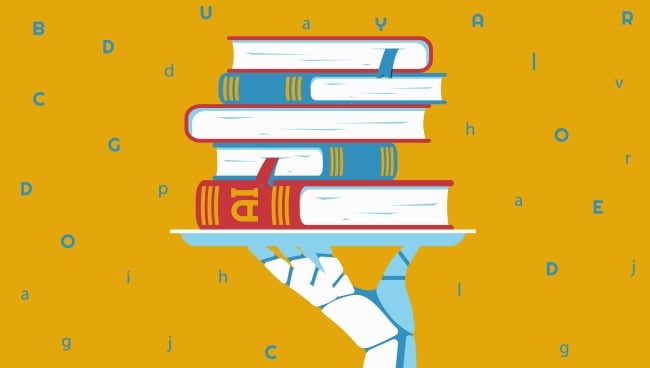 A few months after ChatGPT launched last fall, faculty and students at Northwestern University had many questions about the building wave of new artificial intelligence tools. So they turned to a familiar source of help: the library.
"At the time it was seen as a research and citation problem, so that led them to us," said Michelle Guittar, head of instruction and curriculum support at Northwestern University Libraries.
In response, Guittar, along with librarian Jeanette Moss, created a landing page in April, "Using AI Tools in Your Research." At the time, the university itself had yet to put together a comprehensive resource page.
"It was knowing this was not just one person that was going to ask about this," Guittar said.
Librarians have often stood at the precipice of massive changes in information technology: the dawn of the fax machine, the internet, Wikipedia and now the emergence of generative artificial intelligence, which has been creeping its way into classrooms.
"This does change things, but in a very good way," said R. David Lankes, the Virginia and Charles Bowden Professor of Librarianship at the University of Texas at Austin. "Librarians, every decade or so, are getting good at dealing with an existential crisis of 'Do we need librarians?' But with this one they've been very open to embrace, discuss and analyze this."
While some library trailblazers embraced AI early on, others are more cautious about its potentially negative implications, from misinformation to inequality in research. Guidelines and overall direction are still a work in progress from top library organizations and leaders, leaving many librarians to scramble and educate themselves, adding one more task to their long to-do lists.
Leading the Way
After receiving funding from the federal Institute for Museum and Library Services in November 2022, the School of Information at UT Austin launched a pilot project training graduate students to work with librarians on AI and data science.
In the program, graduate students go into high schools to teach students about artificial intelligence. The graduate students also work with librarians on research projects, including helping them use ChatGPT to get better results. Lankes said he hopes once those graduate students become faculty members, they will help other future library science students.
"The librarian then gets skills with data and AI, and the students get experience working with libraries and librarians," Lankes said, adding he sees himself as a "librarian apologist cheerleader."
Many universities have yet to set rules for the use of AI, often deferring to faculty judgment instead. When it comes to using the technology in the library, librarians have seen the need for guidelines.
"Librarians have always been in the business of teaching how to evaluate information, whether it's written information or sources of information, so that hasn't changed since the internet began," said Moss who is an instruction and curriculum support librarian at Northwestern. "But now we have to double down on that point even more."
Ray Pun, an academic and research librarian at Alder Graduate School of Education and author of several papers focused on the intersection of AI and libraries, was initially hesitant to adopt a policy.
"I was watching and didn't want to jump in right away; you see this often, where something happens and everyone's on it," Pun said, pointing toward the New York City school system, which banned AI before reversing the decision.
Librarians, every decade or so, are getting good at dealing with an existential crisis of 'Do we need librarians?'"

—R. David Lankes, the Virginia and Charles Bowden Professor of Librarianship at the University of Texas at Austin
However, Pun saw a myriad of issues and concerns arising from the technology. There were plagiarism concerns; AI hallucinations, or stating falsities as facts; inequities rising from some being able to pay for more sophisticated GPT models; and data breaches in the system, potentially putting sensitive information at risk.
"It was a conversation we had at Alder and realized we have to have a policy or way to ensure faculty are aware of the ethical concerns and issues with ChatGPT," he said.
Alder settled on a mandated statement in every class syllabus, which covers AI and ChatGPT, its uses, and next steps. The statement, which was crafted by Pun, faculty members and one student, mandates students using AI must cite the AI tools they used in their paper's reference page and quote or paraphrase the generated AI responses they received.
So far, there are no general blanket guidelines on AI from any governing library body. But Leo Lo, president-elect at the Association of College and Research Libraries, said his organization is looking to incorporate AI into the "gold standard" of its higher ed framework. ACRL is a division of the American Library Association.
That framework for information literacy for higher education is reviewed every five years, and Lo said it is serendipitously up for review at the perfect time.
"ACRL is looking to incorporate AI into that framework," Lo said. "We need to start learning what AI is and how to use it responsibly."
Opportunities—and Feeling Overwhelmed
Despite the concerns, librarians also see opportunities in AI. It will affect how students research, creating teachable moments for librarians to inform students on verifying and evaluating information.
"Maybe it's our time to shine," Northwestern's Moss said. "We know how to talk about information, and how it's organized, and how to be critical of it."
Almost every source interviewed for this article had the same advice for librarians who feel overwhelmed by the technology or do not know where to begin: start using the AI tools.
"Just creating accounts and playing around with these tools is a great way to get started," Guittar said. "You can see, 'I wouldn't use it for that purpose but if I try it in this way' … just log in and don't be scared."
That can be a tough ask for librarians already feeling overwhelmed.
"There's a lot of other issues librarians are experiencing with burnout, low morale, in addition to this," Pun said. "It's one other thing. People are just grappling with the implications for student learning."
UT Austin's Lankes said he is hopeful the technology can help take tasks off librarians' full plates.
"Bottom line is, there's a great opportunity, and that means more work," Lankes said. "And the way out of that is not to be more productive; it's to figure out what not to do."
Lo believes librarians cannot afford to miss out on this technology.
"With all the lawsuits out there with copyright, data privacy, it's all things we [as librarians] care about, so it makes sense to be a bit more cautious," he said. "At the same time, we can't wait until something is perfect to use it. Look at the internet: it's not perfect, but we can use it in a way to help us. I feel the same with AI tools."
The conversation about AI needs to happen outside the library's walls and in classrooms, according to Lankes. "We need to get used to it, regulate it and understand it, but it's an exciting time for the people who want to take it on."