You have /5 articles left.
Sign up for a free account or log in.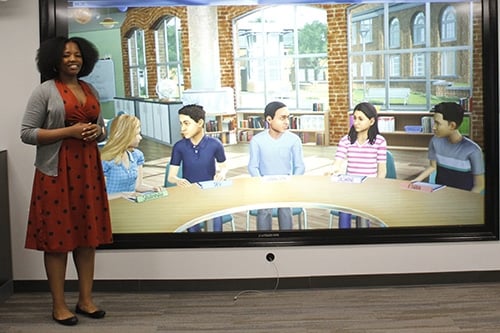 Use of virtual reality grown in classrooms over the last few years, helping students with public speaking and giving medical students the ability to practice surgeries, among other things. Thanks to a growing number of factors, VR is now making its way into counseling on campuses in a twofold way: helping instructors train future counselors and providing counseling services to current students.
Meta is one company that came onto the scene with significantly slashed prices for its virtual reality headsets, and there's been a rise in technology adoption in the classroom post COVID-19. Classrooms are increasingly filled with students who have grown up with technology, often with younger educators who are traditionally more savvy with technology—all helping fuel adoption.
Universities believe they're seeing results, and researchers say the proof is there.
"I feel like it'll be one of those things that surprises everyone and comes out of nowhere," said Kathleen Bazile, director of clinical training at Richmont Graduate University, a Christian institution focused on training ministers and mental health counselors. "I don't think there's enough attention, but do think it's growing and no one can dispute the benefits of it."
Dual Uses
When it comes to treating students, institutions are using virtual reality technology as an immersive way to treat student clients who've experienced traumatic events or to overcome debilitating fears.
The University of Central Florida, for example, offers UCF Restores, which guides patients through traumatic events—including the accompanying sights, sounds and smells. The initiative officially formed in 2017 and has served more than 1,500 first responders and veterans, roughly 10 percent of whom are UCF students. The university developed its own technology, and the program is funded through a mixture of Department of Defense grants and state money.
"People will actively be doing something to get over their fear; they don't want to simply talk about it," said Deborah Beidel, executive director of UCF Restores. "And for students in this generation that have grown up with video games and some VR experience, this connection drives down that stigma that used to keep these groups from asking for help."
New York–based Roberts Wesleyan University's on-campus clinic uses virtual reality to help students, faculty and outside community members tackle short-term anxiety. It relies on exposure therapy, but instead of a student simply picturing their fear, they can be immersed in an environment with their trigger.
"There are some things that would never be feasible [for immersion therapy], like fear of snakes," said Cheryl Repass, Roberts Wesleyan's department chair in psychology. She added that a student could not be in an actual room with a snake. "And imagining them is not nearly as potent as exposing them to an actual snake."
VR is particularly helpful on a campus with limited student sessions, said Jennifer Aube, director of the college's doctoral psychology program.
"Most college counseling centers are overwhelmed because there's so much anxiety, and most have session limits," she said. "This is something that can be used pretty short term for many issues students are struggling with. And even in terms of retention, it can help students take tests and function in dorms, so hopefully it gets more popular."
On the flip side, some universities are using VR to train student counselors. Carlos Zalaquett, a professor of education at Pennsylvania State University, had his students film 180-degree recordings, turning his basement into a reimagined counselor's office, principal's office and career counseling center.
"VR gives you the capacity to be there," Zalaquett said. Participants wearing the headset will "walk" into the room, be given a scenario and tell their instructor how they would handle the situation. "We'd like to have demonstrations help the student really get to fully integrative skills in their practices and also use them to suggest ways in which the students in training can learn."
Olivia Uwamahoro Williams is a clinical assistant professor of counselor education at the College of William and Mary who uses virtual reality and virtual simulation, or mixed reality, with her students. Instead of pretending to be a 12-year-old in a role-playing exercise, for example, participants use VR headsets to "embody" a 12-year-old. It allows them to be more immersed in a situation and standardize the role-play, versus being dependent on the participant's performance.
"There is an initial hesitation of, 'How does the technology work? What's happening?'" she said. "But once they get in, there's a constant theme in the feedback of being able to practice their skill in an environment they feel safe in and can get immediate feedback."
In addition to helping students get more acquainted with counseling, it's also allowing Uwamahoro Williams to meet them at their level, she said.
"I'm a millennial; tech is my jam," she said. "Being aware that a good amount of the students we're getting are students who have known technology their entire life, it's knowing we're going to need to be mindful to make learning meaningful."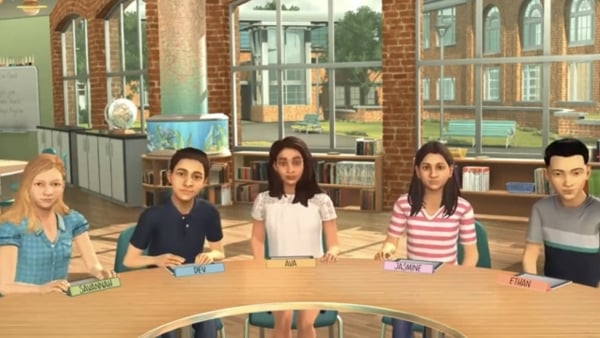 Research Benefits
Tyler Wilkinson began researching the benefits of teaching future counselors with virtual reality in 2017, when, he says, mentioning VR was bound to get a confused look.
"I didn't want to just create a neutral scenario; I would purposefully bring them close to what they would hear in a counseling space," said Wilkinson, chair of the department of counseling at Mercer University in Georgia.
Typically, a counseling student will role-play with a fellow student or professor to address various scenarios. But over a six-month period, Wilkinson and Bazile, both then at Mercer, built out their own technology to focus on using VR with training future counselors, immersing them in a clinical setting with a "client" instead of role-playing with a classmate in their standard classroom.
"Nursing schools, doctors are using VR, and it's making a world of difference in their students to get the more authentic experience," Bazile said. "For counseling, it definitely would be [helpful]. It would give students a more authentic experience early on and help to better hone their skills."
In 2019, they published "Counseling Students' Experiences Viewing Virtual Reality." In the study, they tested VR with eight students and found it helped the students feel better prepared to handle tough situations when they were later on the job in the real world.
The overall research has been slim, but a few studies have been done since then. After the COVID-19 pandemic began, when technology, including virtual reality, became a bit more ubiquitous, a team from Virginia Commonwealth University published "Training Counselors in Virtual Reality" in 2021, finding that in addition to honing future counselors' skills, it also helped participants empathize with their clients.
As more research continues, Wilkinson believes adoption will take off.
"What's happening, and what I've seen anecdotally, is a new wave of additional research," Wilkinson said. "That comes with a new wave of graduate students doing research. And I've had other colleagues or new professionals who reach out to me now saying, 'I'm interested in this.'"
Barriers to Entry
Every expert interviewed stated that cost was the biggest barrier to adoption. For years, VR headsets have cost thousands of dollars, which is a tough sell to institutions.
However, investments in headsets by tech companies such as Meta and Google help drive the overall cost down, so universities can now equip their researchers at $200 per headset.
"I think as more people see those Meta ads and see how surgeons are being trained in using VR, it's going to become more accepted," UCF's Beidel said. "It's crossed the realm from science fiction into science and the real world."
The software component of the technology—and time and resources—needed to build the immersive environment and potential avatars is also a hurdle.
Penn State's Zalaquett developed a series of interactive videos for "Moments of Excellence in Counseling" with Mindscape Commons, which offers a database of virtual reality videos with a focus on mental health.
He said institutions have three options for their own programming: make it themselves, outsource, or campus faculty and staff can work with a company in a hybrid model, similar to what he did with Mindscape.
"I think this is coming, but it is not completely here," said Zalaquett, who also serves as co-coordinator of Penn State's clinical mental health counseling program. "It requires an investment in technology and a committed group who will actually articulate what it is that can be done."
Artificial Intelligence's Impact
The growth of artificial intelligence will most likely play a role in VR's greater adoption curve, although some are split on whether AI will impede or fuel adoption.
Some, including Bazile, have slight concerns that AI—which has taken the academic world by storm since ChatGPT's launch in November—could put VR on the back burner.
"There is more of an eye on virtual reality [since 2019, when our research paper was written]," she said. "But one of my concerns is everyone is focused on AI and [wondering], 'Will that distract people?'"
Some experts pointed out that AI and VR could work together—creating avatars that respond to emotions, for example.
And others believe that the rise of one technology can boost others.
"I don't think it's an either-or thing," said Uwamahoro Williams, a member of the American Counseling Association's newly formed artificial intelligence task force. "I always think the best approach is to educate ourselves on what these different technologies are and the best way to integrate them into the work we're doing. If we approach it from the perspective of 'I want to be that professor that's using this cool technology,' but it's not adding a meaningful experience, then we're missing the mark."