You have /5 articles left.
Sign up for a free account or log in.
Five years ago, I shared in this space Lance Eaton's impressive audiobook collection. Much has happened with Lance's career in the past five years, including recently co-authoring a journal essay with Anna Mills and Maha Bali about how open educational practices have been a pivotal source of support with the emergence of generative AI. Since 2021, Lance has been involved with faculty development and digital pedagogy at College Unbound. I thought it would be interesting to catch up with Lance, and he graciously agreed.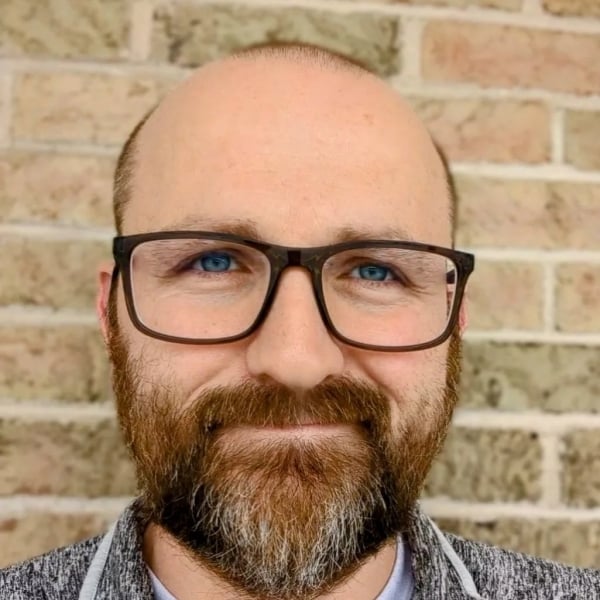 Q: Tell us about College Unbound and your role in the organization.
A: College Unbound (CU) is an accredited college granting bachelor's degrees in organizational leadership and change. CU is geared towards adult learners, particularly those who have stopped out due to higher education's exclusionary and unsupportive practices. We use geographically based cohorts (Providence and Newport, R.I.; Philadelphia; Camden, N.J.; and Chicago) that allow for folks to meet and be supportive of one another as well as a faculty member who leads that cohort throughout their time here. Individually, each student works on a passion-driven project and takes a variety of core courses and electives to help move their project forward.
Courses are offered virtually, synchronously or asynchronously, allowing them to meet other students across cohorts and geographies. Working with adult students, we recognize their life experience represents significant learning. We have created clear pathways for them to apply for institutional credit based upon documenting, reflecting and explaining the learning impact of such experiences. Finally, we also have a competency program, where students create portfolios demonstrating how they have in their personal and professional lives demonstrated our Big 10 Competencies—each of which represents one credit towards degree and reflect those perennial soft skills that employers often seek.
As director of faculty development and innovation, I support our instructional faculty in teaching and learning, particularly through the use of digital tools (Moodle, Zoom, Google Suite, generative AI) and think about how we balance the students' experience from some face-to-face experiences in their cohorts to asynchronous and synchronous learning spaces.
One of the most rewarding and challenging parts is thinking more deeply about choices and decisions. We're a younger college, which means we have to build a lot of our systems from the ground up. We benefit from not being weighed down by legacy decisions and choices that leave less choice. However, this means we are structuring those legacy decisions. That's a fundamentally different space than most in higher education where certain decisions are set in stone without question. For instance, one of my first projects was to figure out an LMS strategy and possible transition. One of the real questions we got to tackle was if any LMS was the right tool for us and our model or was there something else.
In that, we have to balance different considerations than other institutions. Choosing an LMS is not just what works well for teaching and learning but carries bigger implications for our students. Our student demographic is about two-thirds BIPOC women—many have been subjected to increased surveillance and digital redlining. At the end of the day, an LMS is a surveillance system (that's the "management" part of LMS). Some of the leading LMSes are owned by private equity firms with large portfolios—basically data farming across industry—and that doesn't feel like the right choice for us because it's unclear how all that data is going to be used down the road, especially as we get more black-box technologies like generative AI. It's questions like these that add a level of difference and depth to my work than what I have seen or done before.
Q: How have you navigated your alternative academic career path?
A: As a seasoned instructional designer, it's funny how little I have utilized backwards design for my career. Yet, there is something to how I got here that I often refer to as creating a tapestry. After two prior careers (working as a product editor for a massive online retailer and working with troubled teens in residential programs), in 2008, I was doing the full-time adjunct thing with upwards of seven to nine face-to-face courses and two online courses each semester while also working full-time overnight to have health insurance.
I leaned into trying things out with technology to make it tenable and talking about what did and didn't work. That led to folks inviting me to share in public spaces and eventually to me learning about instructional design and applying to become one. Supporting faculty to navigate the complexities of the classroom is a calling I didn't realize was in me until I was doing it.
I learned some deep lessons from my earliest mentors in this field, including Pat Lavoie, John McCormick, Andrea Milligan and Julie Smith of North Shore Community College. A central tenet they all taught me was to always be sitting next to the faculty and never across from them. My work is to show up and support their work in ways that model how we want faculty to show up and support students.
I've continued to develop this practice of care over the years. It has led me increasingly towards a range of open educational practices including creating and using OER, open pedagogy, open access or universal design for education—ultimately, doing what I can to eliminate artificial barriers to learning and sharing learning in public ways. These practices continue today around my work with generative AI in creating and maintaining this crowdsourced document of syllabi policies on AI and more.
Openness practices have led me to rethink my relationship with teaching and how I support faculty. I seek to make explicit the conversation of power and agency in teaching and learning with the intention of nudging educators towards more collaborative, empowering and less harmful means of teaching and learning. The educators that have had the most profound impact on my own growth have always demonstrated this, and the more I learn to do this in my own classroom teaching or supporting of faculty, the more I am awed by the results. It's these kinds of ideas that made College Unbound the right place for me at this junction in my career.
Q: What projects are you working on now that you'd like to share some details?
A: There's always lots of cool projects going on at College Unbound. However, the most fascinating project I've been working on is navigating generative AI, like many institutions, but doing it in a way that reflects how College Unbound tries to be in dialogue with students rather than talking over them.
In late December, my friend, colleague and faculty member at CU Autumm Caines struck up a conversation about generative AI as we discussed if a student might have used it. We realized that we had to take a careful and deliberate approach with how we engaged in the conversation because wrongly accusing a student (no matter the language or how it is couched) felt antithetical to who we are as an institution. We aspire to lead with Jesse Stommel's four-word pedagogy: "Start by trusting students."
From this discussion, we worked out a pathway to engaging with generative AI that is student-driven. First, we issued a temporary policy that also explained what our strategy would be. We launched a course in January that I taught called Digital Interventions: AI & Education where the students and I explored generative AI and considered its applications and implications for higher education. We crafted a usage policy for students and faculty and then test piloted it among students in a second iteration of the course to see if it worked given different assignments and courses they were taking. Faculty and staff have recently reviewed and given feedback on the usage policy, and students are now reviewing it one more time before submitting it for consideration as formal policy around generative AI.
Beyond having students drive the conversation around generative AI (you can hear more from the students in this blog post from Ithaka S+R or this Teaching in Higher Ed podcast), we see this approach as a viable model for addressing different changes or concerns for our organization.
It's been work like this that has been most exciting because it upholds some deeper truths about the nature of who our students are and who they can be if we work with them rather than over them.