You have /5 articles left.
Sign up for a free account or log in.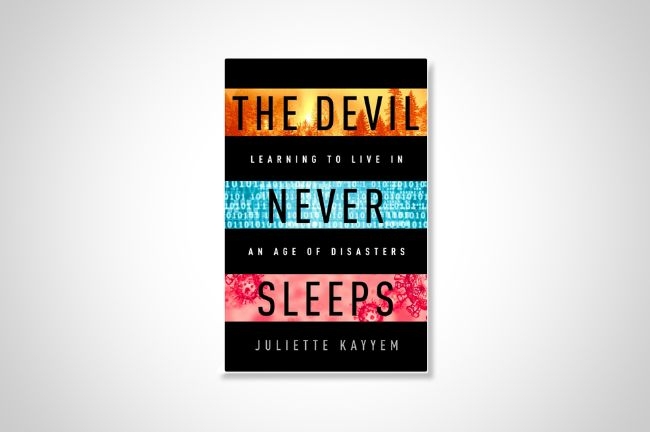 The Devil Never Sleeps: Learning to Live in an Age of Disasters by Juliette Kayyem 
Published in March 2022
The book that has had the most significant impact on how I think about my higher ed job is Bryan Alexander's Universities on Fire. In that book, Bryan connects the macro trends related to climate change to the possible futures of the university.
Readers of Universities on Fire will come away with two overall takeaways:
The climate emergency will impact every university.
Higher education is not a passive actor in the climate crisis but can actively mitigate its effects.
Since reading Universities on Fire, I've been gratified to see the book (and Bryan) at the center of climate crisis conversations at many peer universities. (Check out this conversation with Bryan about how the climate crisis may shape Duke's second century.)
We need to celebrate the schools that have put climate change (and Universities on Fire) at the center of campus conversations, such as Dickinson College's October 2022 International Climate Symposium. I highly recommend watching the video of the panel conversation with Bryan on climate change in higher education.
In this summer of climate-driven extreme weather events (flooding, heat, wildfires, etc.), I've been wondering why more schools have not followed Duke and Dickinson (and others, to be sure) in centering the institutional conversation around the climate emergency.
Why is it that all we can seem to talk about is AI when the heat is unrelenting, the waters are rising and the air is unbreathable?
One answer to why climate change is not the topic of campus conversations and why every university president is not pushing Universities on Fire might be found in Juliette Kayyem's book The Devil Never Sleeps.
Kayyem, a senior lecturer at Harvard's Kennedy School and former homeland security official under Obama, is a world-recognized expert in crisis management. In The Devil Never Sleeps, Kayyem writes about why major organizations (from governments to companies to schools) so often get risk mitigation and disaster response wrong.
Reading The Devil Never Sleeps helped me understand why more academic leaders are not discussing the climate emergency (and Universities on Fire) as much as they should. Quite simply, there are few incentives for organizational leaders to prioritize preparation for low-risk/high-impact events.
Pushing the possible effects of climate change to the center of university conversations would require that other institutional priorities be de-emphasized. In a context where university stakeholders (faculty, students, alums, donors, staff, etc.) are clamoring for attention to immediate challenges (from financial sustainability to technology worries to social justice), pushing climate risk to the top of the organizational agenda is a heavy lift for leadership.
As The Devil Never Sleeps makes clear, however, it is precisely the job of leaders to take on the task of forcing difficult conversations. We don't know exactly where, when or how universities will feel the impact of climate change. If the adverse outcomes of the climate emergency were fully transparent to universities, then planning for them would be straightforward.
Leveraging the advice that Kayyem provides in The Devil Never Sleeps, university leaders could begin to reframe the climate conversation around systemic institutional risk.
A climate-related event is a "boom" that will happen, and universities should reframe their stance toward climate change to center around harm mitigation. The goal should not be eliminating the risk of climate-related disasters, as that is impossible. Instead, universities should strive to both understand and minimize climate-related risks and then have a plan for if (or when) disaster (floods, heat, fire, etc.) does strike.
In writing about how organizations prepare for disasters, Kayyem emphasizes the signals leaders give around what gets prioritized. How much time does a leader spend with the people responsible for organizational risk, security, resiliency and recovery? How are these sorts of preparedness and response roles organizationally siloed or integrated?
For a university leader to prepare their school for the impacts of climate change, they would have to be willing to elevate climate risk mitigation both in investments of time and institutional status. Understanding the risks that climate change poses to the university and then developing plans to reduce the harm to students/faculty/staff once climate-related events occur should be at the core of institutional priorities and leadership operations.
One spur for university presidents, provosts and other leaders to act in this direction is the observation from The Devil Never Sleeps that organizational leaders seldom keep their jobs after a low-probability/high-impact event has occurred.
The Devil Never Sleeps repeatedly points out that some form of crisis is inevitable. The boom will come. The devil is tireless.
As Universities on Fire makes clear, institutions of higher learning are more vulnerable to the effects of climate change than is widely understood. Very few schools will escape the impacts of extreme weather events, rising sea levels, drought, fire risk or heat. If academic leaders will pay the price of climate-related disasters with their jobs anyway, why not be willing to absorb the costs of preparing their institutions for the climate crisis today?
Those who work in higher education and wish to push climate change to the head of the list of campus conversations might want to think about explicitly pairing Universities on Fire with The Devil Never Sleeps. Bringing these two books into conversation will provide both the motivation for action and the road map for planning.
Alternatively, if in this age of TikTok, the task of getting our colleagues to carve out the time needed to read and discuss serious books like Universities on Fire and The Devil Never Sleeps seems overly daunting, an easy solution is to invite the authors of the books to come to campus to share some ideas and lead some conversations.
What are you reading?