You have /5 articles left.
Sign up for a free account or log in.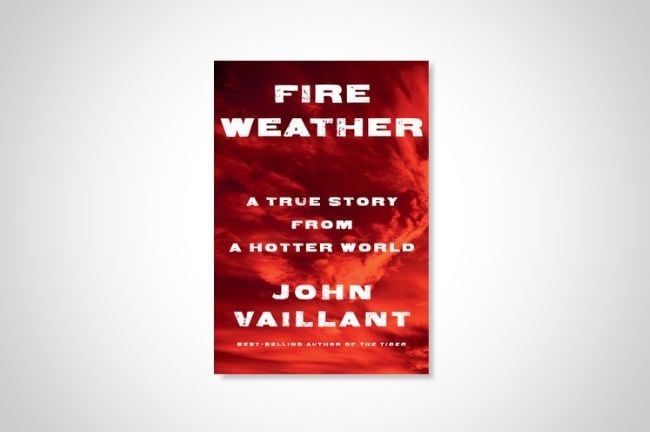 Fire Weather: A True Story from a Hotter World by John Vaillant
Published in June 2023
Here is my plan: I will read as many books as possible about our climate emergency: nonfiction and fiction. After reading these climate books, I will bring up Bryan Alexander's Universities on Fire in every climate-related book post.
Why this plan?
Have you read Universities on Fire? If not, please purchase your copy (to support the author's scholarship) and invest some time in the book.
I'll admit that reading Universities on Fire took me a bit longer to accomplish, as (unfortunately) there is not yet an audiobook version. I'm currently reading some other academic press books about higher education that also don't have an audiobook companion. The lack of an audio option drastically slows me down, as I get most of my reading done by listening while doing other things.
Should publishers think about voice AI options for orphaned audiobooks? I've heard that the tech is getting pretty good.
Note: the complexities around human and AI audiobook narrators deserves its own post.
Fortunately, Fire Weather does have an audiobook version. The book is so good that I purchased both the Kindle ebook and the Audible audiobook versions. I would have done the same if both versions had been available for Universities on Fire.
Where Universities on Fire provides a broad analysis of the likely impact of climate change on the specific setting of universities, Fire Weather focuses on the growing risk and effects of forest fires. The book goes deeply into the story of Canada's 2016 Fort McMurray wildfire. Only after tracing the devastation of this fire on a major city and the lives of its inhabitants does the book step back to examine the broader climactic and economic causes of the catastrophe.
Our rapidly heating planet is changing the dynamics of fire risk in real time. Areas that were once considered safe, such as cities protected by rivers or located miles away from forests, no longer are. The Fort McMurray fire was so intense, vast and fast-moving that every firefighting technique was rendered useless. All emergency responders could do was focus on evacuating the population.
Reading Fire Weather and considering Universities on Fire, I wondered how many campuses may be at risk of burning. For the residents of Fort McMurray, over 125,000 at the time of the fire, the idea that a wildfire would require everyone to flee the city to save their lives rapidly was unimaginable. The fire annihilated over 2,400 buildings and caused almost $10 billion in damage.
If I were a university president or trustee and I happened to read Fire Weather, the first thing I'd do after finishing the book is do whatever it takes to get a clear picture of my institution's fire risk.
The thing with where we are in the climate story is that risks are changing faster than we can process. So many of the dangers of a rapidly warming planet to our campuses are unprecedented that we lack the context and language to understand the risks. That is why getting a baseline of understanding around the relationship between higher education and climate change is essential and why I keep using every opportunity to recommend Universities on Fire.
The climate change books I've been reading have been freaking me out. Fire Weather scared me more than most.
Should we be talking about anything else on our campuses beyond climate change?
What other nonfiction and fiction books about climate change would you recommend?
What are you reading?