You have /5 articles left.
Sign up for a free account or log in.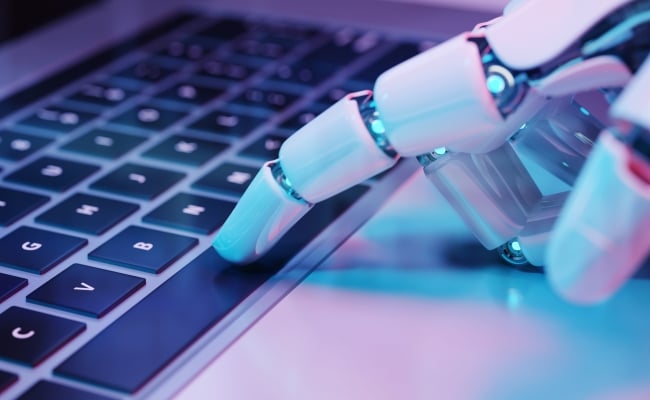 Guillaume/iStock/Getty Images Plus
As the director of graduate writing support programs, I was recently asked to give a webinar about email writing to graduate students and postdoctoral scholars in my university's Accelerate2Industry career exploration program. My presentation explained the typical email genres that candidates write during job searches, such as requests for informational interviews, inquiries about the hiring process, messages to arrange interviews, thank-you letters following interviews and job-offer acceptance and rejection letters. I emphasized that email is often our first point of contact with prospective employers during a job search and that it can make a powerful positive or negative first impression, as written messages represent our communication style and interpersonal skills.
Having been a writing instructor for over a decade, I of course talked about emails as genres and typified responses to recurring social situations, which prompted a skeptical student to ask, "If emails are so formulaic, can we just use ChatGPT to write them?" With the advent of AI tools like ChatGPT, it's tempting to outsource routine email writing to concentrate on the more time-consuming aspects of the job search like editing résumés or practicing for interviews. Indeed, ChatGPT is good at what classical rhetoricians might call the technical aspects of an email—conventions such as having a greeting and the organization of the message, as well as sentence structure, punctuation and vocabulary—and AI tools have even been used to compose marketing emails.
However, as I explained to the webinar participants, these tools cannot help with the "atechnical" aspects of email writing, or the work outside the text that is crucial to cultivating an asynchronous relationship with readers during high-stakes situations like job searches. Without this work, emails will lack crucial information for specific readers and will sound robotic, like the marketing emails we delete without reading. In this post, I draw on my background in rhetoric and professional development to give tips for how to stand out and not sound like a robot in emails throughout the job search.
Be Knowledgeable
Effective email writing begins before you click the "compose" button. You should do your research and be knowledgeable about your purposes for emailing. For example, if you need to ask a question about a job opportunity, make sure that you cannot find the answer elsewhere, such as in the job ad or on the hiring organization's website. If you don't see the answer to your question, you can refer to the posting number or URL in your message to give the reader context for your inquiry.
You should also sound knowledgeable about the reader of your email. For example, if you do not know how to address a reader, you should research their name, title and information like pronouns that are necessary for a polite greeting. If you are sending your message to a generic address, such as an email account for a large human resources office, use a greeting like "Dear HR Team" or "Dear Hiring Representatives" to humanize the message.
Likewise, when you write an invitation for an informational interview, you should read the potential interviewee's LinkedIn page or website to understand their background and explain why you are interested in learning more from them. In your email, you can briefly give specific reasons why you are interested in speaking with that person: For example, did you meet at a conference? Do you share a similar research background or professional interests? Paula Wishart's "Carpe Careers" post gives more excellent advice on crafting a professional introduction and tailoring the informational interview email.
In short, sounding knowledgeable in an email makes your message stand out because it shows that you have done due diligence and respect the reader's time.
Give the Necessary Information
Since emails are concise practical documents, you should strike a balance between establishing a shared context with your reader and giving them essential information to answer an inquiry or respond to a request.
For example, suppose you are asking your adviser to serve as a professional reference for your job search. In your email, you should state the position and organization and describe the timeline for interviews, so your adviser knows when to expect a call from a hiring representative. You can prioritize key information in the body of the message and direct the reader to details using hyperlinks. Your professional reference doesn't need to know all the details about the job right away, but including a link to the posting in your email can give them additional context about the position as they prepare to speak about your strengths with a hiring representative.
If your request is complex, such as asking for a letter of recommendation, your email should prioritize logistical details like the name of the opportunity, deadline for submissions and format. Attach supplemental documents like your CV and application statement to help the recommender craft their letter, as well as links to the organization's website with instructions for recommenders. A reader who is interested in supporting you as a letter writer can skim the email for important dates, commit to writing a letter and consult your supporting materials for next steps.
Moreover, if your request is very detailed or sensitive, such as questions about the salary and terms of a job offer, you should send an email message to set up a phone call or Zoom meeting with the reader to continue the conversation synchronously.
Prioritizing essential information in the body of an email message and including supporting details in attachments or hyperlinks will help the reader reply quickly to your question or request.
Tailor the Message
Emails that you compose during a job search represent who you are as a professional and what you are like as a colleague, so use them to create rapport with prospective supervisors and team members and to create your own voice.
More concretely, you should not only send a thank-you email after every stage of interviews, but you should also tailor the message to each person whom you interacted with throughout the process. For example, you can share a specific thing about the organization that you learned from each interviewer. If an audience member asked an insightful question during your presentation, thank them for it again in your email. With a tailored thank-you email, you can also briefly elaborate on the qualifications and experiences that you discussed during the interview. The customized thank-you email is both a strategic way to stand out as a candidate and an opportunity to continue the relationships with the people you met during the hiring process.
Additionally, if you receive a job offer (congratulations!), you can personalize your acceptance email by describing why you are excited about this new opportunity and what you hope to learn from it. Remember, too, to always thank the reader for their time at the end of every email message to show appreciation and good will. Tailoring the content of routine emails, like thank-you notes, shows that you respect the reader as a colleague and a human being.
In conclusion, writing effective emails during the job search requires time and effort—doing your homework so that inquiries and requests sound knowledgeable, prioritizing important information in your message to respect readers' time and personalizing messages for specific readers. You can manage the process by having a set of effective template emails for job search inquiries, informational interviews, reference requests and thank-you notes. ChatGPT might help you to outline those templates, but you should also study the emails of colleagues you respect to develop templates of effective emails for different occasions. You can then adapt these templates efficiently for future job search needs, customizing them for specific readers.
As a final takeaway for effective email writing, put yourself in the reader's shoes: Do you have enough information to understand the writer's question or request? How would you feel if you received this message? Following this advice will help you craft emails that are professional, yet human, and hopefully impress future colleagues and employers. Thanks for reading this post and best of luck with your job searches!