Title
Berkeley Chancellor: Cal Isn't for 'Normal' Students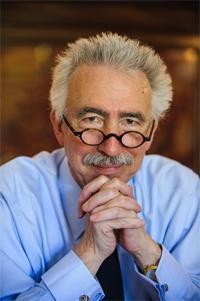 University of California at Berkeley is "faced once again with the threat of political interference in academic affairs," its chancellor, Nicholas Dirks, wrote Friday in the university's student newspaper.
Dirks (photo at right) took exception to California Governor Jerry Brown's contention that the state's flagship university has closed its doors to "normal" people. Dirks said reading Brown's remarks was an "otherworldly experience."
"Personally, I am not much interested in a campus filled with 'normal' students," Dirks wrote. "What I am interested in preserving is what we have: a place where the extraordinary is, well, ordinary."
Brown, a Berkeley graduate, has taken a more assertive role in trying to manage the UC system, although sometimes it perhaps hasn't always been clear what he is proposing, as with his complaint about the lack of "normal" students at Berkeley. Was that to suggest the university should let in other, less qualified students? As one long-time California political columnist pointed out recently, Brown -- a four-term Democrat who served two of those terms in the 1970s -- has long been interested in changing the state's education system, one way or another.
"I'm going to starve the schools financially until I get some educational reforms," Brown said when he took the office for the first time 40 years ago.
"What kind of reforms?" he was asked.
"I don't know yet," Brown replied.
The governor has recently said he wants to study several things for the UC system, including expanded online education, offering three-year degrees and offering credits for students who can prove they are competent in certain subjects.
Opinions on Inside Higher Ed
Inside Higher Ed's Blog U
Topics
What Others Are Reading
Past:
Day
Week
Month
Year