Title
#Justiceforpete, Biddy Martin and Amherst Humor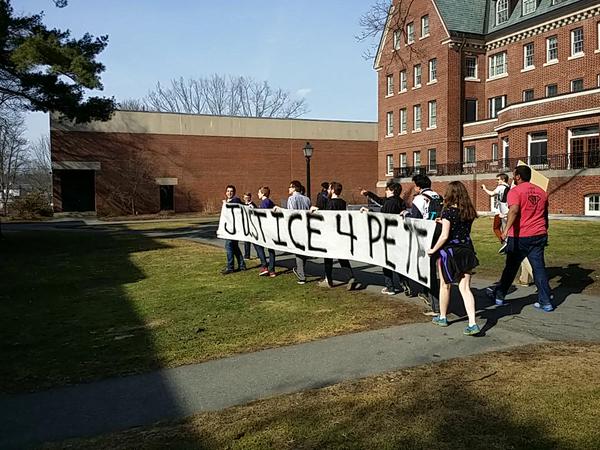 A reader sent us a video of Biddy Martin, Amherst College's president, announcing (in a very nonserious way) the performers for the annual spring concert. We could tell there was humor, but much of it went over our heads, so we consulted with some usually reliable sources at the college.
It turns out that Martin earlier this week sent an all-campus email announcing that the Dalai Lama would be visiting in October. But then she thought that maybe the wrong version of the email went out. So she asked Pete Mackey, chief communications officer: "This is the wrong version. What happened, Pete?" Except instead of sending the email to Mackey, she hit "reply all" on her all-campus email. That prompted students to organize mock protest movements to protect Mackey from any punishment. A #justiceforpete hashtag appeared on Twitter, and some students even staged a rally. (For the record, Martin assured the campus that Pete wasn't in trouble at all.)
It's not every campus communications officer who can inspire a rally in his defense. Nor would every president joke about her own mistake, as Martin does in the video that follows, and which may now make (some) sense. The video also provides answers for those who wonder what college presidents would do with their time if banned from using email.
Opinions on Inside Higher Ed
Inside Higher Ed's Blog U
Topics
What Others Are Reading
Past:
Day
Week
Month
Year