SEO Headline (Max 60 characters)
California Community College Chancellor Will Retire
Brice Harris, the chancellor of the California Community College system, announced Tuesday that he will retire in April.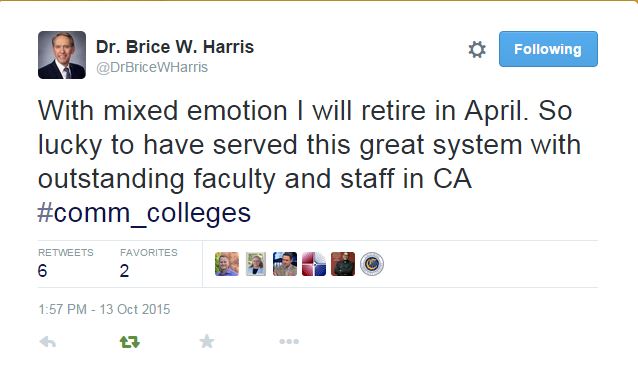 Under his tenure, Harris managed the system's response to the near death of the City College of San Francisco, pushed new measures to report on job placement of graduates of the colleges and helped push new funds back into the system in the last two years, as an era of deep cuts ended.
U.S. Department of Education Under Secretary Ted Mitchell called Harris an "extraordinary" leader who led the California system at a challenging time.
"He's been a tireless advocate for the system and for the power of community colleges in general to change individual lives and the lives of communities. He's been a valuable partner. I wish him well in his retirement," Mitchell said, in a statement.
Harris first led the country's largest -- and most diverse -- college system in 2012 after running the Los Rios Community College District for 16 years. The CCC system serves about 2.1 million students across 113 colleges.
Opinions on Inside Higher Ed
Inside Higher Ed's Blog U