Title
Proposed Funding Increases for California Colleges and Students
California Governor Jerry Brown on Monday proposed $1 billion in new funding for the state's public institutions, an increase of 3.4 percent. (Roughly $590 million of that amount would come from the state's general fund.) The total of $30 billion in state support for higher education would be an increase of 30 percent since 2012, when California emerged from years of deep, recession-driven budget cuts. Brown warned, however, that the salad days tend not to last long.
"The state's short periods of balanced budgets have been followed by massive budget shortfalls. In fact, the sum of all the deficits during this period is seven times greater than the sum of all the surpluses," the budget proposal said.
The budget is structured so the University of California and California State University systems could keep their tuition levels flat for another year. Last year Brown struck a deal with UC to prevent tuition hikes.
UC, which is the most selective of the state's three systems, would receive the largest increase under the proposal -- $174 million, or 5.4 percent. Cal State would get $152 million, or 4.6 percent, in new funding. The state's community colleges would see an increase of $376 million, or 4.4 percent.
Brice Harris, the community college system's chancellor, said the proposed money would increase access to community college for almost 50,000 new students.
"The governor's plan also includes a commitment to improve and expand our efforts to build a stronger workforce to meet the demands of our state's economy, improve remedial education and help close achievement gaps," he said, in a written statement.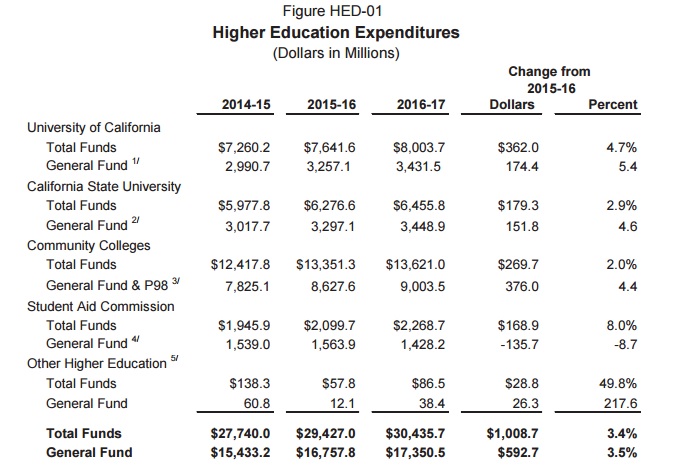 Opinions on Inside Higher Ed
Inside Higher Ed's Blog U