You have /5 articles left.
Sign up for a free account or log in.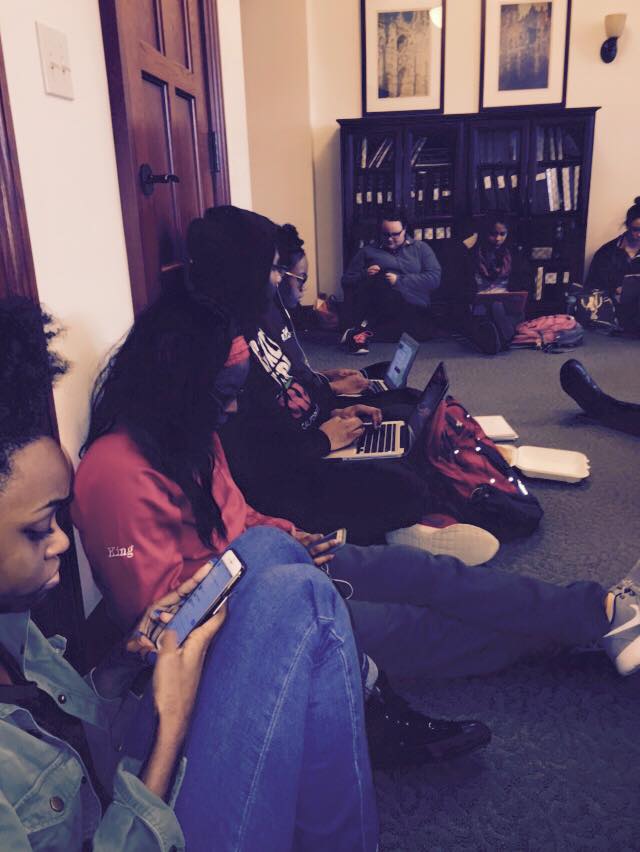 A group of students, many of them black, occupied the president's office at Providence College for much of Tuesday. They said they would remain there until the college agrees to a list of demands issued in December. But Tuesday night the students left. The president of the college, Reverend Brian J. Shanley, did not agree to the full list of demands, which include revisions in the teaching of Western civilization at the college to better reflect minority experiences, commitments to hiring groups of black faculty members and other minority faculty members, "rigorous sensitivity training" for all students, and "random screening" of the security office for signs of racial profiling.
But the president did sign a pledge to undertake "continuous action" to make the college more inclusive and diverse. Further, the president pledged to have a plan to do so ready by March 7, and to schedule meetings with faculty groups on a number of the items students demanded.
The college issued a statement Tuesday, while the sit-in was still going on, that said, in part: "Race relations and racism are daily topics of discussion throughout much of America, and certainly on the nation's college and university campuses. PC is no exception as colleges and universities are microcosms of society. We expect those discussions to take place here and we welcome the opportunity for dialogue. This morning, about 40-50 students occupied the reception area of the president's office, insisting that they will not leave until the president agreed to their list of demands and the specific steps of how they are to be achieved. A number of the student demands address issues of curriculum, training, hiring practices, facilities and resources. While some of these demands can be addressed more readily, others -- such as changing the curriculum -- require significant discussion and dialogue among and between a number of constituencies and cannot be achieved today."