Title
Nigerian Billionaire Criticized for Gift to Lynn University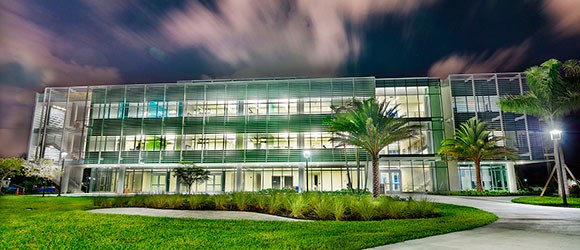 A Nigerian oil and gas industry billionaire, Muhammadu Indimi, is facing criticism in his country over his support for Lynn University, in Florida. Several recent articles in the Nigerian press said that he had donated $14 million to Lynn, and these articles questioned why he was doing so at a time that so much of Nigerian education needs support. The articles prompted Indimi to issue a statement saying that he donated $900,000 to Lynn, not $14 million, and that he and his company had also given to many Nigerian universities.
The Mohammed Indimi International Business Center (above right) at Lynn is named for the oil executive. A Lynn spokeswoman said that the entire facility cost around $14 million. As to Indimi's contribution, she said that he "was the lead donor on the project and his organization gave $900,000 toward the building as part of a larger donation. As per our donor agreement, the exact amount is confidential."
Over the last eight years, the spokeswoman said, eight of Indimi's children have earned degrees at Lynn and there is a chance a ninth will enroll too. About one-third of students at Lynn's business school come from outside the United States, with large cohorts from Africa and the Middle East, she said.
Opinions on Inside Higher Ed
Inside Higher Ed's Blog U
Topics
What Others Are Reading
Past:
Day
Week
Month
Year