You have /5 articles left.
Sign up for a free account or log in.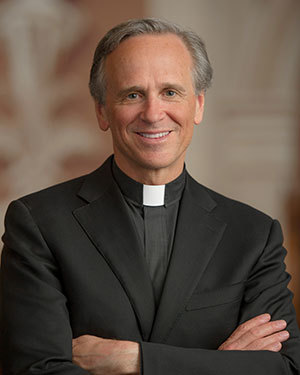 The Reverend John I. Jenkins, president of the University of Notre Dame (at right), spoke in Mexico City Friday to a group of academic and business leaders, and he used the speech to denounce anti-Mexican rhetoric in the United States. Father Jenkins did not mention Donald Trump by name, but he described the kind of rhetoric he has used. In his speech, he noted Notre Dame's Roman Catholic heritage and its tradition of educating immigrants.
"The vitriol directed at the Irish … and later the Italians, and other waves of immigrants to the United States, sadly is not a thing of the past; certainly not for Mexicans in the United States who have been slandered in extraordinary ways, as has Mexico itself," Father Jenkins said. "It is churlish, insulting political theater, for certain. But it is not only that. It suggests that the United States distance itself from Mexico at just the time that our nations are most positively engaged with each other and poised to reap the benefits of robust trade, industrialization and entrepreneurship."
Father Jenkins was in Mexico City to open a Notre Dame office there.