Title
Debate Over Sacred Heart U as Site of Trump Rally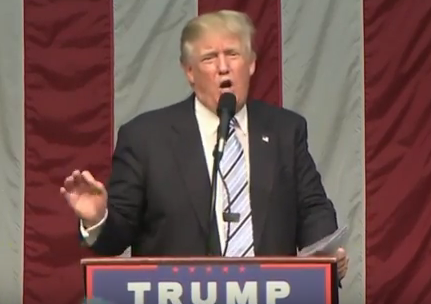 Donald Trump held a rally Saturday at Sacred Heart University, in Connecticut (photo at right) -- and many faculty members and alumni criticized the institution for permitting the event, saying that Trump's campaign is inconsistent with the university's Roman Catholic values. Similar complaints have been made at public universities that have been the sites of Trump events, but officials there have noted their First Amendment obligations not to discriminate against political events on the basis of their content. Private universities are not similarly covered.
In a blog post, John J. Petillo, president of Sacred Heart, defended the university's decision to allow the event. He noted that the event was not sponsored or endorsed by the university, but also acknowledged complaints the university has received.
"Some also have questioned whether -- as a Catholic university -- we should allow [Trump] access to our facilities, as some of his stances and proclamations appear contrary to our religious beliefs and values. We understand that reaction. We also know that any political candidate -- and particularly the two main candidates running for president -- would elicit similar responses," he wrote. "Should we use that criteria, we would eliminate candidates from both parties and would be absent from the discussion and the democratic process. Mr. Trump would not be the first controversial person -- nor will he be the last -- to speak at our university, whether by design or circumstance. As a liberal arts institution, these opportunities provide our students and many diverse audiences the opportunity to assess the facts, observe the actions and measure a speaker's words. Tolerance of and exposure to one another's opinions and concerns is a foundation of the liberal arts and the Catholic intellectual tradition."
Opinions on Inside Higher Ed
Inside Higher Ed's Blog U
Topics
What Others Are Reading
Past:
Day
Week
Month
Year