You have /5 articles left.
Sign up for a free account or log in.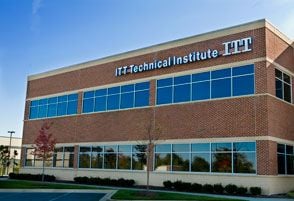 All ITT Tech campuses will be shut down, its parent company announced today.
"It is with profound regret that we must report that ITT Educational Services Inc. will discontinue academic operations at all of its ITT Technical Institutes permanently after approximately 50 years of continuous service. With what we believe is a complete disregard by the U.S. Department of Education for due process to the company, hundreds of thousands of current students and alumni and more than 8,000 employees will be negatively affected," said a statement from the company.
Last month, the U.S. Department of Education prohibited ITT Educational Services, the parent company of ITT Technical Institutes, from enrolling new students who use federal financial aid. At the time, U.S. Education Secretary John B. King Jr. said that "looking at all of the risk factors, it's clear we need to increase financial protection, and it wouldn't be responsible or in the best interest of students to allow ITT to continue enrolling new students who rely on federal student aid funds."
A few days later, the California Department of Consumer Affairs' Bureau for Private Postsecondary Education issued an emergency decision demanding ITT Educational Services stop accepting new students at its 15 California locations.
Since then, ITT Technical Institute posted a new landing page on its website that states, "We are not enrolling new students." The website also says credits earned by current students are "unlikely to transfer."
The apparent demise of ITT has had students scrambling and trying to figure out their options. The chain has about 45,000 students at 130 campuses.
In blocking new students from enrolling, the Education Department cited the actions of ITT's accreditor, the Accrediting Council for Independent Colleges and Schools, which determined that ITT "is not in compliance and is unlikely to become in compliance with [ACICS] accreditation criteria." According to the department, ACICS questioned ITT's compliance with standards such as financial stability, management, record keeping, admissions, recruitment standards, retention, job placement and institutional integrity, in an Aug. 17 letter sent to the department.
Critics of for-profit higher education have praised the Education Department's stance. U.S. Senator Dick Durbin, at the time of the Education Department action, compared ITT to the Corinthian chain, which collapsed amid federal and state scrutiny. "For too long, ITT Tech and its executives have gotten rich off taxpayers while misleading and taking advantage of their students with Corinthian-style deceptive and abusive practices," said Durbin. "Today, the Department of Education announced strong action to help prevent additional students from being harmed and more taxpayer dollars from being wasted on this company faltering under the weight of its own wrongdoing. I strongly commend Secretary King and the department. Students should be warned: ITT Tech is not a smart choice for your educational future."
But ITT's statement today cited criticism of the department, such as a Wall Street Journal editorial that called the agency's action "a for-profit execution" that demonstrated "how to kill a company without proving a single allegation."
In a note to ITT students on the Education Department's website today, Secretary King sought to lay blame for the closure on ITT, not the department. "The school's decisions have put its students and millions of dollars in taxpayer-funded federal student aid at risk," King wrote. "Ultimately, we made a difficult choice to pursue additional oversight in order to protect you, other students, and taxpayers from potentially worse educational and financial damage in the future if ITT was allowed to continue operating without increased oversight and assurances to better serve students."
King informed students that they have the option of seeking to have their federal loans discharged or of transferring and continuing their educations elsewhere. "Restarting or continuing your education at a high-quality, reputable institution may feel like a setback today, but odds are it will pay off in the long run," he wrote.