SEO Headline (Max 60 characters)
Tuition Revenue Growth Projected for Private Colleges
Private colleges and universities are expected to post higher net tuition revenue growth than their public counterparts in the 2017 fiscal year, according to a new report released Tuesday by Moody's Investors Service.
Private institutions' median net tuition revenue is projected to grow by 2.5 percent, Moody's found in an annual survey of higher education institutions it rates. That's up from 2 percent in the 2016 fiscal year. Going forward, Moody's expects private institutions to post annual net tuition revenue growth in the 2 percent to 3 percent range as institutions focus on affordability and face a competitive environment.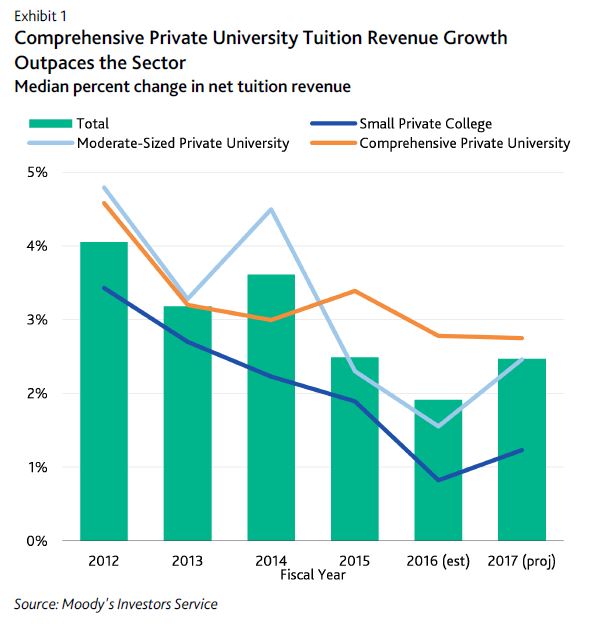 Public universities, meanwhile, are expected to experience slower growth in net tuition revenue -- median growth is projected at 2 percent for the 2017 fiscal year, down from 3 percent. The drop comes as many policy makers are limiting tuition and tuition increases for in-state undergraduate students. Median annual net tuition revenue growth among public institutions has fallen sharply from 8 percent in the 2012 fiscal year.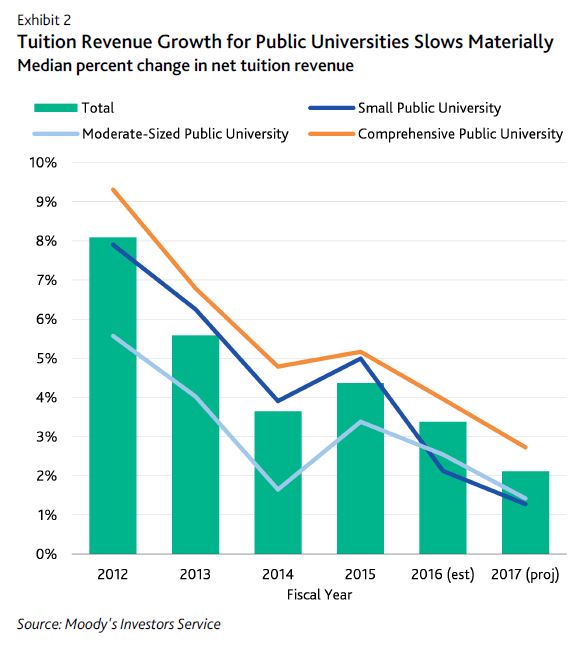 Overall, three-quarters of public and private universities anticipate year-over-year net tuition revenue rising in the 2017 fiscal year.
Large comprehensive universities are outpacing their moderately sized and small competitors in tuition revenue growth, Moody's said. Large institutions are able to rely on their strong brands and diverse courses while often posting lower discount rates. Meanwhile, almost 40 percent of small private colleges anticipate net tuition revenue declines in fiscal year 2017.
Revenue growth will be affected by freshman tuition discount rates, which are expected to rise slightly year over year. The median first-year tuition discount rate at private universities has risen to a projected 47 percent for the 2017 fiscal year, up three percentage points from 2013. Roughly half of small and moderately sized private universities are forecasting first-year discount rates higher than 50 percent, while only 8 percent of comprehensive private universities are doing the same.
More than 60 percent of universities expected increased enrollment year over year in the fall of 2016, Moody's said. Rising postbaccalaureate and graduate enrollment contribute to growth in the Northeast, while high school demographics are leading to enrollment growth in the South. Many universities in the Midwest project enrollment declines as the regional 18- to 24-year-old population lags, however.
You may also be interested in...
Today's News from Inside Higher Ed
Inside Higher Ed's Quick Takes