You have /5 articles left.
Sign up for a free account or log in.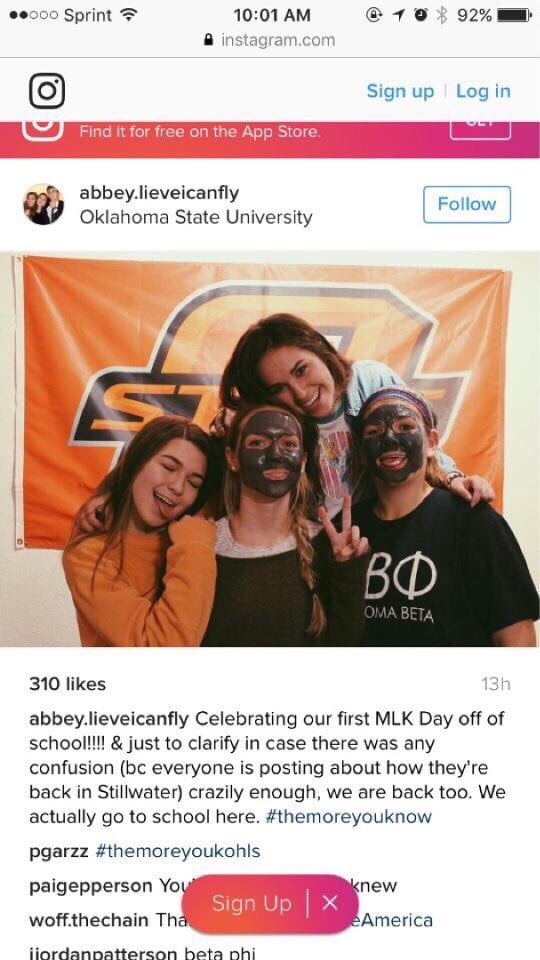 Students at Oklahoma State University protested on campus Monday in response to two student-involved blackface incidents in the last week, The Tulsa World reported.
The protestors met outside Oklahoma President Burns Hargis's office and marched peacefully before he came out to thank them for their response to the "racially insensitive posts."
Both incidents were posted to and spread through social media.
Over the weekend, a female student posted a photo of herself in blackface (below) on Snapchat with the caption "When he says he only likes black girls."
She apologized in several posts on her Facebook page early Monday morning. "I am deeply sorry for those that I have offended," the student wrote. "My intentions were not at all to be racist. For anyone who knows me, you know I am not racist. I had no idea about the incident with the other two girls and their face masks. That is just unfortunate timing."
The other incident occurred on Martin Luther King Jr. Day, less than a week earlier. In an Instagram post (at right) showing four female students standing in front of the OSU flag, two of the students were in blackface. The caption read, "Celebrating our first MLK Day off of school!!!!"
The students apologized last week in a joint statement. "Our actions were thoughtless and harmful," they said. "We also now see how easily social media can cause heartache and pain. We would like to extend our sincerest apologies to our entire OSU family and beyond as well as genuinely ask for your forgiveness."
The students will not be disciplined by the university, but Hargis said he has been speaking with the students about what had happened.
"We are working with the students involved in these incidents to help them understand the consequences of their inappropriate actions," Hargis said. "We all must learn from these incidents and bring positive change to our campus. We had meaningful dialogue today, and we will continue to improve OSU's efforts to be a more inclusive university."