You have /5 articles left.
Sign up for a free account or log in.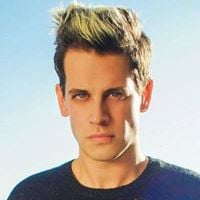 Milo Yiannopoulos (right) has become a highly controversial speaker on campuses, known for his personal insults against gay and transgender people (though he is gay), attacks on feminists and mocking of liberals. Several campuses have withdrawn invitations to him or been prevented by protests of letting his appearances go on. Conservatives have made him something of a poster child for what they see as a problem with free speech on campus, and say that the difficulties he encounters reflect an intolerance for conservative views. After a violent protest prevented him from speaking at the University of California at Berkeley (though Berkeley officials defended his right to speak there), President Trump tweeted: "If U.C. Berkeley does not allow free speech and practices violence on innocent people with a different point of view - NO FEDERAL FUNDS?"
On Monday, Yiannopoulos lost a speaking invitation at the Conservative Political Action Conference, which will be held later this month and is considered the premier annual event for conservative politicians. The invitation was withdrawn by the American Conservative Union, whose chairman cited videos circulating in which Yiannopoulos appears to many to defend sex between boys as young as 13 and older men. Yiannopoulos has since said that his views were distorted and that he was talking about older teenagers, and that he opposes the sexual abuse of children. (Those who may wish to listen to the video may find it here,  but many may find words and some of the subject matter offensive.) Matt Schlapp said on Twitter that he believed the statement by Yiannopoulos was "insufficient." The full response by Yiannopoulos may be found here.
In his tweet, Schlapp said of the reason for inviting Yiannopoulos in the first place: "We initially extended the invitation knowing that the free speech issue on college campuses is a battlefield where we need brave, conservative standard-bearers."