Title
High-Deductible Plans Rise in Higher Ed
By
Colleges and universities increasingly offered high-deductible health plans, health-care benefits for part-time employees and stand-alone vision plans in 2017, according to a new survey. They continued to offer health-care benefits to domestic partners at high rates.
But in a move that some employees probably won't like, colleges and universities also demonstrated more interest in wellness programs.
Those are key points in a report released this month by the College and University Professional Association for Human Resources. The report covers survey responses from 358 institutions of different classifications and affiliations from across the country.
High-deductible health plans were offered by sharply more institutions in 2017 -- 62 percent of institutions offered the plans, which cost employees less than low-deductible policies but require users to pay more up front for procedures. That's up 16 points from 2015.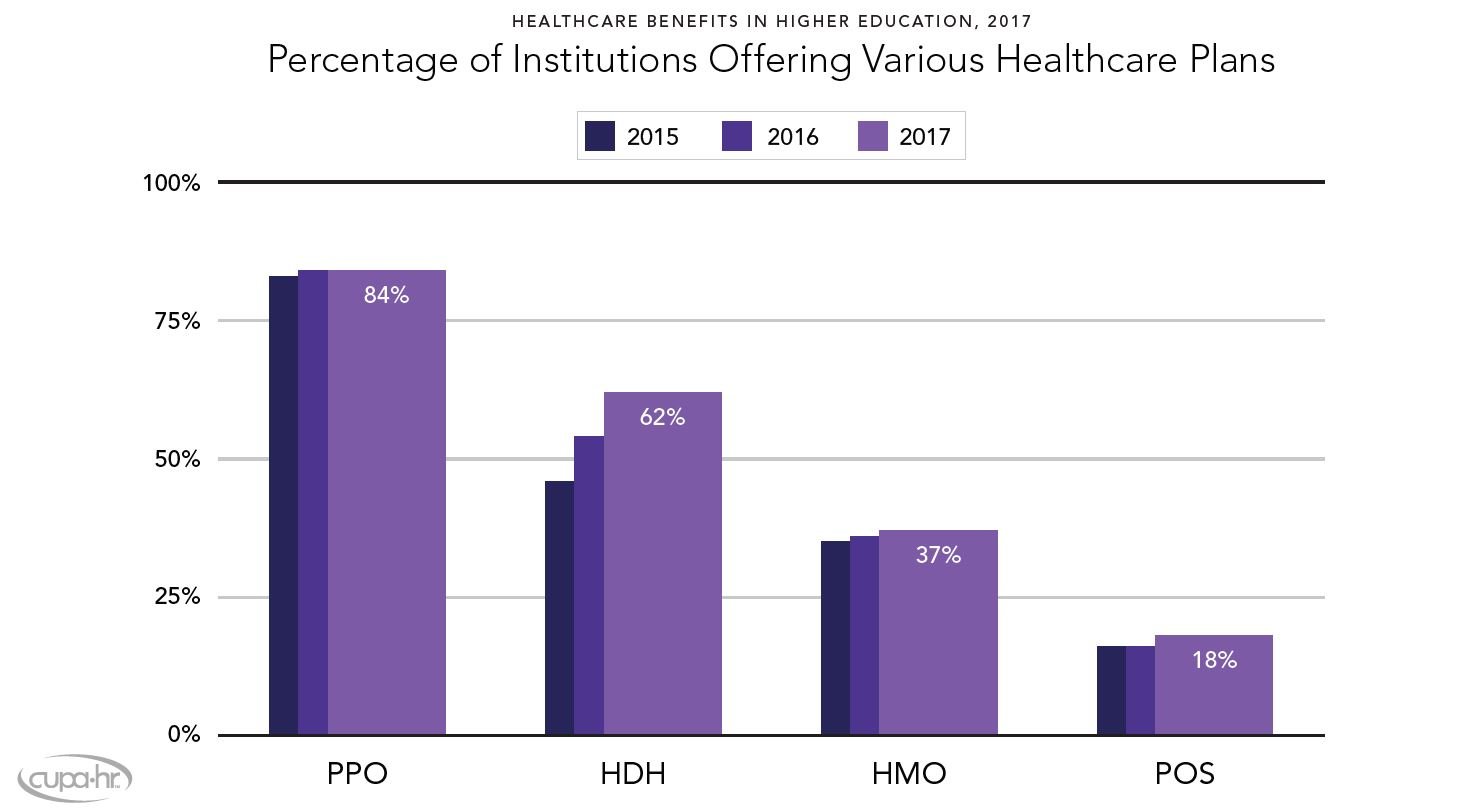 High-deductible plans were the second most popular type of plan to offer, behind more traditional preferred provider organization plans, which were offered by 84 percent of institutions. Those PPO plans were far and away the most likely type of plan to be offered in cases when an institution only offered one health plan option, however.
The rise of high-deductible plans could be popular with at least some employees because they come with lower premiums. What is less likely to be popular is a rebound in support for wellness programs in 2017.
The portion of colleges and universities with wellness programs in place has held relatively steady at about 59 percent over the past three years. But among institutions that don't have a wellness program in place, almost a third, 29 percent, plan to institute one next year. That's up drastically from about 10 percent last year, when interest had dropped dramatically.
Wellness programs, which attempt to encourage employees to adopt healthy lifestyles and get preventive care in order to head off expensive chronic health problems, can be controversial among faculty members and employees. They're sometimes seen as penalizing those who are sick by offering financial incentives to those who are healthier. Critics contend that in many cases, money spent on wellness programs could be better spent elsewhere.
"I'd much rather have these employers not invest in wellness programs but instead invest resources for targeted clinical services that we know have very high clinical and financial returns," said Dr. A. Mark Fendrick, director of the University of Michigan Center for Value-Based Insurance Design.
Others maintain, however, that wellness plans can be successful if they evolve to address issues unearthed by data on a college's or university's employees.
"They're starting to make some investments back into the health of their population," said Mike Rask, a senior vice president in the higher education practice with Aon Risk Solutions. "At the end of the day, the only way they're going to move the health-care cost trend is on the claims side."
CUPA-HR found that in 2017, more than a third of institutions, 38 percent, provided health-care benefits to part-time staff, and 36 percent provided benefits to adjunct faculty. Both rates are up slightly after a substantial drop from 2015 to 2016.
More than three-quarters of institutions, 78 percent, provided a stand-alone vision plan in 2017, up significantly from two-thirds in 2015. There has been an increase in demand for vision plans in private industry as well, which could be because of higher costs, an older work force and increasing levels of computer work.
Higher ed offered benefits to domestic partners at significantly higher rates than standard industry, however. Over half of institutions, 51 percent, offered health-care benefits for opposite-sex partners in 2017, up from 25 percent in 2005. Almost three-quarters of institutions, 73 percent, offered health-care benefits to same-sex partners in 2017, up from 37 percent in 2005.
CUPA-HR noted that the 2015 Supreme Court case that expanded same-sex marriage rights across the country does not seem to have affected health-care benefits for domestic partners. It also noted that in private industry in 2015, just 32 percent of organizations offered health-care benefits to opposite-sex domestic partners and only 37 percent offered benefits to same-sex domestic partners.
Opinions on Inside Higher Ed
Inside Higher Ed's Blog U