You have /5 articles left.
Sign up for a free account or log in.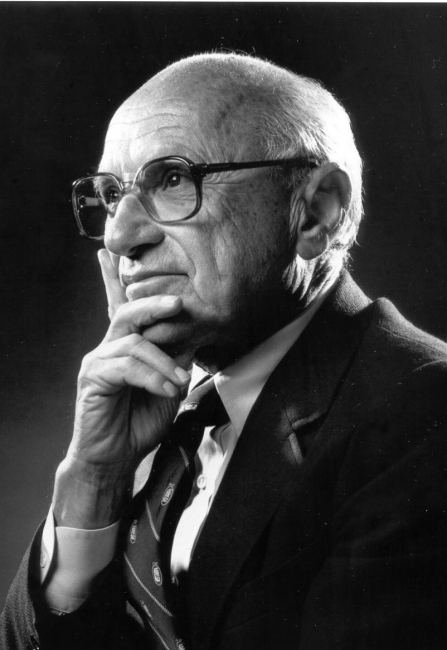 July 31 marked the 100th anniversary of the birth of the late economist Milton Friedman. As a champion of school vouchers and other well-known conservative ideas, Friedman is far more heralded on the right than the left. But Friedman is also widely cited as the father of one idea that many progressives love: income-contingent student loans, in which borrowers pay a certain percentage of their income and loans are often forgiven after a certain time.
There's just one problem: Friedman didn't propose income-contingent loans. In fact, his student financial aid ideas were more radical and progressive than the loan policies supported by Democrats today, and he probably wouldn't have liked how his ideas have been put into practice so far.
Supporters of income-contingent loans have long cited Friedman as their intellectual patriarch. A 1988 New York Times article claims that the key concept of Michael Dukakis's student loan reform proposal was the income-contingent loan, "first proposed by Milton Friedman, guru to a generation of conservative economists." That claim has been popping up ever since.
Friedman's actual proposal was something closer to an equity investment: think stocks, not loans. Under his plan, the government would provide students with financial assistance to pay for college and, in return, the students would pay a percentage of their income back to the government each year regardless of the amount of money initially provided to them. In other words, income-contingent loans socialize losses and privatize gains. Friedman's plan socializes losses and gains. Let's walk through what that means:
When the government issues a loan, it is agreeing with the borrower that it will get back the principal plus interest, no more, no less. Once the borrower repays what the government initially lent her, plus interest, she's free of the debt.
However, under our current income-contingent loan system borrowers who are consistently low-income will not pay back the full amount of their loan, meaning that taxpayers will bear the cost of that loan (socialized loss), whereas high-income borrowers will pay back the loan and then continue to personally reap the dividends of the initial loan (privatized gain).
Friedman's plan isn't a loan at all. It's an investment, in the true sense of the word. Under an equity investment arrangement, a student who realizes a big return on her education investment shares it with taxpayers by repaying more than was originally invested in her (socialized gain), but if she never earns much, she won't even pay a fraction of what taxpayers originally invested in her (socialized loss).
Yet despite the seeming fairness of the equity investment approach to funding higher education, it turns out that individuals hate paying more when their lives turn out well, especially when they feel like they are subsidizing the perceived failure of others. When Yale University tried something similar to Friedman's proposal in the 1970s, the most prosperous students complained that they paid a lot more than others.
"The only significant way the program seems really to have gone awry is in misjudging the gratitude of those who would benefit from it," wrote Timothy Noah in response to a Wall Street Journal piece about the program ending.
"Twenty to 30 years on, the richer ones are bitching about how much they've had to pay. '[E]asily the worst financial decision I ever made,' gripes David Bettis, a physician in Boise.… An e-mail support group for self-made Yalie plutocrats who now regret opting into the repayment scheme was started by Juan Leon, 'who now sells Gulfstream jets in Latin America.' "
In the end, the program ended prematurely, and Yale ate the outstanding costs. It's worth noting that the program varied from Friedman's plan in a significant way. An entire cohort of a class was invested in, and the cohort would pay a percentage each year until that cohorts' loan was paid off. Those Yale students were complaining because 30 years on, they were still subsidizing the perceived deadbeats of their class, and that wasn't fair. By tying investment to a group of borrowers, the Yale program was seen as a socialist dream gone awry, instead of a return on investment per individual.
The Yale program demonstrates that people do not like it when they feel they are subsidizing others for their success. So it is essential, if Friedman's plan were to ever be implemented, that the investment in an individual was not tied to any other, and the terms of the investment were fixed. For example, no matter how much you earn, you will pay a certain percent of your income for twenty years, no more, no less. The percentage would, ideally, be calculated so that the program paid for itself, but it's important that the terms of the investment don't change. 
The equity investment proposal may have inspired liberals and progressives to create income-contingent loans, but the original idea proposed by Friedman, that prophet of conservative economic thought, is more progressive. The reason it has fallen flat thus far is not just that recipients hate paying their fair share, but also that it is such a departure from the status quo.
It is "the novelty of the idea," wrote Friedman, "the reluctance to think of investment in human beings as strictly comparable to investment in physical assets" that prevents us from implementing this idea more than it is rich Yale graduates whining about a contract they themselves entered into and reaped the benefits from.
If the government were to ever attempt the equity investment program, we as a society would have to overcome that novelty. Both Republicans and Democrats speak of higher education as an investment in our nation's future. Perhaps it's time to socialize the gains and not just the losses and to truly "invest" in higher education.